THOSE WHO WISH ME DEAD is a movie I was highly anticipating ever since I first read it was in the works. When it finally came out as one of these pandemic same-day-on-HBO-Max releases and it turned out it wasn't quite the A+ movie I was hoping for, it kind of entered and left my consciousness without much incident. But I did think it was a cool movie taken on its own terms, and worthy of documentation with a review. And then it started to seem better the more I wrote about it.
Reasons I had high hopes:
1. It's directed and co-written by Taylor Sheridan, who previously directed WIND RIVER and wrote SICARIO, HELL OR HIGH WATER and WITHOUT REMORSE. I just really like his style of quasi-realistic, contemporary-western-ish crime/action with tough, broody characters and a heightened atmosphere of doom.
2. It stars Angelina Jolie, who we don't see in too many movies these days, but who I believe has an advanced understanding of badass screen presence. I base this partly on WANTED, a ridiculous movie I don't necessarily love, but that she really stood out in. I always remember reading that she took the script and crossed out a bunch of her dialogue that she didn't feel she needed, and said that Clint Eastwood taught her to do that. That really seemed to work for her there.
3. Also because I read the cool-sounding premise: a national park fire fighter on lookout duty helps a kid escape from assassins during a forest fire. Is this gonna be pretentious FIRESTORM? Starring an Oscar-winning actress instead of an NFL player? I can dig that!
And honestly all of these factors are multiplied by the badassness of that title, which surely wouldn't have been allowed if it wasn't based on a book (by Michael Koryta, who I'm not familiar with). Otherwise I'm sure it would be called WHERE THERE'S SMOKE or THIRD DEGREE or something.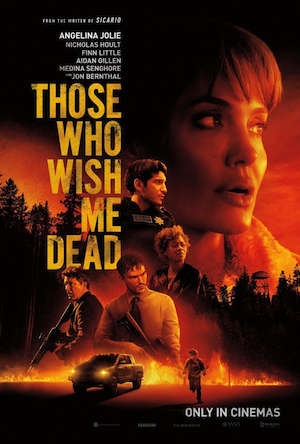 Jolie (CYBORG 2) plays Hannah Faber, a hotshot smokejumper who's been a total mess since getting some wrong information about a fire, making a wrong call, and having to watch three kids and a colleague burn to death. People tell her it wasn't her fault, but like any number of male action heroes she's traumatized to the point of nightmares by this past failure, and now drinks and acts recklessly and some people worry about her. Unlike a male character, though, she's allowed to cry about it and I believe cut herself? She doesn't keep it all in.
But she's introduced in the proud tradition of many a solid '80s or '90s programmer: wearing mirror shades and hanging out with the boys (one of them is Tory Kittles from DRAGGED ACROSS CONCRETE, but he's not in it that much), rugged macho dudes who enjoy flipping each other shit, and all respect her. Next thing you know she's drunkenly parasailing from the back of a pickup truck. Since this is trauma-based acting out like LETHAL WEAPON, and not just awesomeness-based, like TOP GUN, Sheriff Ethan Sawyer (Jon motherfuckin Bernthal in his third Sheridan movie), who is her ex-boyfriend on friendly terms, is concerned. And so must be her higher ups, who stick her on what is seen as a shitty post by herself in a forest lookout tower.
(It actually seems like kind of a cool job before the murderers show up. I'd be happy to go up there and try to write a book until I spot something to call in.)
The aforementioned kid is a teenaged boy named Connor (Finn Little, 2067) whose dad Owen (Jake Weber, VANISHING SON II and IV) is a forensic accountant who has uncovered some sort of major fraud. We see two cold-hearted pros, Jack (Aidan Gillen, 12 ROUNDS) and Patrick (Nicholas Hoult, CLASH OF THE TITANS), eliminate Owen's boss's entire family with calm, collected savagery, so we know he's not overreacting when he runs off with Connor and makes him hold onto a letter with everything he knows just in case something happens.
Sheridan excels at creating these kinds of villains who are clearly very knowledgeable and experienced in the ways of hunting humans, and unencumbered by empathy or morals. Jack is kind of the mentor/mastermind, and Patrick has some sort of military experience that he's now applying to this related line of work. Because they treat it so much as a job it's interesting to watch them problem solve – oh, you want to ambush the car right here? Okay, I'll go up there with my sniper rifle…
And we can see that they're tools of a larger, nefarious world we don't need to know the details of. In fact, there seem to be many specifics they aren't privy to either, though they know this job is a big deal when the boss actually travels to where they are to talk to them. There's a big build up before they show who it is so I won't name the actor (SPOILER okay I will, it's ALEX CROSS himself) but I enjoyed the unexpected casting.
The movie is full of really well staged, brutal little suspense sequences, such as the car crash/shootout that leaves Owen dead and Connor escaping into the forest, where he runs into Hannah. She's prickly but caring, just like we'd like to see from Angelina's mentor Clint. As they face the various threats together she's vary matter-of-fact and give-it-to-him-straight, up to and including bluntly stating that she let four people die. So they become survivor-of-horrible-tragedy buddies. Maybe my favorite thing in the movie is when Connor decides that this lady is a weirdo, but the type that will be okay with it if he teases her about it.
This is maybe too much of a coincidence, but Connor's dad was the brother-in-law of Ethan, and was actually trying to bring him to Ethan and his wife Allison (Medina Senghore, ALIEN UPRISING), since they run a wildlife survival camp. These are characters we really like and fear for when the killers inevitably show up at their place and force Ethan to help them track their prey. Ethan has to go along with them while trying not only to not be killed but to keep them off the trail of the kid.
Meanwhile, Hannah – whose radio was blown out when the tower was struck by lightning – has to try to trek through the wilderness with the kid, facing natural threats including lightning and, of course, a forest fire, in addition to the increasingly desperate killers. There are clever action and survival beats involving the natural setting and established attributes of the watch tower. Hannah has an ax and – though her backstory really shouldn't be necessary for this – cares much more about saving this kid than herself. So she is not to be fucked with. (She is fucked with, though, obviously.)
I've seen some complaints about skinny Angelina Jolie being able to handle so much physically. Okay, fair enough. But it's not like she's LARA CROFT or SALT beating up dudes (which I enjoy, don't get me wrong). It's closer to what they did with Emily Blunt's character in SICARIO. She can't overpower men and she gets knocked around horribly, so she's gotta depend on strategy, will power and animal ferocity. And she's got a McClane-ian ability to keep getting back up and power through the pain.
This just came down to timing and not me trying to have some kind of fire movie marathon, but I watched BACKDRAFT 1 the day after I watched this. The blu-ray had an old introduction by Ron Howard where he explained that back in '91 they did tests for digital fire but the technology was in its infancy and didn't look convincing enough so they came up with all those impressive pyrotechnical FX that his movie is known for. Having just seen THOSE WHO WISH ME DEAD I knew that 30 years later digital fire still leaves much to be desired. I certainly don't think that kills the movie, but it gives many important scenes an artificiality contrary to the real world feel Sheridan is so good at. That may be the main reason this ends up feeling like the most normal and slight movie he's made so far.
But maybe it's kind of fitting that it sorta went straight to HBO, because this is would be great for made-for-HBO. I'm a sucker for movies that follow a tried and true genre format but spice it up with a little extra craftsmanship, some odd personality and some narrative curveballs, and this is definitely that. I'll go into it in the spoiler section below, but for those who wish to bail before I give away too much, let me just say that even if this didn't live up to my hopes I think it's a very solid actiony thriller that I'm realizing I appreciate more and more as I write about it. So if it sounds kind of cool to you I say give it a shot.
BIG ASS ENDING SPOILERS FROM THIS POINT ON
This movie has an interesting and I think impressive approach to triangulating between giving the audience what it roots for for the characters and making shit count. This is best exemplified by its treatment of Allison, Ethan's wife. As soon as she was introduced and I realized she was pregnant, I thought "Oh, fuck." I know the stereotype is that Hollywood is afraid to upset the audience by, you know, killing a kid or a dog or whatever, but you know very well that if we're introduced to a loving wonderful happy wife that means she's gonna die. It's really upsetting to see Jack and Patrick bust into that cabin and torment her, figure out that she's pregnant, reveal that they see this more as something they can use than something to have qualms about. And it's so thrilling to see her fight back, using some of those survival skills we heard about, but even then I figured this would be the end for her. Going out with a bang, but going out nevertheless.
Nope. Actually she's gonna get some shots in, get away, get on a horse and go try to save her husband.
And her husband, for that matter, seems like dead meat early on. Especially since it's Bernthal in lovable mode, you gotta figure a cruel cinematic God is gonna take him away from us much too soon. I thought he was a goner in the driveway, and then definitely at the creek when he stood up to them. But he keeps staying alive, like LL Cool J in DEEP BLUE SEA. The unlikely survivor.
But it's not all wish fulfillment. It really seems like they're both gonna make it and one of them doesn't quite and it's very sad. But at least they got the dignity of lasting the whole movie and going through it together. Their lives didn't end to drive the plot, as happens to so many characters in these types of stories. They are winners.
It also ends without sugar-coating the fact that yeah, we beat the bad guys and survived the fire, but this kid is now an orphan and doesn't even know where the fuck he will be going or who will be responsible for him. All Hannah can do is promise to help him figure it out, but we get the idea that she really will. His life is gonna be extremely hard, but maybe he'll have gained a cool weirdo aunt who he can confide in because he went through the shit with her. And maybe helping this kid try to continue his life after everything burned down will help her do the same for herself.