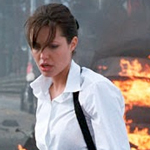 I don't watch these twisty suspense thrillers too often, but they can be fun. I honestly don't know what drew me to TAKING LIVES right now, but the only thing I knew about it other than that it stars BY THE SEA director Angelina Jolie is a really absurd thing that happens at the end that somebody told me about back when it came out. That turns out to be the best part of the movie, but I guess it's okay I had it spoiled 11 years ago because otherwise I don't think I would've watched it. There is no scenario where I see this fresh. It's kind of like how I saw both SEVEN POUNDS and ORPHAN only because their plot twists sounded funny. Not that this is as good as those, but I enjoyed it okay.
Extra-hot-late-twenties Jolie plays Agent Illeanna Scott, an FBI profiler who has come to Canada to help Hugo Leclair (Tchéky Karyo), her mentor from Quantico, catch a serial killer. You know the drill: she's totally brilliant, she has odd habits (like she lays inside a grave to get closer to the crime), she looks at gory photos while eating, she comes up with theories based on tiny details and everybody looks at her in either awe or fear. Olivier Martinez (BEFORE NIGHT FALLS) plays a cop who doesn't trust or respect her, and he gets to be the bearer of that cliche that if you say something insulting in front of someone in another language thinking they don't understand it then for sure they will play along and later say something to you in that language to reveal that they are fluent and then you will be embarrassed and not know what to say.
This killer attacks people and bashes their heads in with rocks. We first see this in an impressive 1983 prologue about two young guys who meet on a bus trip. Clearly one of these kids is gonna kill the other one, but one of the kids is Paul Dano, so you don't know which of his rules it's gonna follow:
a) he always plays a creepo
b) he always gets his face beat in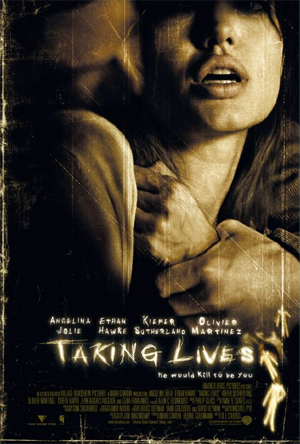 Anyway, one of the kids – either Dano or Justin Chatwin, the son who controversially doesn't die in WAR OF THE WORLDS – grows up to be this inscrutable killer who they figure out picks victims who he can steal the identity of. I guess they are people isolated from any family or friends and non-descript looking maybe, I don't know. It seems like there would be no way to do that, but then I'm not a serial killer or a person who gets into the minds of serial killers by laying in graves, so I haven't put any thought into how to work it. This guy has and he's been getting away with it.
Nobody knows what he looks like, but they find a guy near one of the murder sites who claims to have seen him, and that guy is art dealer James Costa, played by Ethan Hawke (BOYHOOD, PREDESTINATION). They're suspicious, but if he's a liar he's a good one, because he convinces Agent Scott. He's goofball Ethan Hawke, terrified when the Montreal police want to use him as bait for the killer, who they think wants to meet with him, and who we might be seeing stalking him in the form of  scary Kiefer Sutherland (MIRRORS). There is an obvious attraction between Scott and Costa, which almost causes Scott to head home, believing it will hurt her judgment.
Meanwhile Scott follows the trail, looking into all the victims, questioning why he does things the way he does, etc. But the biggest one falls into her lap: the mother of the kid in the prologue (Gena Rowlands) comes to the police saying she just saw her son even though she thought he died all those years ago. She says he was dangerous. Is dangerous.
Scott sees lots of photos of the son. We can't tell from them which actor they'd be a young representation of. Plus we learn about a twin brother who died. Plus there's a grave exhumed and a dark secret involving a dungeon-like BAD RONALD room with weird clues in it. Yep, that proves it. We have a thriller all right. I mean, either the twin or the secret dungeon would've been enough. Both equals an open and shut case.
This is based on a book by Michael Pye, but it sounds like they mostly just used the opening scene and the gimmick of a killer who "takes the lives" of the people he takes the lives of. If Agent Scott or equivalent FBI agent is in the book she is not mentioned in Wikipedia's summary. In tone and look and feel this is very much what you expect in a pulpy serial killer thriller (especially if this had been made in the '90s), but it's pretty well executed. Director D.J. Caruso had gotten some attention for THE SALTON SEA, and this eased him into his version of slick studio thrillers like DISTURBIA, EAGLE EYE and I AM NUMBER FOUR.
One kinda highbrow touch he brings to this: the score is by the brilliant "major minimalist" composer Philip Glass. I thought that was a pretty big "get" for a mainstream movie like this, but I was just looking him up on IMDb and he worked on the new FANTASTIC FOUR, so maybe just nobody asks him. Anyway, it's cool that they did ask him, he gives it a very different feel.
Now let's discuss the ending. I am telling you right now I'm gonna give it away, so don't tell me that I didn't tell you right now that I'm gonna give it away. SPOILERS. It turns out that fucking Ethan Hawke really is Martin Asher, the son of that lady, and therefore the killer. And that's a real bummer because not only did Scott fuck up and have the killer right under her nose and not figure out it's him and let him get away, but she also fell for him and had sex with him, a huge professional embarrassment. So she's fired from the FBI. Fair enough. Accountability.
Now it's 7 months later and she's out in rural Pennsylvania living all by herself. Alone. Disgraced. Pregnant. Well, shit.
Then one day Asher shows up inside her house, starts taunting her, chasing her around, telling her how he's been watching her and all this shit. Knows it's his kid, that it's twins, because it runs in the family. Then they fight… and he takes a pair of scissors and he stabs her in the belly! Oh jesus, that's fucked up!
Then she pulls the scissors out of herself and stabs him with them. And she stands up and pulls off her fake pregnant belly. Some Mission: Impossible shit. She knew he'd be watching and faked 7 months of pregnancy to lure him in. He always killed men before, so she doesn't fit the profile of his victims at all, but I guess she knew he'd make an exception for the mother of his children, just as he did for the mother of himself. So she really pulled an elaborate ruse here. I bet she had different sized fake bellies. I bet she even went to lamaze classes and stuff. Did pregnant lady yoga. She went hard and she fooled him. Classic Illeanna Scott.