THE KINGS OF SUMMER is a real good indie movie about teenagers, around 15 years old I believe, an emotional age. Joe (Nick Robinson) and Patrick (Gabriel Basso from SUPER 8) don't seem to be the popular kids, but they're not "geeks" either. Their parents aren't bad people, but they can't get along with them. They're old enough to sneak out and go to keggers, to get embarrassed talking to girls, but also they can't drive, they gotta ride bikes. They've got a little bit of kid still in them, enough that it seems like a good idea when Joe convinces Patrick (and Biaggio [Moises Arias], a weird kid that just starts following them around) that they should ditch their parents and build themselves a house out in the woods.

The way they talk about it you figure they must have some building skills. Actually, they do better than alot of people would. But the opening scene already showed us the crooked-ass birdhouse Joe built. What they build does not necessarily count as a house, but it's a hell of a fort, constructed from stolen lumber, port-a-potty doors, etc. (There's no bathroom, and the issue of shitting is never addressed.)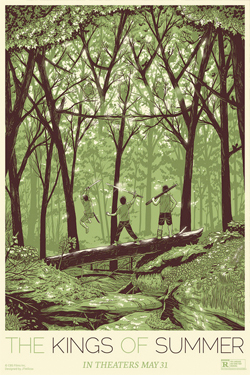 Although it's not nearly as stylized, it's a little reminiscent of Bruce Willis's MOONLIGHT KINGDOM or whatever because the parents are trying to find these fugitive kids who have done this silly thing that is treated as a huge deal in their small community. The young love (a girl Joe likes named Kelly [Erin Moriarty] is involved) is not as central to this one, it's more about the friendship of the boys and Joe's relationship with his dad, played by Nick Offerman of Parks & Recreation.
Offerman is a unique phenomenon, and his Parks character Ron Swanson is beloved not just for how funny he is but for an anachronistic but appealing ideal of machismo that he represents. He's kind of like a manlier Hank Hill, a guy who's crippled by his closed off emotions but empowered by his know-how. He's a proud woodworker (as is Offerman) and berates other men for not knowing how to build things, how to survive in nature, how to skin and cook an animal, how to not hug. It's a joke but there's a certain amount of truth to it. Many modern men feel soft compared to their fathers' generations, spoiled by technology and a childhood spent in front of a TV and on the computer instead of in nature or at war.
THE KINGS OF SUMMER expresses similar themes, so it makes sense that Offerman is producer of the movie. He gets alot of laughs with his too-mean berating of his son, his son-in-law, police officers and others, and it works because he has a sense of awareness that he's gone too far and needs to change. I like that the father, son and older sister (Alison Brie from Community) all have similarly cutting wit. They really seem like they're related.
Offerman's real-life-wife Megan Mullally has a smaller part as Patrick's mom, and is really funny in her portrayal of a harmless mother who drives her son crazy with her inane comments. Mom, you don't have to fucking comment on that I decided to wear a blue shirt. Just stop talking.
This has themes in common with two good movies I saw this year and didn't review, David Gordon Green's PRINCE AVALANCHE and Dmitry Vasyukov and Werner Herzog's HAPPY PEOPLE: A YEAR IN THE TAIGA. All three of these deal with men who feel the need to ditch their families and be out in the woods. They want to leave the complexity of family relationships for the simplicity and solitude of nature. In the case of the two non-documentaries they're also dealing with loss, building relationships with other males and trying to prove to themselves that they are men because they can figure out how to survive in nature and how to build shit.
Like PRINCE AVALANCHE, which is about Paul Rudd and Emile Hirsch mostly alone painting the yellow lines on forest roads, this one is very funny but has occasional seemingly Malick-inspired nature montages. KINGS is broader, spends a little less time on the quiet and more on the bonding and laughs. The pace is faster, with a few show offy camera moves that say "first time director," but in a good way. Like he's excited to get going. (It's the first feature for director Jordan-Vogt Roberts and writer Chris Galletta. Vogt-Roberts did alot of shorts for Funny or Die and stuff.)
It's a funny movie and there are also some real nice moments that aren't just about laughs, or even plot. For example it opens with the three boys doing a weird percussion and dance routine on some kind of drain pipe or pipeline out in the woods. I mean, Biaggio's bizarre dancing made me laugh, but to me this scene isn't about that, it's mostly about some dudes out in the woods doing something weird and awesome that they would probly be too self conscious to do in civilization, or at any other age, or with anybody else. And you gotta respect that.
This entry was posted on Tuesday, July 9th, 2013 at 10:40 pm and is filed under
Comedy/Laffs
,
Reviews
. You can follow any responses to this entry through the
RSS 2.0
feed. You can skip to the end and leave a response. Pinging is currently not allowed.