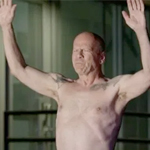 About 12 miles and 48 years from ONCE UPON A TIME …IN HOLLYWOOD lies ONCE UPON A TIME IN VENICE. In this 2017 DTV joint, Bruce Willis is the center of a sunny, quirky, comedic crime tale ensemble. Though the story is narrated by his dorky new assistant John (Thomas Middleditch, THE KINGS OF SUMMER), it revolves around Bruce's low-life private eye Steve Ford. As you do in these movies, a pan through his office shows us some of his history through the medium of props. For example, some photos and a surfboard tell us he's a surfer. There's one touch that made me laugh, but maybe wasn't supposed to: we learn he's a disgraced ex-cop from an article that calls him "disgraced" in the headline. Why would he frame that and put it on his wall? It's not even an important piece of exposition.
Anyway, Steve has two small time cases:
1. Find a missing woman named Nola (Jessica Gomes, "KSI Spokesmodel," TRANSFORMERS: AGE OF EXTINCTION)
2. Find the graffiti artist painting obscene murals of real estate developer Lou the Jew (Adam Goldberg, SAVING PRIVATE RYAN, voice of Flealick in BABE: PIG IN THE CITY) on his buildings (read the rest of this shit…)
VERN has a new action-horror novel out called WORM ON A HOOK! He has been reviewing movies since 1999 and is the author of the film criticism books Seagalogy: A Study of the Ass-Kicking Films of Steven Seagal and Yippee Ki-Yay Moviegoer!: Writings on Bruce Willis, Badass Cinema and Other Important Topics as well as the crime novel Niketown.