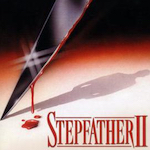 "You will NEVER find a better family man than me, Pumpkin!"

This is a flashback within my current retrospective series. STEPFATHER II: MAKE ROOM FOR DADDY was a theatrical release in November of '89 that got itself a made-for-cable sequel in '92. I reviewed the original THE STEPFATHER way back in 2005, but I hadn't revisited part II since around the time it came out on video, so I thought I should do that before part 3.
THE STEPFATHER is (like POISON IVY) the template for about forty thousand made-for-cable domestic suspense thrillers, but it's a damn good movie. Terry O'Quinn (SILVER BULLET) is outstandingly creepy as the family values loving psycho who serially creates new identities, marries suburban single mothers, loses his shit when life isn't perfect, massacres the family and starts over.
This first sequel comes from different filmmakers. It's actually the first sequel by director Jeff Burr (FROM A WHISPER TO A SCREAM), who would go on to direct LEATHERFACE: THE TEXAS CHAINSAW MASSACRE III, PUPPET MASTER 4 and 5, and PUMPKINHEAD II: BLOOD WINGS. It's produced by Darin Scott (who later produced TO SLEEP WITH ANGER, FEAR OF A BLACK HAT, MENACE II SOCIETY and TALES FROM THE HOOD) and written by John Auerbach (sound editor on Jim Jarmusch's STRANGER THAN PARADISE and DOWN BY LAW?). (read the rest of this shit…)