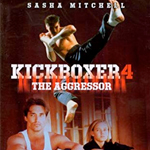 The time has finally come to return to the original KICKBOXER series. We've had fun with the new ones, KICKBOXER: VENGEANCE (2016) and KICKBOXER: RETALIATION (2018). And of course we know and cherish the 1989 original in which Jean-Claude Van Damme as Kurt Sloan clashes with the psychotic Muay Thai champion Tong Po, who had paralyzed his brother in the ring. KICKBOXER 2: THE ROAD HOME (1991) has both Sloan brothers gunned down and introduces a third, previously unmentioned brother named David (Sasha Mitchell) to bring back the family tradition of defeating Tong Po for revenge. That'll teach him to murder.
I admit I had somewhat forgotten KICKBOXER 3: THE ART OF WAR (1992), but it mixed it up in a fun way by having David and mentor Xian go vigilante and rescue young women from sex traffickers while in Rio for a championship match.
KICKBOXER 4: THE AGGRESSOR (1994) brings back part 2 director Albert Pyun (CYBORG) and opens with a 4-minute clip show as David recaps the events of parts 1-3 in a letter from prison. Much more time seems to have passed in the story than the two years between direct-to-video releases. Since we last saw David Sloan he apparently fell in love, got married, opened a martial arts school, worked for the DEA "trying to bring a major dealer to the U.S. for trial," but got busted for killing the guy. "It was him or me. Tong Po saw to that," he explains, if that counts as explaining. (Other times he says Tong Po framed him.) (read the rest of this shit…)
VERN has a new action-horror novel out called WORM ON A HOOK! He has been reviewing movies since 1999 and is the author of the film criticism books Seagalogy: A Study of the Ass-Kicking Films of Steven Seagal and Yippee Ki-Yay Moviegoer!: Writings on Bruce Willis, Badass Cinema and Other Important Topics as well as the crime novel Niketown.