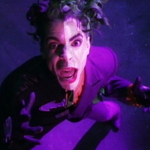 Today is June 9th, 2014 and I'm sure you know what that means: it's the 25th anniversary of Prince's "Batdance." I don't want to take away from your time celebrating with your families, and I'm sure the president will be making a speech and I don't want to overlap too much with whatever he says, but I'd like to add a few thoughts real quick.
It's the single that was released on this day in 1989, but I'm a movie reviewer, not an architecture dancer, so we're gonna talk about the crazy ass music video. Do you remember it? A fuzzy TV signal flashes on a bat-symbol shaped screen. Now, you gotta understand, this was a time of feverish Batmania. America was enraptured by the upcoming Batman movie, which was advertised mainly with that symbol and no text other than "June 23." Batman products of both official and illicit varieties were huge sellers. They would put a bat symbol on anything (and sometimes eyes on a bat symbol, if it was a bootleg t-shirt.) I remember they not only had Converse with bat symbols on them, they also had a phone that was shaped like Converse with bat symbols on them. So it is no surprise that Prince would own a TV screen shaped like a bat symbol. In fact I wouldn't be surprised if he had a library of movies specifically composed for that aspect ratio.
We float across piles of shiny purple glitter fabric and Batman cowls. A flash of lightning. Long-haired circa 1989 Prince sits brooding over banks of keyboards, audio equipment and computery lights. Suddenly Gemini – a character that's split down the middle Two-Face style with the left side being Joker, the right side Prince in a Batman costume with no mask – appears on the bat-screen and flicks his tongue obscenely. Scared, Prince turns on his reel-to-reel player, which blasts the opening guitars and Jack Nicholson samples of "Batdance."
According to Billboard its one week at #1 on the charts makes "Batdance" Prince's fifth biggest hit of all time, ahead of "Raspberry Beret," "U Got the Look" and even "Purple Rain," which somehow only made it to #2. I know, I don't get it either. Perhaps these charts are not that important in the measurement of artistic quality. On the other hand they have numbers on them, that means it's math, I don't think I can dispute those figures.
The songs above it are "When Doves Cry" (5 weeks at the top), "Kiss," "Let's Go Crazy" and "Cream" (all 2 weeks at the top). Unlike those, "Batdance" is remembered as something of a novelty song, the most famous of a small, corny trend of movie soundtrack dance songs that sample dialogue from the movie (MORTAL KOMBAT comes to mind). But I would argue – I will argue, right now, in this thing I'm writing that you're hopefully reading but if not who could blame you – that "Batdance" is a great song.
I think it's great because it breaks all the rules of pop hits, including the ones Prince followed on all of his other singles. It does not have a traditional structure. It's a dance mix of sampled drums and movie soundbites, layered at times with sampled guitar blasts, funky electric organ, clean funk rhythm guitar, a noisy, distorted guitar solo. Prince drifts into bits from different songs on the soundtrack, or songs that he made but that got rejected from the soundtrack. So the whole beat, tune and tempo keep switching up out of the blue. It's an informal medley or megamix disguised as a plain old single.
This is a song that has no chorus. It's a song that has no verses. Without the huge excitement over the movie I'm not sure the song would've gotten as much attention, but its popularity also has to be a testament to the weird catchiness of the song. People had to have enjoyed listening to it, at least at the time. And it's unusual that they'd feel that way about such an unorthodox pop song.
I mean, when has a song anything like this been a #1 single? Hell, when has an unambiguous movie theme song been #1? I'm sure it's happened, but it's not common.
We all remember the Joker samples: "This town needs an enema," "Stop the press, who is that?" stuff like that. Lots of samples saying the names "Batman" and "Vicki Vale." (For some reason nobody is sampled talking about Knox, Robert Wuhl's reporter character. Where is he in the video? Where is he in the reboot? Where is he in the public consciousness?) But also Prince is talking. "Hey Ducky, let me stick the seven inch in the computer." Who the fuck is he talking to, and what about? Well, he's talking to Ducky, obviously. But who Ducky is and what is going on with this requested seven inch insertion is unclear.
My favorite part, though, is when he says "Keep bustin." I like to say this in many every day situations. Some day I'd like to see a DJ juggling "Keep bustin" with "Bustin makes me feel good!" from the GHOSTBUSTERS song. The theme of busting does come up again later when Prince chants "Ooh yeah, ooh yeah, I wanna bust that body / Ooh yeah, ooh yeah, I wanna bust that body right."
Back to the video. We're in a torchlit batcave and/or cemetery/city ruins filled with fog, where five dancers dressed as the Joker and five dancers dressed as Batman do choreographed routines and Gemini lip synchs the "lyrics," if you can call them that, of the song. "Get the funk up!"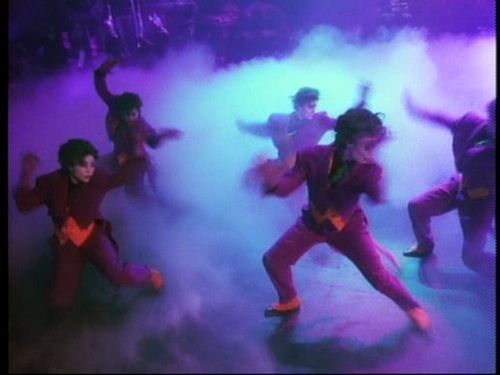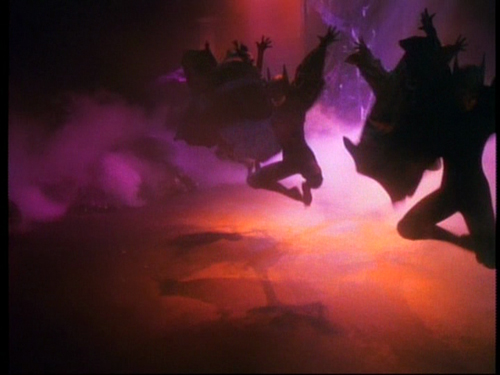 The Batmen (who are actually mostly or all women) lip synch the chorus:
"Bat-maaaaaan." The Jokers are good, but the Batmen get to flutter their capes around in unison. Better showmanship in my opinion.
When the guitars come in Prince (not Gemini) is still in his studio area, now rocking out on a bass with a bat-symbol headstock.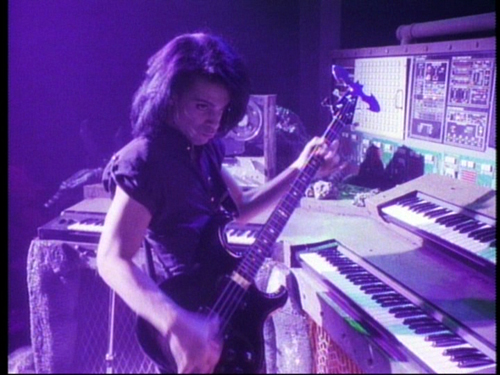 When the song samples introduce "Vicki Vale," five dancers dressed as Kim Basinger in shades enter. One of them is wearing a shirt that says "All this and brains too," a reference to a Batman comic apparently.
Another one shows off a Batman tattoo on her upper thigh: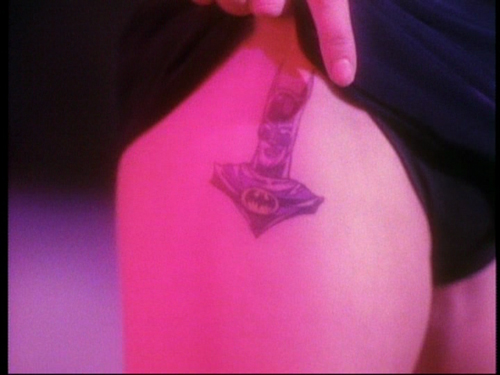 But don't get too excited, because there's also a Joker back tattoo: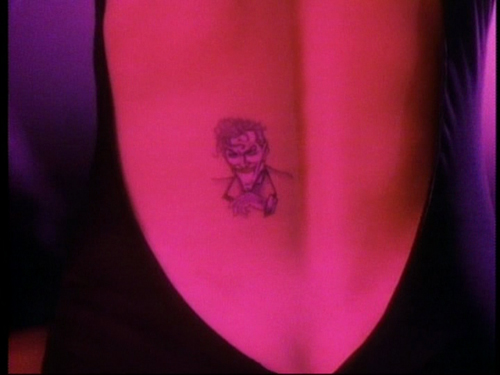 The editing doesn't clarify whether these are two different Vicki Vale's with competing tattoos or if one Vicki Vale has both. Or if all of the Vicki Vales have both. We can only decide for ourselves.
Prince has a turntable spinning a record with a bat-symbol on the label.  I don't know what he's doing with it but Batman will use a bat-symbol CD player to scratch in BATMAN RETURNS. He doesn't have time for vinyl, although honestly he's gotta have plenty of room to store a record collection either in the cave or Wayne Manor. Take your pick.
Oh yeah, Prince also has a big rock on the ground next to his equipment. Probly to use for percussion or something, I don't know how these things work.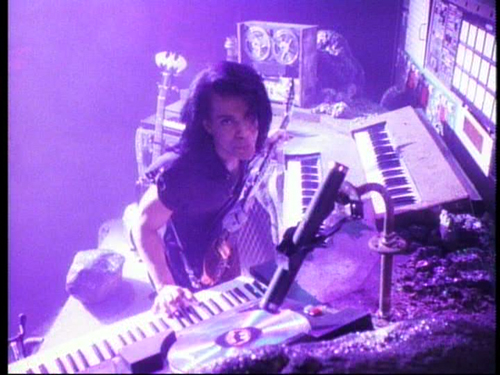 After Gemini sings my favorite sung line in the song, "If a man is closer to guilty for what goes on in his mind / Give me the electric chair for all my future crimes" (this comes from the album cut "Electric Chair," but it sounds better here) there is a smoking electric chair which he dances around. A shotgun is draped across the arms of the chair, he picks it up and ritualistically presents it back to the chair before getting upset and shooting Prince's reel-to-reel with it.
The Batmans lift him, then put him down. He threatens a Joker. He turns to a Batman, but it crosses its arms and shakes its head at him. So he presses a comically large green button which causes the electric chair to explode.
Now Prince is standing next to a concrete post, his head hanging in contemplation.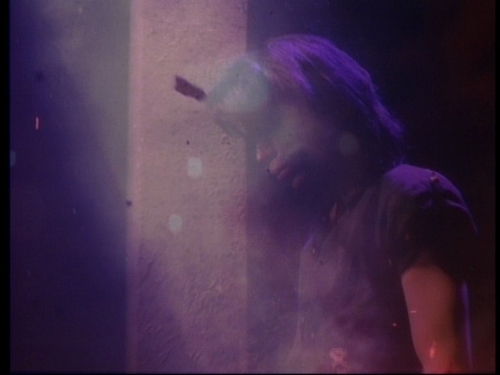 He suddenly turns to the camera, one finger up, and says "Stop!"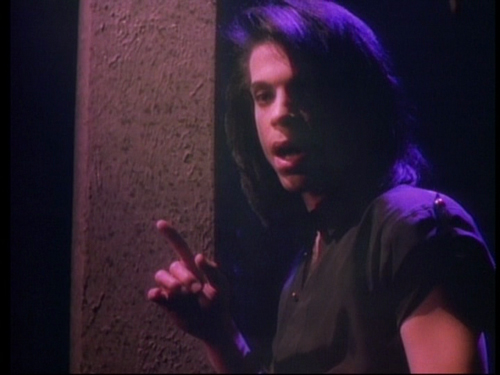 It seems very dramatic, like at the end of SCHOOL DAZE when everybody is yelling "Wake up!" or in BOYZ N THE HOOD when the "STOP THE VIOLENCE" stop sign pops on screen. We need to stop all this madness of, you know, the half Joker half Prince-dressed-as-Batman-with-no mask, or whatever.
The video was directed by Albert Magnoli, credited director of PURPLE RAIN (though he was replaced on that by Prince). He was also the guy who Andrei Konchalavsky replaced on TANGO & CASH. But he successfully directed a Jeff Speakman joint called STREET KNIGHT without being replaced, so leave the man alone.
* * *
UPDATE:
I am told that last paragraph is all wrong:
The correct version is as follows:
The video was directed by Albert Magnoli, credited director of PURPLE RAIN. He was also the guy who replaced Andrei Konchalovsky (not Konchalavsky) on TANGO & CASH. (((But he successfully directed a Jeff Speakman joint called STREET KNIGHT without being replaced, so leave the man alone.)))

Clarifications:
– Writer/Director/Editor Albert Magnoli was never replaced for any position by Prince in Purple Rain!
– Director Albert Magnoli replaced Andrei Konchalovsky (not Konchalavsky) in Tango & Cash! (not the other way around!)
– The last sentence does not work, because Director Albert Magnoli was not replaced in any films!

In several cases, producers/studios facing disaster with projects, hired Mr. Magnoli to take over writing and/or directing positions and replace original crew members, because they knew, he would get the job done efficiently, even re-write scenes so they would work. In several instances, Mr. Magnoli offered to remain uncredited and let the original crew member have full credit!

Thank you for revising your article – it is greatly appreciated.

Best wishes,

Dina K.
Webmaster to Mr. Albert Magnoli
Los Angeles, CA
Sorry about that, I'm not sure what story I was mis-remembering there about Prince replacing somebody on something. But I do insist on still including the fact that Magnoli directed a Jeff Speakman movie.
***
The choreography was by Barry Lather, a dancer in CAPTAIN EO who went on to choreograph Michael Jackson's GHOSTS. A guy named Jim Bienke was in charge of the makeup and masks – he is a major player in the Batman screen saga because he later was credited as "project supervisor/pupeteer: Poison Ivy's giant orchid" for 1997's BATMAN AND ROBIN.
There were two other videos in the series. In "Partyman" (also directed by Magnoli) Prince is introduced by a couple dudes in purple velvet as "Partyman." I think this is actually Gemini, but he's half Joker and half Prince, no Batman costume. I'd guess that Partyman is Bruce Wayne to Gemini's Batman, except he acts alot more like the Joker.
He comes into a big mansion party where everyone (even his band – which includes cheesy Dutch smooth jazz saxophonist Candy Dulfer, an official member of his band for the first time) are either wearing white half masks or have half of their faces painted white.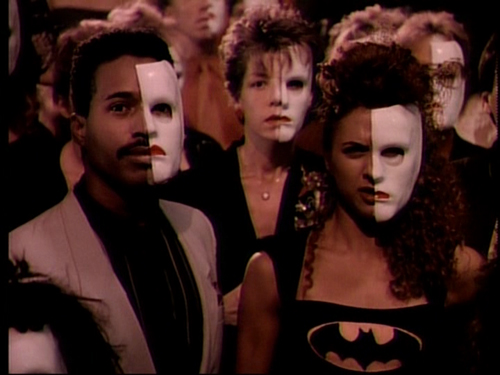 He dances and spins around on a stage, climbs up onto columns and jumps off. There's a food spread, torches, a woman in a fish tank that he pours a little liquor into as old timey reporters flash giant cameras at him. He swings on a rope. Everybody tries to fill their glasses from the tank like it's a punch bowl. Then it turns out it was poisoned and everybody dies like it's fuckin Jonestown. But not before he does a funky piano solo while laying on the floor or on top of the piano.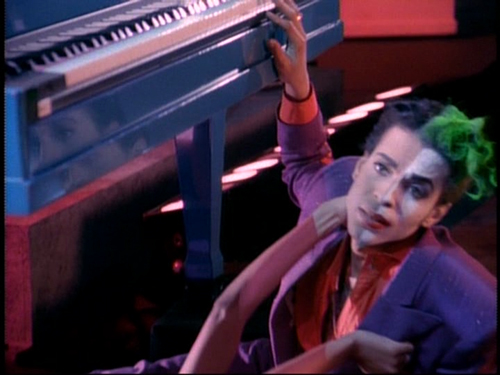 Three cops run in and just look disgusted, do not bother to chase after the Partyman who cackles at them. Where the fuck is Gemini?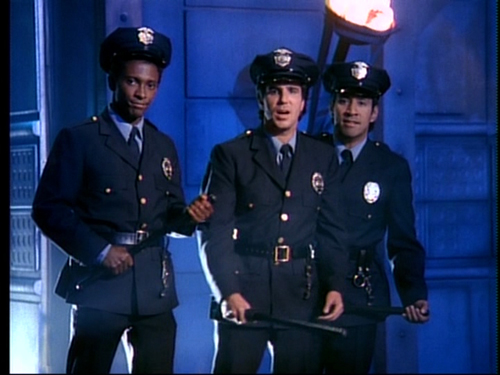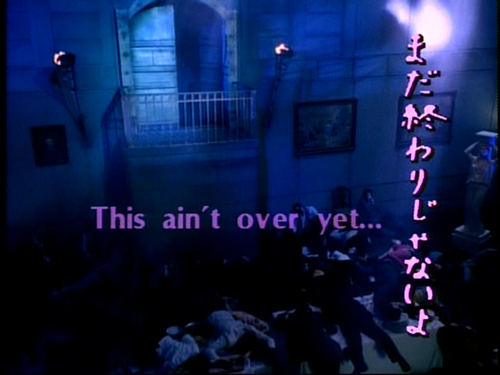 As you can see above, the end of "Partyman" promised further adventures. This being the beginning of the new era of super hero movies, those sort of "Same Bat-time, same Bat-channel!" trappings were still in the public consciousness. But the only further chapter was "Scandalous" (director unknown). This one is the love ballad from the BATMAN soundtrack. The video just has regular sexy Prince in a red outfit slithering around and singing into a microphone in front of a black background. This is like a part in the movie where they spend too much time on Robert Wuhl and not Batman or the Joker.
The B-side for "Batdance" was "200 Balloons," which I think would be the best song on the album, except it's not on the album. I love this one. It's that weird style of funk only Prince did, a little bit like "Dance On" on the album Lovesexy. You'll recognize a few bits of it that were used in "Batdance," but the song was rejected from the movie and replaced with "Trust." Obviously it was supposed to play during the attack on the parade.
This brings up an interesting point. I don't know why "200 Balloons" would be cut, but then again it's weird that there's a Prince soundtrack at all. Director Tim Burton was uncomfortable with all the music – he'd filmed using Prince's songs in the museum and parade attack scenes, but Prince got excited and kept writing more music based on what he was seeing of the movie. Burton thought they were great songs but didn't think he knew how to integrate them into the movie, as the studio pressured him to.
25 years later there's an entire genre of super hero movies, but the majority of them are not associated with pop music. The first non-Burton Batman, BATMAN FOREVER, used the typical commercial approach of cramming as many high profile bands as they could into one soundtrack (U2, Brandy, Seal, The Offspring, Method Man, Nick Cave… what the fuck?), but most super hero movies don't use song oriented soundtracks.
Either way – is there another one with a soundtrack by one artist? Not that I can think of. Though I don't consider Batman one of Prince's better albums it is a unique specimen, a concept album with a great artist focusing his energy on one movie, one pop culture phenomenon. And it turns out he has alot in common with the material (and not just that he and the Joker both like to dress in purple).
I don't know what the fuck this Gemini business is about, other than a continuation of Prince's obsession with duality. In previous albums he had a character named "Camille" who represented his feminine side, and "Let's Go Crazy" talks about "De-elevator," who Wikipedia says represents the Devil, but I always thought it was an evil Prince doppelganger. Regardless, in the "Batdance" video he's taking the movie's two sides of the coin and putting them on one. The movie itself is all about duality, so each of these characters have two sides to them. Gemini is Bruce Wayne, Batman, Jack Napier, the Joker and Prince all in one body. And Prince probly has Camille in there. How do so many people fit into that tiny little body?
It's all about a balance between good and evil. An equal number of Batman dancers and Joker dancers taking turns expressing themselves, then fighting over Vicki Vale dancers. Given the amount of interest in the teaser trailer and the still photos of Michael Keaton as Batman, there is no question in my mind that they could've gotten away with a typical movie soundtrack video full of clips from the movie. It would've been a smash hit. Instead Prince put together this abstract super hero ballet. Using a video to express how his music expresses how the movie expresses his deep fascination with the yin and the yang, and with man's capacity for both good and evil.
But fuck it, I just like it because he's half Joker and half Batman and there's a bunch of Jokers and Batmans dancing around and it's kinda funky and he's sitting at a computer playing a badass guitar solo. So sue me.
Have a happy and safe 25th everybody. Keep bustin.
Note: the videos are extras on the BATMAN dvd, which is how I watched them. Normally I would embed those and "200 Balloons" from Youtube, but Prince rules the internet with a purple iron fist and does not allow any of his work to be on there for free. So you'll just have to watch this instead.
This entry was posted on Monday, June 9th, 2014 at 1:10 pm and is filed under
Comic strips/Super heroes
,
Music
,
Reviews
. You can follow any responses to this entry through the
RSS 2.0
feed. You can skip to the end and leave a response. Pinging is currently not allowed.