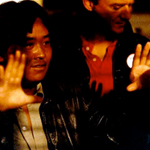 I heard some sad news today from Cynthia Curnan, the producer and writer of several Albert Pyun movies going back to SORCERERS in 1998. It seems that Mr. Pyun, who has recently completed his 50th movie ROAD TO HELL starring Michael Pare, has been diagnosed with multiple sclerosis and has been forced to retire from his extremely prolific filmmaking career.
I guess this has been public for a few weeks now, but I hadn't heard about it. Pyun is a force to be reckoned with in the world of b-movies, with a few under his belt that are beloved in some circles (THE SWORD AND THE SORCERER, CYBORG, NEMESIS, BRAIN SMASHER… A LOVE STORY) and alot more that you've at least heard of (RADIOACTIVE DREAMS, ALIEN FROM L.A., CAPTAIN AMERICA (1990), DOLLMAN, MEAN GUNS, many others). Honestly after seeing a few of those and not liking them I tried to avoid his movies, but of course I analyzed his Tom Sizemore/Steven Seagal/Dennis Hopper movie TICKER in Seagalogy and I was surprised to find myself genuinely liking his KICKBOXER 2: THE ROAD HOME.
That's when Albert Pyun the actual person, as opposed to the mysterious director of a million low budget movies, came onto my radar. Even though in my review I wrote "The director is Albert Pyun, but I never would've guessed that because it's both watchable and kind of good," Mr. Pyun showed up in the comments. It was a really nice and self-deprecating post responding to some questions that had come up during the course of us all trashing his filmography. Then he kept coming back to answer many questions that people had for him.

In those posts he made it clear that although he has no illusions about being a great filmmaker he is very passionate about what he does and is always trying to deliver, always trying to make the next one his best. Even if we don't like what he comes up with we should respect that this is not some cynical Asylum style sausage factory squeezin' em out for a quick buck. Pyun is a true independent filmmaker following his weird vision and trying to get the movie made against extreme odds. And succeeding over and over again.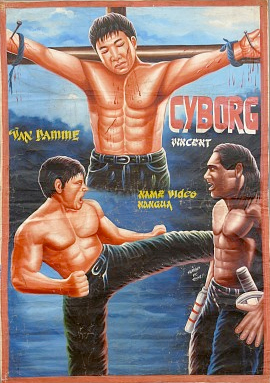 After the KICKBOXER 2 incident he would email me occasionally about whatever he was working on. I remember he was really excited about TALES OF AN ANCIENT EMPIRE, the sort-of sequel to SWORD AND THE SORCERER, and even sent me in-progress clips of it to see what I thought. (I was afraid to give him any advice.) He was also really excited about putting together director's cuts of some of his old movies like MEAN GUNS and CAPTAIN AMERICA. I wondered what the legality was on that last one, I'm not sure if it was even rights-holder-sanctioned, but it was something he insisted on doing. I really respected that he cared so much.
I also felt greatly honored when, after the death of Dennis Hopper, Pyun shared with us a story about working with him on TICKER. I always respect someone who is publicly known like him but willing to show up and comment with the rest of us on a humble websight like this. He just seems like a really cool guy and a good sport about me not liking MEAN GUNS. (Actually, don't follow that link. I feel like an asshole reading that now.)
Anyway, this shit is terrible. I have someone close to me with a debilitating disease (not the same one) and it haunts me every day. It's a real bummer for somebody to have to face this kind of difficult struggle and at the same time lose what they loved, what fueled them all this time, which in his case was making movies, often about cyborgs. But also you gotta look at the positive side of this thing. You gotta be in awe that he still made 50 movies. Almost like he knew he had to keep up the pace to accomplish what he wanted. And you gotta hope that modern science will help him to deal with this as much as is possible and that since he won't be working so hard he can use the opportunity to spend more time with his loved ones.
Curnan and her colleagues are trying to do something special for Pyun so his moviemaking days can go out with a bang, or a robot doing the splits between two walls. Don't worry, it's not a Kickstarter. It's an Indiegogo. Totally different. They're going to screen ROAD TO HELL and they're trying to raise money to have the screening at the Arclight and to fly in many of the stars of his various movies to do a big celebration of his career and a party for him. I know from his posts and his emails that he is really big on trying to show movies that he's proud of to appreciative audiences and he's always worried about getting the proper presentation and sound mix and everything. So reading about this campaign honestly moved me, I think it would be a great thing to do for a cool guy and I even busted my crowdfunding cherry giving a few bucks. No pressure but if you're interested please take a look:
ALBERT PYUN CAREER CELEBRATION
Anyway, our thoughts are with you Albert. Thanks for all your hard work, your sense of humor and for sharing your passion with us, a bunch of assholes who didn't necessarily deserve your time. You're one of the good ones, a KICKBOXER 2: THE ROAD HOME among men. And if your career is any indication I think this disease is gonna have a hard time keeping you down.
This entry was posted on Sunday, September 8th, 2013 at 4:56 pm and is filed under
Blog Post (short for weblog)
. You can follow any responses to this entry through the
RSS 2.0
feed. You can skip to the end and leave a response. Pinging is currently not allowed.