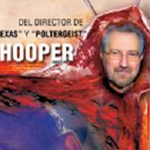 Dance of the Dead is Tobe Hooper's first episode of the Masters of Horror anthology TV show – it was the third week of the series, November 2005, airing after episodes by Don Coscarelli and Stuart Gordon. Made in the throes of the Bush years, one could argue that the wars overseas and upheaval at home subconsciously gave it its apocalyptic flavor, much as TEXAS CHAIN SAW MASSACRE has been said to have been marinated in Vietnam era angst.
Not that it's as good. Or even close. Like all Masters of Horror episodes, its TV budget, schedule, locations and crew dull the edge of any cinematic flair or authorial vision. That's a bad mix with Hooper's decision to go a little Tony Scott with the Avid farts and camera shakes. That style might've been intended as a translation of the showy writing style in the short story by Richard Matheson (whose son Richard Christian Matheson wrote the adaptation), but I found it cheesy and forced, with the exception of a long convertible joy ride sequence, where the camera movement effectively conveys the high speeds the characters are moving at both physically and mentally.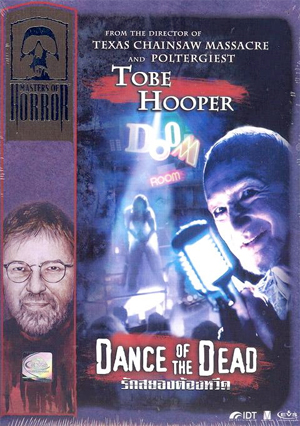 The story takes place in one of those painfully generic small towns of television cliche, where a nice girl named Peggy (Jessica Lowndes, ABATTOIR) works as a waitress at her mom (Marilyn Norry, BEYOND THE BLACK RAINBOW)'s old timey All-American diner, one of those places where everyone has known each other for years and comes in every day and etc. Except for these giggly drugged out punk kids who cause a mild scene and get kicked out by Mom. But Peggy is drawn to the misunderstood bad boy qualities of their ringleader Jak (Jonathan Tucker, Boon from Justified), so at night she sneaks out to hang with them and attempt to find a good balance between having fun and not giving in to peer pressure. (They do get her to shoot up in the car, though.)
I thought they were vampires, because they robbed an old couple of "the red" and they don't eat food, but I guess that's just their job in this world in which much of the population were burned alive by chemicals in a terror attack on Peggy's 7th birthday. Peggy and her mom survived partly by shutting the door on the friends at her party, which only Peggy seems to feel guilty about.
There is one incredibly fucked up scene that underlines how shitty the world is: burly dudes in jumpsuits like sanitation workers dump several naked female zombies into a dumpster and light them on fire. It's hard to watch these brutes tossing real naked stunt women like they're dummies. Even crazier, Hooper and company used a newly invented burn gel to light them on fire for real.
If you think that's gruesome though, this club called the Doom Room has chain link fences and strobelights, and there are people firejuggling outside! You will be so scared! It's where Peggy's new friends drive her to, which is unfortunate because the the corny forced shock value of the place drags down the episode. Emcee Robert Englund (EATEN ALIVE, Freddy's Nightmares, NIGHT TERRORS, THE MANGLER) introduces metal bands while surrounded by pierced strippers, and occasionally coughs up blood or gets a blowjob, but his biggest act is bringing out a zombie to twitch around on stage while being cattle prodded – the titleistical dance, I assume. Peggy struggles to be comfortable with this taboo subculture, but then she notices the zombie is her dead sister!
The story picks up at the end when they try to save her sister, and there's an interesting plot twist that I didn't expect, something that shows the judgmental pre-apocalypse traditionalist culture as more cynical and cruel than they let on. But mostly it's a formless stumble through this world, not enough of its details made coherent, too much of its time wasted with corny shirtless people trying to act scary while electric guitars blare on the score by Billy Corgan. I didn't regret that it wasn't feature length.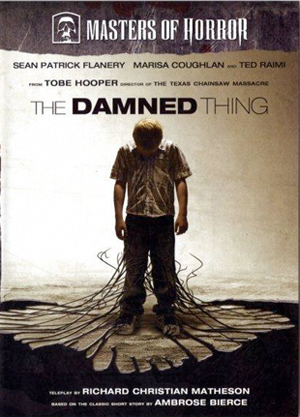 Hooper's other Masters of Horror episode was the second season premiere, The Damned Thing. This one was also scripted by Matheson, this time based (sort of) on a story by Ambrose Bierce. Sean Patrick Flanery (The Young Indiana Jones Chronicles) stars as a small town sheriff haunted by a fucked up childhood tragedy, seen in the opening scene: during a birthday dinner his dad (Brent Stait, DRIVEN TO KILL, HUNT TO KILL) suddenly snapped, killed his mom (Georgia Craig, "Anchorwoman," DAWN OF THE DEAD reamke) and tried to kill him, but was turned inside out by a mysterious invisible force (a great FX moment). As the sheriff is about to turn the same age his dad was, other people in the town start to have sudden fits of violence, a possible curse.
I found this one much more compelling and visually appealing than Dance of the Dead, other than a bunch of terrible white flash lightning strikes. There are some genuinely disturbing scenes, especially the opening domestic murder and the scene where a guy we've never seen before laughingly hammers himself to death on a sunny afternoon. There are a few visual allusions to TEXAS CHAIN SAW, whether conscious or not, such as the look of the house, the opening dinner table scene and the kid (Ryan Drescher) being chased through tall grass at night. There's a part where the camera lingers on a young woman's legs, which seemed gratuitous and made me question my celebration of CHAIN SAW's legendary butt shot. Later the character loses her lower half in a car accident, and I realized that Hooper knew what he was doing the whole time. Hooper should be trusted.
Some of the dialogue seems to be going for kind of a Joe Lansdale quirkiness. I like the jokey and nerdy kid version of the sheriff, who talks about charting his protein intake, though that personality doesn't seem to carry through to adulthood. I want to like the goofball deputy (Brendan Fletcher, FREDDY VS. JASON, GINGER SNAPS 2, LEPRECHAUN: ORIGINS) and his dream of selling his cartoon character "Mickey the Rat," but my picky comedy mind disagrees with the execution. I hate the generic style of his drawings, but they're way too professional. If his art is gonna suck, it should be a funnier type of sucking, a crudeness instead of polished garbage like a guy that draws ads for animation schools in trade magazines. And I wish I could rewrite the line where he says he has to get his drawings to "Steve Jobs at that Pixie company." In my amateur opinion, that type of "ha ha the redneck thinks that Pixar is called Pixie" is not funny, but if he had just said he had to get it to Steve Jobs, no explanation offered, it would've been funny.
I'm also not a fan of the nosy reporter character, who confronts the sheriff with some shameful thing about his family's past, but not in the manner of an intrepid investigator – he has to be played as just a total asshole getting sadistic joy out of smearing a guy. It's just a bad cliche and not believable at all. Or at least not to me, although I'm sure this is exactly the non-existent human that the brainwashed Trump cultists picture when they complain about The Media.
I'm not totally sure what's going on in this story, but it seems to have to do with a literalization of people refusing to face their past sins and demons until they inevitably drip from the ceiling or burst to the surface. For example, the cool CGI oil monster that comes out of the ground and eats our protagonist (spoiler).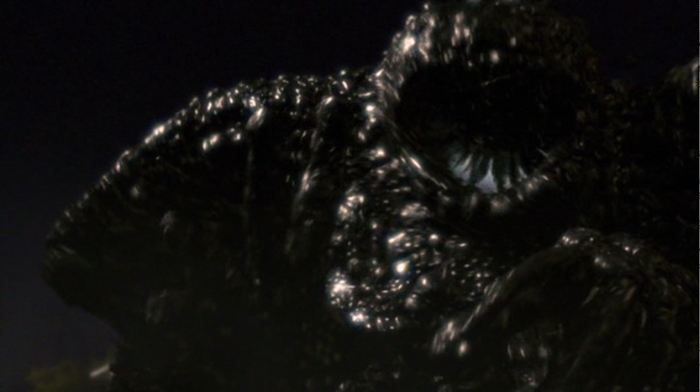 This episode is pretty muddled in that lesser-Tobe-Hooper sort of way, but it also has an enjoyable weirdness and a potent sense of creeping doom. I mostly liked it.
These were Hooper's last TV work, and among his last work period, done around the time of his penultimate feature, MORTUARY (which I remember kinda liking, but I guess I didn't review it). After this he was quiet for years, until the novel Midnight Movie was published in 2011 and DJINN premiered in 2013. I guess I didn't necessarily expect more big things from him, but I always took it for granted that he was out there. He was still an interesting voice when he got the chance to speak up.