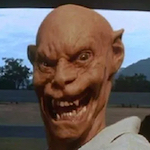 A rare movie-watching phenomenon that I love: rewatching one I saw decades ago, and have always believed sucked, but discovering that I really like it now. It happened with THE MANGLER, Tobe Hooper's crazy adaptation of a Stephen King short story, and it's happened again with SLEEPWALKERS, the first movie written by King that's not based on a previously published work. Maybe it's something about King's stories, but more likely it's that my tastes in horror have evolved since I was a teenager and saw this in the theater.
The mythological premise is established with a little text at the beginning: there are these fuckers called sleepwalkers, they are nomadic shapeshifters who are like vampires but instead of blood they suck the lifeforce of "virginal females," and instead of sun or garlic or whatever they're susceptible to cat scratches.
It's a Stephen King thing. Just go with it.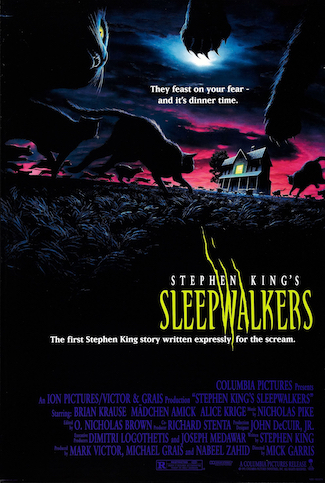 Next we see the sort of trail these sleepwalkers leave behind on their nomadic journeys. Mark Hamill (shortly after THE GUYVER) – in a cameo, he's not the star – plays one of the cops combing over a crime scene house with what must be hundreds of dead cats hanging from ropes all around it. Not good!
Since horror is great at making us empathize with monsters, so the story centers on one of the two who did that shit, Charles Brady (Brian Krause, RETURN TO THE BLUE LAGOON, RETURN TO CABIN BY THE LAKE), a hunky teenager (at least in his human persona) trying to fit in as the new kid at a high school in Travis, Indiana. Like our friend Carrie White, he lives alone with a weird mother (Alice Krige, SILENT HILL), who stays home and expects him to do the work. The joke is that she's always nagging him about finding a nice girl, but it has nothing to do with her values, it has to do with her hunger for that sweet virgin lifeforce.
One thing that happens here that's kind of shocking is that he's joking about her being jealous that he's going to the movies to see a cute girl who works there, and it seems flirtatious, and then he puts on a 45 of a fifties hit that we will find is the only song he ever listens to…
(I didn't know that song was called "Sleep Walk." Very funny, guys.)
…and he carries his mom upstairs to, uh, fuck her, it seems? Well then! (So every time you hear the title SLEEPWALKERS imagine a little wink that means "actually it's called MOTHERFUCKERS.")
The girl he has his eye on is Tanya (Mädchen Amick, THE BORROWER, Twin Peaks). The double feature playing at the theater is sparsely attended enough that she thinks she's alone and does an embarrassing dance in the lobby. She's listening to "Do You Love Me?" by the Contours on her Walkman – more '50s stuff – and I thought that was another Stephen King thing, but Mrs. Vern pointed out she's probly listening to the DIRTY DANCING soundtrack. Anyway, Charles surprises her and they obviously hit it off during the awkward popcorn transaction. The next day in creative writing class they eye each other when she compliments his story, which is just him describing the lives of sleepwalkers, even using that word. She says it's sad, so she has empathy for his plight, even though she doesn't know it's his plight.
There's a cute courtship. We find out that Tanya enjoys photography, that she has the same parents as Ferris Bueller (Cindy Pickett and Lyman Ward, married after FERRIS and divorced after this), that her mom likes to do gravestone rubbings. She invites him to come with her to take pictures at a cemetery – a sort-of-date. This is where he reveals himself in multiple ways: he symbolically forces himself on her, he tries to suck lifeforce from her, his face morphs into a cat monster, he starts cruelly taunting her. It's a cool left turn because it really felt like a movie about this flawed, troubled young man who's a victim of his mother and how she raised him, but it flips to him being a crazy villain and Tanya being the lead. I liked her better anyway! Nicer to cats.
One thing that's unusual and cool about Tanya as a horror movie heroine is that while being canonically a virgin according to the premise of the movie, she's also charmingly horny, for example muttering an obvious but excellent pun about gravestone rubbings. Also it's cool that her chosen artform of photography proves to be her savior: she bashes Charles on the head with her camera to escape him, and the photos she took become evidence.
There are so many things about the movie that I considered "stupid" at that time that now are enjoyably crazy. I dig the little subplot about Charles' clash with their teacher Mr. Fallows. Now I get a real kick out of how petty this teacher is. He references the four sides of a box in class and Charles points out that boxes have six sides. Instead of laughing it off Mr. Fallows launches a vendetta, researching Charles and figuring out that his transcripts are fake, then actually honking at him on the road and getting him to stop so he can confront him. Charles just plays dumb and acts like it makes sense for a teacher to pull him over! One reason I think it works is that the teacher is played by Glenn Shadix, a.k.a. Otho from BEETLEJUICE or the priest from HEATHERS. He was great at making cartoonish dickishness fun.
An even better piece of absurdity is the coincidence that the officer who first encounters Charles when he's speeding (Dan Martin, BLOODFIST IV: DIE TRYING, LEPRECHAUN IN THE HOOD, GRIDIRON GANG) happens to be an eccentric who brings his pet cat Clovis on patrol with him. Like I mentioned, a cat scratch is the only thing known to kill these sleepwalkers, and cats seem to naturally come after them – there are some great, eerie shots of the house surrounded by cats. (That's one of the things I remember playing well for me back in '92, because one time I'd had a really vivid nightmare about something like that.) They have bear traps and shit all over and at least once you hear one snap and a cat yelp – it's awful!
So here is Officer Clovis, we already like his partner because he's a joyful weirdo who talks to his cat, and then I'm afraid something bad happens to him. So we wonder – is this movie really telling me that a cat must avenge his dead partner? And will there be a good payoff to this amazing setup? And the answers are
1) yes and
2) also yes.
That's another thing that makes this movie really delightful: it seems very excited to deliver the goods in many different departments. You got your grossout shit, not only with the very idea of the guy doing his mom, but with the shot where they're reflected in a mirror and you see two ugly butt ass naked cat monsters humping (shout out to POSSESSION's tentacle monster sex scene). You got your imaginative gore: Ron Perlman gets three fingers bit off, a cop gets stabbed to death with a corncob, Tanya stabs Charles in the eye with a corkscrew, a cop gets bodyslam-impaled on a picket fence. And even more than that, you just have lots of unbridled violent mayhem. Fights often seem based on women's self defense techniques (poking eyes, clawing faces). The mom, Mary, is constantly punching and slapping people in the face. There's a great stunt where somebody gets their arm twisted and then thrown through a window and you see a cloud of dirt when she hits the ground. Mary gets shot through the stomach and it blows away a cat that's on her back. A bear trap gets thrown like a flying guillotine. Mary casually drags Tanya across a lawn by the hair right in front of the police, then fires two shots to blow up two cop cars and set one officer on fire. This movie is fuckin great! How did I not like this movie?
Even the stuff that hasn't aged well – there are a couple laughable morphing FX – have aged enough that they're now funny in a good way. The director is Mick Garris, his third time directing a feature after CRITTERS 2 and PSYCHO IV: THE BEGINNING. He makes use of his friendships with Masters of Horror, giving us time capsule cameos by Clive Barker, Tobe Hooper, John Landis and Joe Dante (plus King, of course). Garris is unquestionably a hero of the genre for his exhaustive documenting of behind-the-scenes stories, from a Z Channel show back in the day to his great podcast Post Mortem now, and he wrote a bunch of Amazing Stories and THE FLY II before this. But the honest, harsh-sounding truth is that I never liked him as a director. That's based on PSYCHO IV and his TV version of THE SHINING, which I doubt I'd change on, but it's also based on this movie… which I was so wrong about! He did a great job on this one. SLEEPWALKERS, motherfuckers!
P.S. Some other trivial notes:
1. I recently watched HOCUS POCUS, which Garris co-wrote, to try to understand what the deal is with that movie that I assumed at the time was garbage but has since become one of the founding documents of our civilization. I'm not gonna review it except to say it was less cheesy than I expected but still largely noisy and unappealing to me. Anyway, I noticed it was weird how many times they mention the concept of virginity in a Walt Disney children's movie, so I laughed when it immediately came up in this one too.
2. SLAUGHTERHOUSE ROCK/KICKBOXER: RETALIATION writer/director Dimitri Logothetis is one of the executive producers.
3. There's a catchy Enya song called "Boadicea" that plays during the movie and on the end credits. I knew I recognized it, but was too slow to realize it was from The Fugees sampling it on "Ready Or Not." Duh.
4. There's a part during a car chase where a squirrel almost runs out into the road and then sees the car and runs away and it's distracting but they left it in the movie and I respect that.