When I wrote about Abel Ferrara's BAD LIEUTENANT about 2 years ago I said that should be one of the movies they remake in BE KIND REWIND, or some kids should do a remake in their backyard, or you should use scenes from it for your monologue in acting class. So far I haven't seen any of those, but it's even better to see a remake starring Nicolas Cage. Sort of a remake, anyway.
What exactly is THE BAD LIEUTENANT: PORT OF CALL NEW ORLEANS? It's not a sequel, not exactly a remake to BAD LIEUTENANT. Werner Herzog, who directed this new one, claims he hasn't seen BAD LIEUTENANT. Ferrara claimed he was gonna stop this one from being made. (In my opinion he failed.) This isn't about the same character and I didn't notice any mention of the original screenplay in the credits. But it does have a little bit of a BAD LIEUTENANT vibe, and that's all I can ask.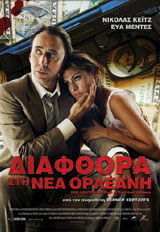 Actually I hope you guys haven't seen any of these, but there are some DTV sequels to WILD THINGS and CRUEL INTENTIONS and THE SKULLS that aren't exactly sequels, they basically just do a similar plot to the original, rehash some of the famous scenes, but with different characters. At first TBL:POCNO seems like they only took the idea of a corrupt, crack smoking cop trying to solve a case and used the title. But then he also starts getting into debt from betting on sports, same as in the original, and there's even a scene that's the (tamer) equivalent to the infamous scene where Harvey Keitel pulls over the two teenage girls and has them make faces and show him their asses while he jerks off and talks dirty to them. People are talking this BAD LIEUTENANT up for being weird, but that's just for a movie starring Nicolas Cage, it's really not as extreme as the original. It's a funnier and more mainstream-palatable take on the crack smoking, gambling, cheating, murdering, lovable bastard cop genre.
Before we move on I want to say a few things about the title. I believe PORT OF CALL NEW ORLEANS can and will be the new funny subtitle to add to everything, finally replacing the tired "ELECTRIC BOOGALOO." I had been trying to get people to switch to "FAREWELL TO THE FLESH" as an all-purpose fake sequel subtitle, but that's never gonna catch on. So look how well POCNO works for any movie title:
COMMANDO: PORT OF CALL NEW ORLEANS
AVATAR: PORT OF CALL NEW ORLEANS
KING OF NEW YORK: PORT OF CALL NEW ORLEANS
BAD SANTA: PORT OF CALL NEW ORLEANS
A CHRISTMAS CAROL: PORT OF CALL NEW ORLEANS
GARFIELD: PORT OF CALL NEW ORLEANS
I also think it's interesting to note that the title screen calls it THE BAD LIEUTENANT. There's a THE in it. I think we finally found the missing THE from THE FAST AND THE FURIOUS. Part 4 of that series was just FAST AND FURIOUS, because the first THE went to THE FINAL DESTINATION and the second one to THE BAD LIEUTENANT.
Herzog's THE BAD LIEUTENANT PORT OF CALL NEW ORLEANS dumps the Catholic themes of Ferrara's, so unfortunately Nic Cage never hallucinates Jesus and calls him a rat fucker. Instead of a nun getting raped it's a Senagalese family getting massacred. He gets high about the same amount as Keitel, but never waddles around naked or does that weird Chewbacca cry. Instead he summons his super power, which I usually consider an enjoyable type of overacting, but I read that Nic Cage didn't like being called "over-the-top"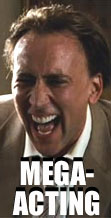 in this movie. So instead I will call it mega-acting. He's not just firing off on all cylinders all the way through though, he's like a mess of a guy barely holding it together and then a few times when he smokes crack he goes into the Castor Troy/howditgetburned mega-acting mode. It's like Popeye eating spinach or Pac-Man eating one of those bigger dots that means for a short period of time he has the power to digest the souls of the dead, except for their eyes.
One thing that's great about Cage playing this role is that you kind of feel like you're supposed to root for him. There's one scene, not a real important one or anything, where he flips out on a pharmacist because she's taking a personal call and he's been waiting forever for his prescription. It's kind of a FALLING DOWN type situation, everybody hates poor service and phone etiquette, so you get a satisfied laugh from this nut getting so fed up that he pulls out his gun and jumps behind the counter to get his Vicodin, leaves his co-pay plus tip and tells the security guard "Get the fuck out of my way!" before leaving triumphantly. Ha ha, wish fulfillment, right? We can all relate to wanting to do something like that, or some of these other things he does, like when he takes crack hits out of a teenage girl's mouth and forces her boyfriend to watch at gunpoint while he fucks her in the parking lot.
(After that scene a guy in my audience said matter of factly, "He's out of control.")
That's just the beginning of the joyfully unhinged mayhem that happen in this movie. I would have fun listing all of them, but I'm not gonna because I think most of you should just take my word for it and see for yourself. That guy in the theater who might've expected a normal Nic Cage movie like NATIONAL TREASURE was right, things are out of control and it's fun to not know where the line will be drawn. But I want to be clear that it's not just a bunch of random weirdness. It has a definite plot and structure to it. I like the original BAD LIEUTENANT but I gotta admit it's a chore to get through, and it took me two times to enjoy it. This is different. This one's a fun time at the movies.
To me it works brilliantly as a subversion of cop movies. Since DIRTY HARRY and WALKING TALL we've seen approximately three hundred and six thousand four hundred and thirty two movies where a cop goes over the line and breaks the rules in order to bust the bad guys. Here is a guy who does that while also stealing drugs from his hooker girlfriend's clients, threatening old ladies and babies, etc. In fact, he's so functional while high that he comes up with a master plan to play everybody against each other, and at one point it works so well that even he seems shocked.
Cage himself seems to be enacting some master plan to fuck with our minds, because this is not the first time he's tried this crazy formula. It's Nic Cage and Millennium Films (whose movies are mostly DTV, including many with Seagal, Van Damme and Snipes) taking the title of an arty cult movie and giving it to a somewhat respected auteur who you wouldn't expect to do a movie like this to do a supposed remake that has very little to do with the original. And the funny thing is everybody made fun of him about THE WICKER MAN but he didn't give a good god damn, he felt confident in using the formula again. What if he was getting at something there that nobody picked up on? I did feel like there were some things going on in that script that people didn't give it credit for, but it wasn't as good as this. I'm gonna have to revisit that one. Anyway if he wants to make it a trilogy maybe he could let Abel Ferrara get revenge and remake AGUIRRE or something.
I read in a recent Entertainment Weekly article that Nicolas Cage outbid Leonardo Dicaprio for a dinosaur skull. I wonder what you do with a dinosaur skull? Just mount it on the wall? Anyway, just wanted to throw that out there.
There are many good character actors showing up for little parts, including a sleazy Val Kilmer, a  really memorable Shea Whigham, Xzibit in a really nice suit, Jennifer Coolidge (who I didn't recognize playing a serious role), and a tight-bodied Fairuza Balk in her underwear making sexual advances at the lieutenant and he has a big bulge in his pants but he's too high to be interested. The biggest surprise for me was Eva Mendes is actually pretty good as his junkie hooker girlfriend. I always wonder how she even gets in movies, but here she's not bad. And I thought it was really funny to have the same couple from the inexcusably terrible GHOST RIDER reteaming for something like this.
I love THE BAD LIEUTENANT PORT OF CALL NEW ORLEANS, and it gives me a new respect for Nicolas Cage. It takes alot to make up for GHOST RIDER, NATIONAL TREASURE and all that shit, but this and KNOWING might do it. I know there are some gossipy stories now about Cage being in debt, but I hope that won't stop him from aiming his mega-acting powers in the direction of more enjoyably one-of-a-kind movies like this. And I hope he doesn't have to sell the dinosaur skull to DiCaprio, because he's earned it.
* * *
If you haven't seen the movie yet consider that the end of the review, because I want to discuss THE ENDING: PORT OF CALL SPOILERS
This is for my buddy code name Mr. Armageddon who didn't hate the movie but said it didn't have a point or meaning. I disagree. For the most part it's just a cracking crime tale, full of dark humor, inappropriate behavior and occasional spots of violence. Somehow you want this asshole to stumble out the other side alive, but he keeps getting himself in deeper trouble with a wide variety of enemies.
That would be enough for me to enjoy it, but the way it's bookended with the flooded jail cell opening and the aquarium ending turns it into something of a zen koan. It's hard to believe all of his addiction happened after the opening, but I think that's what you're supposed to assume – he started using Vicodin because of the back injury and it just got out of control from there.
Well, he's in this sea of corruption, he's encouraged and tempted to let the prisoner die. But he saves his life instead. A selfless act that ruins his expensive underwear (and pants and shirt I'm assuming, although this is not mentioned). Because of that act he gets the injury, and the addiction, and turns into a bad lieutenant. In the end he somehow manages to pass himself off as a hero and becomes a bad captain and a family man, but he can't stop being a junkie.
But in the end we learn that what he did really made a difference, because the man he saved did turn his life around. And he wants to return the favor. He sees that the captain is at rock bottom and he seems to basically become his sponsor, be there for him and talk to him. And this should be a redemptive moment for the captain. He was rewarded greatly for all the horrible things he did, and I think that weighs heavily on him. Now finally the one good thing he did a long time ago has come back to him. He actually deserves this help. He really can be a force for good, for positive change in the world.
And he sits there and thinks about it but he comes to the conclusion that he regrets doing it, because it ruined his underwear.
(or that's what he says anyway. It's up to you whether he's serious or not. And I don't think his new friend knows what to make of it either)