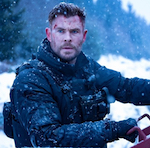 disclaimer: I support the WGA and SAG-AFTRA strikes and I think Netflix is the primary instigator of the current problems in the movie industry. I believe they used venture capital money to run an unsustainable rent-by-mail service until most video stores were out of business, then pivoted to streaming on a model that requires not paying artists their fair share. And then all the studios jumped in after them, so it's a bunch of business asshole CEOs trying to last as long as they can without admitting to their stockholders that they fell for a scam and have no way out except to rebuild streaming in a totally different way that doesn't fulfill Wall Street's insane lust for preposterous growth. They fucked themselves over, which is fine, but they also fucked movies over, which is unforgivable.
That said, the bastards occasionally spend some of their plunder on making good movies, including EXTRACTION II. Please enjoy my review!

I'm a busy man and/or a slowpoke, so I took my time finishing this review. But don't let that give you the wrong idea: I watched EXTRACTION II (on screen title: EXTRACTIION) the first day it was on Netflix, I've rewatched it since, and I'm sure it will be one of my favorites of the year. I'm a fan of the first one – one of the most legit American made-for-streaming action movies – but the sequel is even better. Once again directed by former Captain America stunt double, UNLUCKY STARS villain and ATOMIC BLONDE choreographer Sam Hargrave, it's a movie made for those of us who appreciate a good old fashioned, straight ahead movie star action vehicle, made with the impeccable craft of the best stunt geniuses, the luxury of theatrical-worthy production value, and a refreshing lack of smart assy, winky-winky bullshit. There's a little joking around between comrades, but it takes its subject very seriously. Its subject is a guy who is awesome doing awesome shit while going through some shit. I think it would be a good one of these even if they weren't so rare these days.
Chris Hemsworth (BLACKHAT) stars as the excellently named Tyler Rake, who was shot in the throat and fell off a bridge into a river last time (though there was an ambiguous implication that he might've survived). The sequel picks up when he's scooped out of the river and put up in a state of the art hospital by his handler Nik Khan (Golshifteh Farahani, PATERSON), with help from her brother Yaz (Adam Bessa, Hanna tv version). Nik was cool in the first movie but here she has a bigger part and makes a strong case for induction into the Best Friend Hall of Fame, starting with refusing to pull the plug when the doctors recommend it, supporting Tyler through physical rehab even though he'd rather be dead, and setting him up with a new home (and his old dog) in Austria when he's ready. She tells him, "You fought your way back. You just have to find out why." A good theme for a movie like this.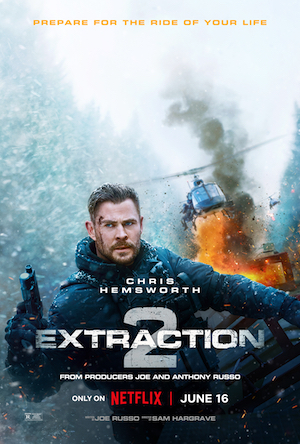 Of course one day a mysterious guy (Idris Elba, PROM NIGHT) appears on his porch knowing too much about him and trying to recruit him for a job. The guy never says his name, but the credits call him Alcott. Tyler tells him to fuck off but then finds out who recommended him: his ex-wife Mia (Olga Kurylenko, SENTINELLE). The one who left him after their son died of cancer while he was in Afghanistan. So he takes the job. He has two weeks to get ready.
I don't have to explain to most of you that much of this is generic action formula and that I mean that as a positive, not a negative. We have gathered here specifically to see a well told version of a tale as old as time. It might be even better if it was the one where his body floats ashore in a tiny village having lost his memory, he's generously nursed back to health by locals, becomes a valued member of the community and learns a regional fighting style before remembering who he is and having to return to violence. I love that one. But I also love this one, the one where he wakes up from a coma and tries to live a new life of peace in a remote cabin with a dog and two chickens but has to come back to help someone from his past so he gets ready through ROCKY IV-style low-tech training montage. In fact as soon as I saw how fucked up he was in the hospital I excitedly asked my wife, "Are we gonna get a training montage?" (It's short, but I'll take it.)
The job is in Kojori, Georgia, where Mia's sister Ketevan (Tinatin Dalakishvili) needs help leaving her abusive husband Davit Radiani (Tornike Bziava). One complication is that Davit and his brother Zurab (Tornike Gogrichiani) founded and lead a notorious, cult-like "billion dollar heroin and weapons operation" called the Nagazi. A bigger complication is that Davit is in prison for killing a DEA agent and has arranged to have Mia and their kids Sandro (Andro Japaridze) and Nina (Mariami and Marta Kovziashvili) locked up with him in a small, shitty living quarters, supposedly for their protection. So Tyler has to lead a team into the prison to snatch them without the prison guards, Davit or any other prisoners (who are involved in a gang war) getting in their way.
Would you be surprised to hear that it doesn't go smoothly? The raid on and escape from the prison are a thrilling sequence, most of it styled as a single take, and encompassing everything from a prison riot to a car chase to a street shootout to a battle on a moving train with Tyler shooting down helicopters with a huge PREDATOR type gun. You know I loved that fake-long-take movie CARTER, but for those who hated it, don't worry, this is more like the MISSION: IMPOSSIBLE approach where everything is as practical as possible and looks very real. (In fact, there's a shot where Hargrave insisted on being the camera operator because he didn't want to ask anybody else to walk under a real helicopter dropping people onto a moving train.) Also there are small pleasures like Tyler catching on fire and continuing to fight. He puts the fire out by repeatedly punching a guy.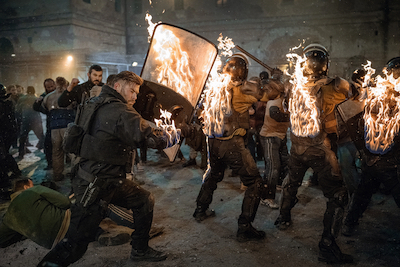 There's so much storytelling and timing built into the sequence, so much rhythm and escalation. In the prison they weave through hallways and tunnels, catching glimpses of the looming threat of the rowdy prison population trying to get at them through bars, then they get away from them but they can be heard muffled in the distance, then getting louder. Right when Tyler is about to make it out to the street Davit shows up, bashes Ketevan in the face with a wrench, duels Tyler, and loses. Ketevan finishes the job. Probly didn't need to. Wanted to.
There's an absolutely brutal fight between Nik and two soldiers in the front of the train. They're bigger than her and she just has a knife, but takes advantage of the close quarters to block them from aiming their guns and to bash them against the walls. I like when she breaks the window with one guy's helmeted head and then scrapes an arm across the jagged shards remaining at the edge.
As in part I, Tyler has a relationship with a kid as a stand-in for the son he lost. In this case it's the tempestuous relationship he'd have with an angry, rebellious teen. During the escape there's constant tension from Sandro asking stuff like "Where's Father?" and "Why are uncle's men shooting at us?" His mom keeps brushing off his questions, not ready to tell him "Your uncle wants revenge 'cause I bashed your father's head in with a shovel back at the prison and let me tell you, I enjoyed it." But eventually, during the first minutes of not being shot at, he figures it out.
Sandro is often shaking, looking like he's gonna cry or shit himself, but I think he feels even more pressure than most teenage boys to be tough. He's got the Nagazi indoctrination on top of the usual societal mess. He feels a duty to protect his mother, but also thinks she betrayed his father. "A good son is supposed to stay with his father," he tells Tyler. Even when the father is an abusive monster. This "men doing the stupid shit their asshole fathers taught them" theme is also reflected by Sandro's uncle Zurab saying "'You fight for your brother till your last drop of blood.' I haven't forgotten my father's lesson. Have you?" when his own uncle (Dato Bakhtadze, WANTED, BEN-HUR) tries to warn him that maybe it's not a good idea to get himself and all of his people killed over this stupid revenge bullshit.
Even before he thinks Tyler killed his father, Sandro eyes a stray gun, tempted to pick it up and join his dad, his uncle and Tyler in the world of killers. And there's a constant threat of him choosing his uncle over his mother. Tyler has a good talk with him standing on a balcony on a tall building and seems to get through to him just as he hears helicopters coming and realizes the kid already sold him out. Whoops.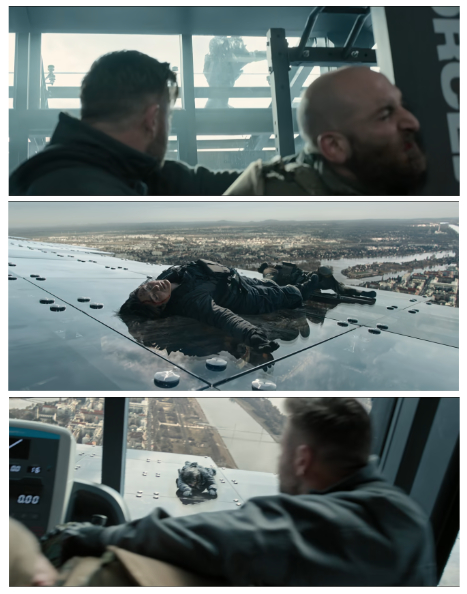 Another source of tension, at least for me, is that I liked Nik so much I was constantly afraid they were gonna kill her off for the pathos. It's a relief to have that knot out of my stomach during subsequent viewings. One of the best bits of suspense is when they're fighting their way to the roof of a skyscraper for extractIIon by helicopter. Tyler is fighting some guys in a gym with a window view of the sloped glass roof where Nik has fallen, been knocked out, and is slowly sliding down. So he has to finish his fight in time to get up there, catch her, and dangle from the edge, with Zurab shooting at him. Then he gets his first brief one-on-one with Zurab. If it wasn't really filmed at a high elevation they sure fooled me. It's so exciting to see action movies that are real movies in the year 2023. I missed these.
Tyler and friends face an endless parade of paramilitary goons, led by scar-faced Zurab and a few particularly scary looking top guys in his organization. BLOODSPORT II through DARK KUMITE star Daniel Bernhardt sports a mohawk to play one named Konstantine, but be forewarned that this is him doing his part as an 87Eleven lifer, it's not really a featured henchman role like you might hope. He's not much of a character, but he does his job as a visually memorable threat, as does Australian MMA fighter Megan Anderson as "AKA."
The onslaught of gun and vehicle based action does not prevent it from being a movie full of scrapping. The choreography has a raw, messy realism to it without being repetitive, and allowing for delightful uses of locations and props: burning a face on the side of a heater, stealing a riot shield and using it as a blunt weapon, taking guys out with weightlifting equipment, knocking a guy face first onto a treadmill that flips him and launches him through a glass barrier and down to a lower level. (Every time I watch the movie I have to stop and replay that a couple times.)
It's also very imaginative in its mayhem: a motorcyclist being thrown into the air by an explosion, hitting a tree. Another one hitting a fallen tree, flying off his motorcycle, then it landing on top of him. Shooting up helicopters and watching them crash. Showing a rolling train wreck from both interior and exterior perspectives. Any time a vehicle the size of a car or larger flips and lands on its side it's probly gonna be used for cover in a shootout. The action team clearly thought long and hard about every cool thing these warriors could do by thinking fast on their feet.
Some have criticized the structure of the movie for having such spectacular action in the beginning and middle but getting more intimate for the finale. For me it works great. We already got to enjoy the thrill ride, then we go out acknowledging the pathetic stupidity of Zurab taking this vendetta through to the end. There is no winning this.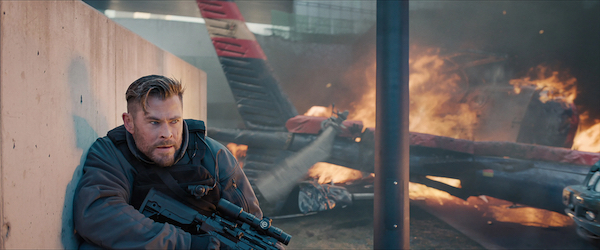 I have some misgivings about my beloved action genre's fetishistic fixation on the military, their guns and their tactical gear. But I appreciate the approach the Tyler Rake Saga takes to this sort of thing. Yes, its hero is an elite special ops soldier, applying his skills professionally against foreign bad guys, saving the day through high tech weaponry and gritty determination. But I don't think it quite glorifies that world. Tyler doesn't find his heroism in war – he finds it through the amoral job of a mercenary, where he's betrayed but risks his life to stand up for what's right. In the first one he's saving the son of a drug lord. Parallels are drawn to the son he lost, but that also means parallels are drawn between him and the drug lord. The implication is that kids don't deserve the shit put upon them by their fathers.
Like John Wick, Tyler is a legendary killer who takes a beating and keeps going, because he's doomed to a life of perpetual violence. Like John Rambo or John McClane he goes through all this and then opens up about his feelings and mistakes, something our unhealthy masculine codes tell us not to do. But that was the answer to Nik's question. He had to survive to finally talk to Mia in a couple of scenes where both actors absolutely crush it. Kurylenko is so excellent in the role it doesn't bother me that it doesn't require her well-established action skills. (Not that I'd complain if that changes in a future installment.)
Tyler seems to get along better with women than men, but in his friendship with Nik he has the same problem of staying emotionally closed. He does great when he can be the savior, the guardian, the comforter. Vulnerability is more of a challenge for him, but he's trying to learn. That's an important lesson that goes unnoticed by many a macho man watching FIRST BLOOD or DIE HARD, and I'm sure this will be no different, but I'm always gonna appreciate it.
The script is by Joe Russo (WELCOME TO COLLINWOOD), who some of my action friends have a fatwah against because, as co-director of CAPTAIN AMERICA: THE WINTER SOLDIER, CAPTAIN AMERICA: CIVIL WAR, AVENGERS: INFINITY WAR and AVENGERS: ENDGAME he represents the MCU and its conquering of the modern filmscape. I know many people who were infuriated by the Russo Brothers' approach to action in last year's Netflix movie THE GRAY MAN, though to me it's way better and more deliberate in its stylization than some of the action in WINTER SOLDIER, which everyone got mad at me for criticizing at the time (though I like that movie too).
Oh well. That's an old battle. I don't mind the Russo Brothers hate (especially given their penchant for saying asinine things about the future of movies in interviews), but I strive to be a fair individual, and I just feel like you gotta give credit where credit is due. Setting aside whatever you think about their Marvel career, the Russos have used the clout it gave them to help get EVERYTHING EVERYWHERE ALL AT ONCE made, to get Hargrave the action director job on WOLF WARRIOR II, and to get him the directing job for EXTRACTION. And, more to the point, EXTRACTION II is a well written movie! It economically weaves effective character moments through action tropes, gives Hemsworth plenty to chew on both physically and emotionally, and sets up great action scenarios where Hargrave can go do directorial loopty loops and 720 spins and land in a handstand like he was born to do. It does its job excellently and unless you have some inside information that the script was trash and Hargrave had to ignore it all and make up something else I think we can just admit that Russo is in fact good at his job sometimes, and this is one of those times.
Of course the MVPs are Hargrave and Hemsworth, a great director and a great movie star who has himself used his thunder-god-given clout for the action movie greater good. They've made a thrill ride as good or better than almost any in theaters this year, and with some real emotional weight to it. The EXTRACTION series joins the JOHN WICK series as one of the few American cinematic institutions to truly follow the RAID movies' lead in both volume of imaginative combat violence and audacity of filmmaking technique. It also follows those series' tradition by upping the ante for the sequel, and it's possible they'll do it again. Instead of maybe killing Tyler off like the first one, this one does us the courtesy of setting up his next adventure. With Nik by his side, no less. I look forward to Netflix settling the strike and spending their last money in the world to give us a kickass 3XTRACTION (and maybe throw in a couple INTERCEPTORs).