More like THE C+/B- TEAM if you ask me! Nah, I'm sure somebody beat me to that one, and they probly graded lower. THE A-TEAM is semi-enjoyable but not nearly as good as I wish it was and truly believe it could've been even if it's an adaptation of a stupid '80s TV show where everybody fires guns and nobody ever gets their head blown off. Directed by Joe Carnahan in a toned down version of his SMOKIN' ACES hyperactive style, using a script he took over from an individual responsible for THURSDAY, SWORDFISH, HITMAN and WOLVERINE, it's a movie that only partially earns its swagger. I kind of went back and forth on my feelings about these characters constantly laughing as they pull off ridiculous digitized feats in jets and choppers. It's kind of relatable and endearing, kind of frat boy and smarmy. It's the only action movie I can think of where after multiple action beats the characters yell "THAT WAS AWESOME!"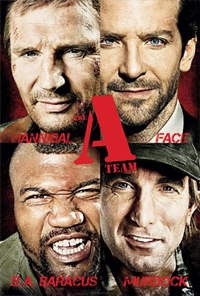 I'm sure THE A-TEAM TV show probly made it all around the world, but if you never heard of it here's the premise: an elite special forces team is framed for war crimes, they bust the fuck out of the joint and travel around in a van using their skills to help people who're in trouble, all the while being chased by military assholes and repeatedly failing to clear their name until the last episode. Each one has a specialty: Hannibal (George Peppard) is a colonel so he's real smart and masterminds everything, also smokes cigars. B.A. (First name Mister, middle name period, last name T) is just a Bad-Ass so he grabs people and/or punches them. Face (Dirk Benedict from "Battlestar Galactica") is a charming ladies man so he uses his smooth talking and powers of disguise to sneak into places. And Mad Murdoch (Dwight Schultz) is crazy, so he does crazy stuff. Also flies helicopters. Together they usually do some welding to build some sort of jerry-rigged cannon or some shit and there's a montage where they pull off their plan and they're all happy. Come to think of it it's almost exactly like SCOOBY-DOO but with way less snacking.
For the movie of course they went the origin story route, so in this one they're trying to clear their name after some combination of mercenaries, CIA and/or army got them blamed for the theft of some counterfeiting plates as they're about to leave Iraq. The story is kind of a more smart-assed version of a MISSION:IMPOSSIBLE movie. The complicated tricks they play are very A-TEAM, but I'm not sure we need the DTV Seagal-style convoluted series of double-crosses. I guess they heard "special forces" and thought "overly complicated spy movie."
(And my buddy Mr. Armageddon pointed out that it's simply not believable that the A-Team was in Iraq. If they were then why did it take so long to find Saddam, and to know there weren't weapons, and to get the fuck out of there? Just as 9-11 wouldn't have happened in a world with a Superman, Iraq wouldn't have happened in a world with the A-Team.)
But the cast is real good at recapturing these characters. Liam Neeson as Hannibal gets a great introduction where he escapes from being tied up to a chair (something Wesley Snipes has failed to do in three different movies, so maybe it's best he didn't get to play B.A.). Bradley Cooper (MIDNIGHT MEAT TRAIN) actually seems genetically engineered and trained for his entire life to play Face. It's ridiculous how exactly his smugness matches Benedict's.
UFC fighter (and MIDNIGHT MEAT TRAIN scene stealer) Quinton "Rampage" Jackson has the most difficult job – how the fuck do you replace Mr. T? You can't just imitate him and you sure as hell can't not be anything like him. It's a delicate job and they did it with surprising grace. They keep the fear of flying, ditch the gold chains and feather earrings, give the mohawk a meaning. Rampage's B.A. smiles more than T's. He has a little more humor and sense of fun, is slightly less stubborn (he can be easily won over by Murdoch's cooking) but sort of has the same lovable big teddy bear personality as T. He gets an enjoyably corny supblot about renouncing violence and mohawks, and he gets to whine when people make him want to shoot them.
The only thing I really didn't like about B.A. was when he did a Li'l Jon/CHAPPELLE'S SHOW seven god damn years ago "yay-eahhh." Might as well have a reference to the Macarena. But apparently Carnahan thought it was funny because he replayed the damn thing on the end credits.
DISTRICT 9's Sharlto Copley is fine as Murdoch, but does not transcend the role of Murdoch. Like Schultz he's funny some of the time, but trying to be funny all the time. I kind of liked him but I wish we could've seen John Singleton's idea of Woody Harrelson as Murdoch. That might've been something.
It's a good team, good chemistry, but something's weird about the rhythm. Some of the jokes seem timed a little wrong, emphasizing the wrong beat or stepping on the funny lines. It felt to me like a funnier movie was right there, it was just mixed up a little. And Carnahan throws in alot of unneeded non-linear editing, jumping back and forth between planning and execution when simple straightforwardness would work better. He's like a guitarist who takes three or four too many solos. For example they have Face playing a shell game with some cups as he explains a plan, then he's doing the same moves with a crane and three shipping containers. And just as I'm enjoying the absurdity it cuts back to him moving the cups, as if we're too stupid to remember that this is what was shown to us about 45 seconds ago and to realize that there is a connection between the two activities. Even though Face even said out loud "This was much easier with cups." We didn't need that and you think we need more than that? Thanks for the confidence, Joe.
Most of the action is middle of the road too. There's a couple high speed nail biters, but most of it's a little shakier and choppier than it should be. Definitely not as bad as the modern standard, but also not as good as it would once have been expected to be. Rampage only fights a couple of times and his MMA skills are not really taken advantage of. You would assume he was a WWE guy because he pretty much just does one body slam and a wire-assisted power kick.
Jessica Biel is getting hotter and pulling off tough better than she used to, so I liked her as the officer on their trail (and ex-girlfriend of Face). And I really liked Patrick Wilson as the douchey CIA agent who enjoys himself as much as the A-Team do.
I gotta admit, my favorite parts are all of the stupidest shit. I love that when Hannibal and B.A. meet they can bond over Army Rangers tattoos moments after Hannibal shot B.A. And that, since the screenwriters remember that Hannibal used to say "I love it when a plan comes together," they have him constantly talking about the act of planning and what constitutes a plan and etc., like that's his only interest. Plans. And I gotta give points to an expensive studio movie where the heroes playing a trick using ketchup as fake blood, like little kids would do. I'm not as sure about Hannibal quoting Gandhi to convince B.A. to renounce his renouncing of violence, but at least it brings the mohawk back.
One thing I don't like about these types of movie adaptations is that they tell the beginning of the story and never get to the good part. To me the cool thing about the A-Team is not that they cleared their name in the last episode (SPOILER), it's that before that they travelled around on the lam and were these legendary underground heroes, risking exposure to help people by using their elite skills. This movie isn't doing too well at the box office, so I'm not holding my breath for episode 2. But I hope if they do one it's about B.A. trying to stop the children's center from getting shut down. And they damn well better get into his love of milk.
http://youtu.be/ofSAt9r2Gek