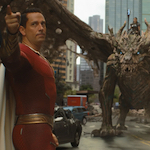 After watching BLACK ADAM I figured I might as well complete my DC movie checklist before seeing THE FLASH, by crossing off SHAZAM! FURY OF THE GODS. Not that I was against seeing it otherwise. I wouldn't say I loved 2019's SHAZAM!, but I was pleasantly surprised – as I said in my review, I thought it was a decent kids movie with some laughs, some monsters, and some sweetness.
Of course, I also said "I don't really care if there's another one or not" except that I was excited by the introduction of a talking caterpillar villain at the end. If I had remembered that I might've been disappointed that this sequel is not about the talking caterpillar, but also maybe I would've thought it was a funnier joke when he appears briefly to say he's not quite ready to enact his evil plot yet. It is a funny followup to the previous teaser, even moreso now that it seems unlikely to ever be followed up on.
FURY OF THE GODS takes place four years after the first one. Teenager Billy Batson (Asher Angel, DARBY AND THE DEAD) still uses the power given to him by an ancient wizard (Academy Award nominee Djimon Hounsou, NEVER BACK DOWN) to say the word "shazam" and turn into an adult muscly cape wearing super strength lightning man (Zachary Levi, BIG MOMMA'S HOUSE 2) who flies around Philadelphia saving people from disasters or fighting criminals. Following up on the last act of the first movie, Billy has been able to share those powers with his foster siblings Freddy (Jack Dylan Grazer, TALES OF HALLOWEEN), Eugene (Ian Chen, Fresh Off the Boat), Pedro (Jovan Armand, Snowfall), and Darla (Faithe Herman, BODIED), so they can turn into similar flying super heroes played by Adam Brody (SCREAM 4), Ross Butler (RAYA AND THE LAST DRAGON), D.J. Cotrona (G.I. JOE: RETALIATION), and Meagan Good (THE INTRUDER). His oldest sibling Mary (Grace Caroline Currey, FALL) also turns into a super hero, and last time she switched out with an older actor too, but now she doesn't. I'm assuming that's because she's considered an adult now, but if they addressed that I missed it.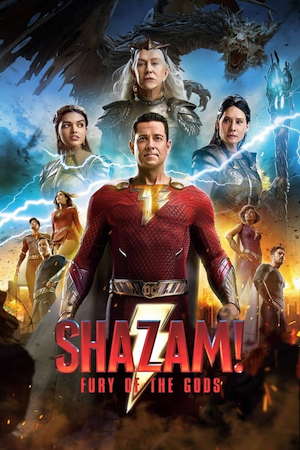 Billy has a rule that they don't do super hero shit alone, only together. But their foster parents Rosa (Marta Milans, ASHER) and Victor (Cooper Andrews, DARLIN') don't know about the super powers, so they all have to make up an excuse or sneak out at the same time to have fun together saving commuters on a collapsing bridge. Then they go hang out in their secret chamber full of magical statues and doorways to other dimensions and shit, which is decorated like a clubhouse. They generally stay in their super hero forms. I'm not really a fan of adults playing kids, so that's not my favorite choice.
Luckily there's a pretty big chunk of the movie where Freddy in his regular teen form is the main character and it's about him flirting with a new girl at school, Anne (Rachel Zegler, WEST SIDE STORY). I actually thought that was the part of the movie that worked best – this underdog kid, with the confidence of a secret super hero, managing to sink a bunch of 3-pointers in his smartass banter with Anne and insults of the two bully kids trying to humiliate him in front of her. Freddy and Anne have a good enough chemistry that it didn't bother me that I could guess what her significance was gonna be to the main plot.
That is SPOILER that she's purposely getting to know Freddy because he was once visited in the cafeteria by Shazam. She's the previously unrevealed younger sister of the sequel's villains Hespera (Helen Mirren, SHADOWBOXER) and Kalypso (Lucy Liu, THE MAN WITH THE IRON FISTS), goddesses who break into a museum to steal the broken staff of the wizard and then go to the Gods' Realm, where he's imprisoned, and force him to repair it. Now they're after Shazam and family, who they say stole the powers from them. (Seems like a legit grievance, if true.) They steal Freddy's powers and imprison him with the wizard (those two get a mismatched buddies subplot) and create a magical bubble over the city, trapping everyone inside. Shazam has to remove the bubble, protect his family, fight over magical objects with Kalypso riding a pretty cool dragon covered in tree bark, plus come out as a super hero to his foster parents and come to terms with his siblings growing up and having their own lives separate from him.
Recently I was theorizing that the popular interpretation that thousands of unseen, unmentioned, unimplied deaths happened during MAN OF STEEL's great Metropolis battle contributed to the modern reality where all super hero battles have to take place in a boring CGI rocky field or empty void so we can all agree that no fictional characters were harmed. So hey, man – credit where credit is due: Shazam throws a dragon all the way through a building. And gets excited about how cool it was. I like when he gets knocked down, bounces off a series of parked cars, slides across the pavement and catches on fire. The flying and super power action is mostly pretty well done.
I never rewatched the first, and I admit I had trouble remembering who all the foster siblings are and which super heroes they turn into. Not that it matters too much, but it's hard to keep track of seven different actors playing eight different supporting characters. I also think it's just not as fun to see them as full-fledged (if still learning) super heroes as it was to see them just goofing around seeing what funny things they could do now and laughing about it. That was a more unusual comic book movie experience than this is.
But it's okay and probly a good time for kids. Like in the first one, I enjoyed the CG monsters, this time of a mythological bent and including a tribute to Ray Harryhausen's cyclops. There's a good joke about how unicorns are real but they're not pretty – they're cruel, terrifying beasts. Darla figures out a way to win them over, which maybe you can guess when I tell you that as she rides into battle she yells "Taste the rainbow, motherfucker!"
SHAZAM! got some mileage from Billy's search for the mother who abandoned him, and ultimately finding a place with this family. I don't think this one was able to find quite as sturdy of an emotional hook, and I think it was a mistake to have him in his Shazam form so much more than his Billy form. But it's still cute to see the interactions of the various kids and the loving foster parents (who do get to be in on the action – mostly just by driving a van around). And there are two important character moments I appreciated because they establish Freddy and Billy as heroic apart from just having been given powers by a wizard. One, when Freddy does better than the wizard himself at withstanding magic mind torture, and two, when Billy makes a decision to fight a battle he believes will kill him but save his family. He also ultimately earns his place as the main character by using his powers more effectively than the others and saving the day in spectacular fashion (or at least with lots of dramatic lightning and glowing eyes).
The connections to other DC movies are kinda weird. (SPOILER) Wonder Woman (Gal Gadot, CRIMINAL) shows up. If you stick around for the mid-credits you also get to see two characters from Peacemaker, which apparently came about because The Rock forbade them from using characters from BLACK ADAM. Oh well. More money for Steve Agee (SLEEPING DOGS LIE, GOD BLESS AMERICA).
Like the first SHAZAM, FURY OF THE GOODS is directed by David F. Sandberg (ANNABELLE: CREATION) and written by Henry Gayden (THERE'S SOMEONE INSIDE YOUR HOUSE), now with additional writer Chris Morgan (FAST & FURIOUS 3, 4, 5, 6, 7, 8, WANTED). I don't think they were able to make one of those sequels that builds off of and really surpasses the first one, but I won't hold it against them.
This was considered a bomb, and Levi publicly groused about The Rock both refusing to appear in the movie and interfering with their other plans. But I don't know. They have Billy wearing a GOONIES shirt in part of it, which I take as a "we're making kind of a modern GOONIES" message. And they only made one GOONIES movie. So these guys should be happy they got to make two.
P.S. It occurs to me that this is one of the only modern super hero movies where most of the super powered characters wear capes. I've noticed lately that people have been using the term "cape movies" (or "cape shit") instead of "super hero movies" or "comic book movies," and I don't really like it, mostly because it sounds corny, but also because it's a less accurate description of the genre than "super hero" or "comic book."
Think about it. In DC who wears a cape? Batman, Superman, now Supergirl. Not the Flash, Wonder Woman, Aquaman, Catwoman, Cyborg, Black Adam (except the cloak at the beginning), Blue Beetle, anyone on either Suicide Squad or the Birds of Prey or in Peacemaker. So, a couple of the important ones, but not most of them, except in SHAZAM!.
In the MCU you got Dr. Strange, Thor and Mighty Thor, Vision (sometimes). But not Captain America, Hulk, Black Widow, Hawkeye, Spider-Man, Eternals, Guardians, Shang-Chi, Daredevil, She-Hulk, Captain Marvel, Ms. Marvel, Venom, Moon Knight or anybody else I can think of. Black Panther often wears a cape in the comics, but never in the movies. It's just not in fashion for modern super hero movies, even as they get more comic booky. There was even a joke about that in BLACK ADAM. I'm sorry but I have no choice but to stamp 'INVALID' over the term "cape movie" unless you're talking about one of the two SHAZAM! pictures.
This entry was posted on Tuesday, June 20th, 2023 at 7:06 am and is filed under
Reviews
,
Comic strips/Super heroes
. You can follow any responses to this entry through the
RSS 2.0
feed. You can skip to the end and leave a response. Pinging is currently not allowed.