"Frank – this is more fun than killing yourself, right?"
"Uh… yeah, I guess."
Bobcat Goldthwait's latest directorial work is sort of a primal scream or a cathartic punching of a wall. Like SLEEPING DOGS LIE and WORLD'S GREATEST DAD it has an outrageous high concept premise, but it goes more where you expect than those ones do. It's fun, though.

Joel Murray (who I didn't realize was Bill Murray's brother while watching this) plays Frank, a down-on-his-luck sadsack who's sickened by the state of American culture but masochistically sits and watches the TV to stew about it. He's divorced, his daughter is a spoiled little idiot who ignores him, he's been shitcanned from his job for asking a secretary on a date, and now his doctor tells him he has a brain tumor. He decides to just get it over with and blow his head off, but while he's preparing to do it he sees a show on TV that's obviously based on MTV's My Super Sweet 16, about rich parents throwing a lavish birthday party for their daughter Chloe (Maddie Hasson), and she complains that the car dad buys her isn't the one she wanted.
So Frank decides that before he shoots himself he's gonna drive across the country and find this girl from the reality show and shoot her. Then himself.
He does find Chloe and kill her, and her classmate Roxy (Tara Lynne Barr) witnesses it, but thinks it's awesome. She follows him to his hotel room and convinces him that if he kills himself now it'll seem like he was some pedophile stalker who thought he was in love with her. Instead they should go on a cross country spree together, killing all the people who piss them off.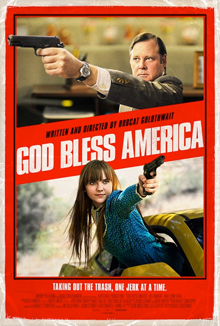 This reminded me of two different Christian Slater movies: HE WAS A QUIET MAN  because of how it puts you into the unhealthy mindset of a put-upon cubicle worker who snaps and goes on a murder-suicide rampage, and HEATHERS because it has that same sort of cathartic sicko-wish-fulfillment appeal as it lashes out at things we all hate, including but not limited to My Super Sweet 16, Access Hollywood, The O'Reilly Factor, TMZ, people who say "bro," Ed Hardy shirts, Real Housewives type shows, Jersey Shore, American Idol when they make fun of crazy people who they put on even though they can't sing, morning news shows piling on the crazy people who can't sing, people who think the other people on American Idol are really good, morning radio teams, people who think morning radio teams are having their first amendment rights violated, people who can't stop texting or looking at their phones, Youtube culture, kids who would rather play games all day than go outside, kids who idolize idiots from reality TV, parents who buy little kids smart phones, the sexualizing of young girls through advertising and dolls, people who are against good health care, kids not appreciating anything in life unless there's a picture or video taken to show it off to other people, energy drink advertisements, people who talk during movies… I might've missed some.
So you can see both the weakness and the joy of the movie right there. On one hand it's easy targets, on the other hand it's so many of them, so detailed, that it creates a pretty thorough portrait of what's frustrating about modern living. It's no IDIOCRACY, but it's got moments. Most of the fake TV is not so much parodies as re-enactments with different names for copyright purposes. And it's mostly pretty accurate. During the Sweet 16 show that sets him off there are viewer texts that scroll across the bottom of the screen saying things like "OMG Katy perry got a cat name kitty purry thats sooooooo kewl!" I wouldn't be surprised it they just lifted that stuff from actual people.
The stupidity isn't just on TV. It leaks into reality too. Frank can't seem to find anyone that will have a conversation about anything other than American Idol or some fake political issue they heard on the radio, or who understands what the hell he's talking about when he rants about it. Everyone seems to have an American flag in their house and Jesus in their Twitter handle but they don't seem to have a thought in their head to indicate there's any deeper understanding of what those things mean.
One time I had this idea for a mismatched buddy movie where a Paris Hilton or Lindsay Lohan type is in minimum security for drug possession or stealing a necklace or something and shortly before she's gonna get out a scary ex-con who read about her on TMZ decides he needs to rescue her and busts her out. I thought it would be a funny version of a 48 HOURS type team but then I realized I didn't know how to make it funny because the whole time it would seem like he was gonna rape her.
So congratulations to Goldthwait and Murray for doing this without it seeming like he was gonna rape her. They really go strong in the other direction by having her sort of make moves on him and be offended when he's grossed out by it. She has a fantasy that they're Bonnie and Clyde, but he seems to think it's more a father-daughter vacation with serial murder.
Both of them are good and have a good chemistry. Now that I realize who Joel Murray is it's kinda funny, he's like the evil version of the sadsacks his brother plays now. I'm talking about Bill, not Brian Doyle, although obviously I like him too. Joel's defeated demeanor and gallows humor make it go down a little easier when he launches into his bitter monologues about what's wrong with the world.
They obviously have a kinship because of their shared anger towards the world, but Roxie being only 16 hers is less based in life experience and more in teen angst. To her it's about resenting the popular kids at school and the things they like, her hatred of jocks and Fallout Boy and Glee. Frank draws the distinction between people who annoy the girl ("NASCAR fans, country fans, people who dress their babies in band t-shirts") and "people who deserve to die."
"I don't want to kill someone just because you hate their movies," he says. Good – Diablo Cody is safe. At one point Frank really offends Roxie by calling her "Juno," which is funny because she kind of reminded me of a different Ellen Page character, the one she played in SUPER. She's got a similar sort of adorable bloodlust. The best humor in the movie is the odd stuff like when Roxie's gonna sit and watch him commit suicide in his hotel room, then suddenly she gets an idea, she makes him stop so she can zip a plastic suit cover around herself, just her face poking out. "Okay, go ahead," she says.
And it's the little awkward moments, like the doctor's cell phone ringing when he's telling Frank he has a brain tumor. He first ignores it, then apologizes, then takes the call. Or after they've killed most of the audience for talking during a movie (don't worry, it's a small audience, because it's a documentary about the My Lai massacre) they thank the one survivor for not talking, and she doesn't know what to say besides "You're welcome."
I've heard a couple good interviews with Goldthwait about the movie (my favorite is the one on The Q&A with Jeff Goldsmith because it's the first time I've heard a guest on there that seems as annoyed with the host as I always am). He always uses this line about how people ask why Frank and Roxie never have any trouble with the police, and he says he didn't want to keep cutting to Harvey Keitel pointing at a map. Good line, but I think he's wrong – the movie would work better with that because 1. Keitel would probly be willing to get naked and do that Chewbacca growl thing and 2. the funniest characters in SHAKES THE CLOWN were the two policemen – they mostly sit in a patrol car, but they might as well be "Harvey Keitel pointing at a map." 3. it would ground it in more of a reality and give it more drama. We're all familiar with the road-trip-crime-spree trajectory, and it just feels wrong when people can go around in broad daylight committing high profile murders in a stolen red convertible sports car with no one ever spotting them or making any attempt to stop them or find out who they are.
And when they go after Chloe's parents the same day their daughter was murdered they come into the house and they're acting normal like they're over it already. And there are no cops there. I know it's not trying to be HEAT but surely it would be a stronger story with some very mild attempt at semi-somewhat-believability-ishness.
Also, let's be honest, that particular teen-cell-phone-talker would not take her friends to the indie theater to see a documentary called THE GRAVES OF MY LAI. I mean somebody would be talking on their cell phone, I agree, but it wouldn't be that girl.
But, you know, I like what he's going for: an ultra-violent movie arguing against people being "just plain mean." I sort of liked it.
This entry was posted on Tuesday, July 3rd, 2012 at 12:20 am and is filed under
Comedy/Laffs
,
Reviews
. You can follow any responses to this entry through the
RSS 2.0
feed. You can skip to the end and leave a response. Pinging is currently not allowed.