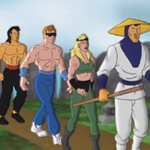 Round 1, Bout 3: TEAM VIDEO GAMES vs. THE MEN FROM HONG KONG
MORTAL KOMBAT: THE ANIMATED VIDEO, aka MORTAL KOMBAT: THE JOURNEY BEGINS was a straight-to-VHS-and-Laserdisc release made as a tie-in with Paul W.S. Anderson's 1995 live action theatrical MORTAL KOMBAT movie. The cover boasts that it allows you to "GO ONE STEP BEYOND VIRTUAL REALITY WITH 3D ANIMATION LIKE YOU'VE NEVER SEEN BEFORE!"
It is true that I've never seen animation like this before, but only because most people who would make it would know it was not good enough to release on a video. This video alternates between substandard Saturday morning cartoon type drawn animation and extremely crude animatic type computer animation. More on that in a minute.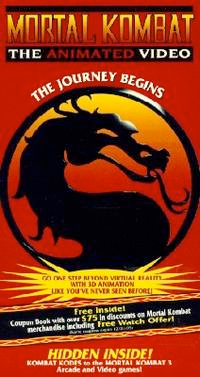 Storywise it's a stretch to even qualify JOURNEY BEGINS for the Super-Kumite. It's all about the tournament, but it never gets to the tournament. As I sort of remembered from the MORTAL KOMBAT  movie there is a battle between Earth and "Outworld," where every 50 years there's a fighting tournament between the greatest fighters of each realm. In the opening a narrator tells us that if fighters from one side win ten tournaments in a row then they (due to some obscure law some dumb assholes signed off on a long time ago) take control of both realms. "For five centuries Outworld has won every tournament," he explains. "Nine in a row. They must not win the tenth tournament. They must not win Mortal Kombat."
A few minutes later Raiden (the shinobi-hat-wearing Thunder God mentor/tour guide played by Christopher Lambert in the movie and James Remar in the sequel) rehashes the same information with almost the same words, except directed at the heroes of the story. "You must win this final tournament. You must win Mortal Kombat."
These three protagonists are Liu Kang (humble shirtless guy who trained his whole life to be a warrior and fight in this tournament and cannot stop talking about how shocked he is that this is real and not just a legend), Johnny Cage (arrogant movie star who wears Brian Bosworth style wraparound sunglasses for all but one scene of the video) and Sonya Blade (ex-special forces lady who wears a headband). Like in the movie they all end up on a boat headed for a mysterious tournament. The evil wizard Shang Tsung (not drawn to look like my man C-HT) is on the boat and he tells them what's going on and then tells a magic ice ninja named Sub-Zero to kill them, but then Raiden shows up and says they're a bunch of fuckin cheaters and better knock it off.
When they get to the island Raiden walks them around a little and tells them the backstory of the tournament and some of the people who are fighting in it, like yellow ninja Scorpion (turns out he's a ghost who has to defeat Sub Zero in legitimate tournament competition to save his soul), blue ninja Sub-Zero, and four armed monster Goro (he killed his brother over a diamond).
The main part of the story is 2D drawn animation that looks like fairly professional but low-rent drawings, with limited animation and a poor understanding of anatomy and movement. They would be passable as cheesy television animation if not for the disastrously failed experiment of putting them into 3D computer backgrounds. These look so primitive even for the time that it's hard to believe they did a test and then decided to still go through with it. They must not have been allowed to see what they were working on until they bought a copy in the store. I mean, what the fuck is this?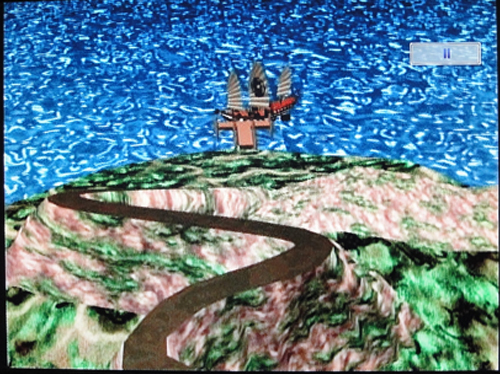 There's no way there weren't people on staff who could've just painted something that looked a hundred times better than this. It's hard to remember now but there was this brief period when people were so interested to see what a computer could do that they wouldn't care that the computer clearly could not fuckin do it. In fact, around this time movie fans would perk up at word that a particular movie had computer effects in it – "hey, I hear THE SHADOW has a part with computer animation, like JURASSIC PARK." The live action MORTAL KOMBAT was groundbreaking in that it was one of the first such movies where the computer effects weren't very impressive even at the time. So I guess it fits in that the home video tie-in looks so shockingly terrible.
Whenever Raiden tells a story about Scorpion fighting Sub-Zero or Shang Tsung developing his power of stealing "the soul of his vanquished enemy" (he eats it like a hamburger) it is depicted in 3D mo-cap animation. When we think of mo-cap now maybe we think of creepily realistic characters like in POLAR EXPRESS, but this is the opposite where they're too simple, just a collection of geometric shapes, really. On the plus side it does look like real human movements, not animation, so I like it better than the 2D fight scenes in this thing.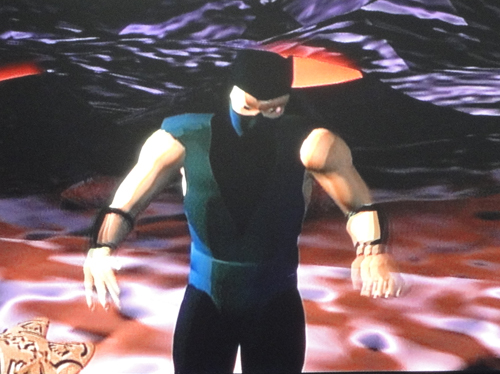 The video's luckily only about 40 minutes, and padded out with screens at the end where they show the different characters and statistics about them. Liu Kang is only 5'10" but Shang Tsung is 6'6″. Goro is is 2000 years (happy second millennium, big guy) and has been reigning champion for 500 years. I think that's pretty cool that he really blossomed when he was 1500, which is 500 years older than Shang Tsung's current age, and he's no spring chicken.
I was gonna watch this on VHS until I found out it was included as an extra on the MORTAL KOMBAT blu-ray. I guess they wanted to make sure it was preserved for future generations and not cast into the netherrealm or whatever. If somebody has seen it in the original format let me know whether the drawn animation was always pretty pixelated, or whether it's just a bad transfer. (My guess is the former.) The blu-ray does seem to retain the "Kombat Kodes" that the VHS cover tells you about with exclamation points (if that's what the symbols all over the end credits are supposed to be) but unfortunately not the "Coupon Book with over $75 in discounts on Mortal Kombat merchandise including Free Watch Offer!"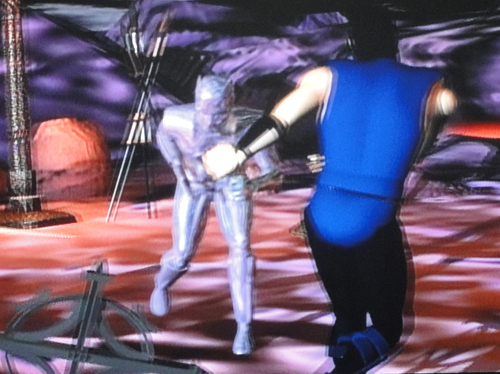 This entry was posted on Tuesday, June 4th, 2013 at 1:05 am and is filed under
Cartoons and Shit
,
Reviews
,
Videogame
. You can follow any responses to this entry through the
RSS 2.0
feed. You can skip to the end and leave a response. Pinging is currently not allowed.