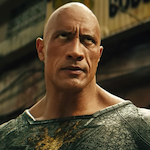 Call it super hero fatigue, call it The Rock mistrust, call it what you want, but for some reason I, a guy who has seen most comic book movies, including ones everybody says are terrible, did not bother with BLACK ADAM. Until now. I don't know, I was trying to figure out something to watch, I knew I'd be seeing that THE FLASH movie soon, and I kinda wanted to catch up beforehand, just for the sake of completism, I guess. So I put it on.
There was a point early on when I honestly wondered, "Am I gonna be the guy who likes this movie?," 'cause the set up kinda had me going. But it pretty quickly shifted to that feeling you get at the climax of a big wannabe blockbuster you're not into. A bunch of loud noises and bullshit. Oh well. I will have some nice things to say about it.
I dig that it starts as a fantasy movie. Narrator and everything. In the ancient civilization of Kahndaq, the tyrant King Ahk-Ton (Marwan Kenzari, BEN-HUR, THE MUMMY, ALADDIN, THE OLD GUARD) enslaves his own people to mine eternium (you know, eternium) so he can forge the magical Crown of Sabbac. Obviously. But a rebellious slave boy starts a revolt, and they try to execute him, so the Council of Wizards from the movie SHAZAM! give him the Shazam powers to turn into a big muscleman (Dwayne Johnson, BE COOL) and kill the king. And legend has it that the champion of Kahndaq will return some day when he is needed.
This prologue kinda reminded me of Stephen Sommers' THE MUMMY. The part of it I like. And of course The Rock was in THE MUMMY RETURNS for about five seconds, and spun off into the (in my forbidden-because-it's-so-clearly-correct opinion) far more entertaining THE SCORPION KING, one of the movies that made him such an exciting new star back then. That was also an origin story for a supposed villain, treated as a hero. So this had me thinking "Oh shit, is The Rock kinda doing a new SCORPION KING?" Because I really want to be excited about The Rock again.
But then it skips to… I'm gonna say present day, but at first I thought it was the future, because the city looks futuristic and there are hoverbikes. Kahndaq is a major metropolis, but it's under western colonial rule. Or I guess technically it's the rule of Intergang, a DC Comics criminal organization, but they have white guys in military gear enforcing checkpoints, so I'll take it as western colonial rule. The narrator of the prologue turns out to be Amon (Bodhi Sabongui, WWE's THE MAIN EVENT), teenage son of Adrianna Tomaz (Sarah Shahi, ROAD TO PALOMA), an archaeologist and/or rebel who's in hiding from the Intergang police and headed to explore a secret tomb where she finds the legendary Crown of Sabbac and also accidentally frees the champion, Teth-Adam.
This is one of the cooler parts: heavily armed soldiers (from Intergang I guess?) come in after Adrianna to steal the crown, and try to kill Adam, posing dramatically in a hooded cloak. He just squints at them and says, "Your magic is weak" as their hundreds of high powered bullets bounce off of him. He hovers outside and encounters a helicopter, with similar results. He starts as kind of a Terminator character, which I'm happy to see from The Rock after he's been leaning on his wackiness for a while. Later when he has jokes he plays them very deadpan, so most of them work.
Unfortunately the same can't be said for most of the humor in the movie. The Tomaz's live with Adrianna's brother Karim (standup comedian Mohammed Amer), a character I'm gonna have to describe as funny-coded. One of those characters who you can tell by his outfit and general demeanor is supposed to be funny, but they don't give him many actual jokes. The main one is that he's listening to "Baby Come Back" by Player in the car. You see, it's funny because he's listening to a cheesy old song. Can you believe it? They do that one twice. He also keeps mentioning that he's an electrician, but if that ever had any narrative relevance, I've forgotten it already.
The director is Jaume Collet-Serra, helmer of the Liam Neeson joints UNKNOWN, NON-STOP, RUN ALL NIGHT and THE COMMUTER. And his Neeson-less films include HOUSE OF WAX, ORPHAN, and THE SHALLOWS, so I'd consider him a director of note, particularly in the sadly disappearing world of mid-budget studio b-movie type stuff. But in 2021 he did Disney's THE JUNGLE CRUISE with The Rock, so he got this gig too.
I like a bunch of his movies, but could not tell you what the commonality is between them. For one of the early set pieces in this one, the score by Lorne Balfe (GEOSTORM) builds into a big orchestral version of The Rolling Stones' "Paint It Black" – later on they'll start making a big deal about Adam's costume being black – then cuts to the real song for a big Bullet Time battle scene. I was intrigued by the oddball choice until it occurred to me, "Oh, I get it. He's asking himself 'What Would Zack Snyder Do?,' thinking about the opening credits of WATCHMEN, and this is what he came up with."
He does okay I think. My problems are with the script, credited to Adam Sztykiel (ALVIN AND THE CHIPMUNKS: THE ROAD CHIP), Rory Haines & Sohrab Noshirvani (THE MAURITANIAN). Adam gets knocked out in his battle with the military, and wakes up in the bedroom of Amon, who becomes sort of the protagonist or the heart of the movie or something as he encourages Adam to be the legendary hero Kahndaq needs after centuries of oppression. Like much of the cast, this is a pretty likable actor stuck playing a dud of a character – the kid whose bedroom is completely covered in Batman, Superman, Wonder Woman and Aquaman posters, who keeps calling Adam a "super hero," telling him he needs a catch phrase, being present to cheer or yell "AWESOME!" or whatever when he does stuff, etc. We've seen this exact shit a thousand times and it was corny the very first time. And this kid just stays that way, he doesn't ever get turned into a shazam or a shrunken head.
Also the kid rebels against his oppressors by skateboarding. Which is not a crime, but is a pretty fuckin '90s kids movie, Shaquille-O'Neal-is-STEEL type of choice. He's wearing a t-shirt with a star on it for the whole movie, like the way they might draw a generic skateboard kid in a bad Saturday morning cartoon. And it gets even worse at the end when some super heroes honor him by giving him a cape, and he starts wearing that around! They even make a joke about the fact that most super heroes don't wear capes these days. Like, okay, we recognize that this makes no sense, but we insist on doing it, so if we point out it makes no sense, we get a freebie.
But I do give them credit for not making him wear a backwards baseball cap or sunglasses, or giving him a surfer dude accent. That must've taken incredible restraint.
The DC Universe stuff starts in pretty quick. Adam hovers around in public, super-tosses some asshole soldiers, examines the enormous stone statue of himself (admittedly a cool image). So Academy Award winner Viola Davis (LAW ABIDING CITIZEN) appears on a monitor as Amanda Waller, her scary government lady character who first appeared in SUICIDE SQUAD. (They didn't make her wear old age makeup, that's why I don't think this is the future.) She assigns Justice Society leader Carter "Hawkman" Hall (Aldis Hodge, DIE HARD WITH A VENGEANCE) to arrest Adam, and he brings along gold-alien-masked-future-seer Dr. Fate (Pierce Brosnan, FINAL SCORE), spinning-lady Maxine "Cyclone" Hunkel (Quintessa Swindell, MASTER GARDENER), and growing-guy Al "Atom Smasher" Rothstein (Noah Centineo, CHARLIE'S ANGELS [2019]). Again, the actors are likable, but the characters and their powers just aren't cool enough to make up for their generic, hollow characterization. Hodge gets the most to do, and has a good super hero presence, so I feel bad for him that his character is basically a cop, working for The Man, doing the wrong thing, and grimacing about it.
To be fair, that's also one of the movie's more interesting ideas. Amon, Adrianna and Adam all repeatedly remind the Justice Society that they're occupiers interfering in a country they don't understand. If you've seen THE SUICIDE SQUAD or Peacemaker you also know how immoral and treacherous their boss is. But they know some things the locals don't – it turns out Adam was not a hero, he was a raging maniac, the Wizard Council disavowed him and tried to imprison him. The Justice Society plan to finish the job. Adrianna's contribution is to tell Adam he may not be a hero, but he's not a monster either, and convince him to protect the city he once loved. I thought his arc was pretty cool, especially when he willingly depowers (by saying "Shazam") and tells them to make sure he never says it again.
You know what's a pretty funny image though? The Rock's face composited onto a regular sized body to represent Adam before and after getting powers.
There's a pretty cool idea here that Black Adam is different from other super heroes because he comes from this ancient culture, and rose up from slavery, so instead of some kind of truth, justice and the American way type shit he represents people rising up against oppression, even when that oppression is considered the American way. Unfortunately they try to get this theme across in the clunkiest, most basic, most poisoned-by-comic-book-brain way of having everyone constantly question whether he's a "hero" or a "villain" and describing him as "dark." Dr. Fate has a ridiculous line where he says, "We were wrong about you. The world doesn't always need a white knight. Sometimes it needs something darker."
Why the fuck would you call a person "dark"? You're not having a conversation, you're trying to summarize the themes as described in a half-baked treatment. I felt bad for Brosnan having to try to sell that. He did his best.
I know there's a long enough history behind this that it could be considered a passion project for The Rock. They tried to get him to play Shazam almost 20 years ago, but he decided it would be cooler to be the villain, Black Adam. Then it was decided since they had The Rock he should be the lead, so they started developing a separate Black Adam movie. Then The Rock pushed to get a (spoiler, but you already heard about it) mid-credits cameo by Henry Cavill as Superman, thinking that would lead to a crossover movie, and he got all WWE in the promotions, infamously claiming "the hierarchy of power in the DC Universe is about to change." After all that, few were sold on his vision, he found himself on Instagram making arcane arguments for why technically it wasn't a box office disappointment, and then all the sudden he was willing to return to the FAST & FURIOUS series. Not what he had planned.
But now that I've seen it I don't think of it as as much of an embarrassment for The Rock as I did before. I'm sure some of its flaws can be blamed on him as producer and his constant chasing of what he thinks will give him a massive audience instead of having his own taste and passion for what would be an actual kickass movie. But at least the character and performance are better than the type of shit that's made him, in my view, fall off in recent years. He's a charming guy and he found out he could get away with just being charming and not playing characters, but here he actually acts again. I would like to see more of this intense, mostly serious The Rock, just in a better movie, where he entrusts himself to a director with a strong vision. He's got the super power, he just needs to learn how to harness it again.
This entry was posted on Monday, June 19th, 2023 at 7:20 am and is filed under
Reviews
,
Comic strips/Super heroes
. You can follow any responses to this entry through the
RSS 2.0
feed. You can skip to the end and leave a response. Pinging is currently not allowed.