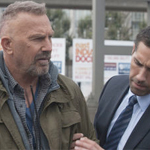 CRIMINAL is way too generic a title for this distinctive Kevin Costner action thriller, another enjoyable under-the-radar, higher-minded-than-advertised b-movie to put on the shelf next to 3 DAYS TO KILL. Costner would be the criminal of the title, a gruff, uneducated death row inmate with the strong action movie name of Jericho Stewart. He's said to have some kind of condition that leaves him no capacity for empathy, like that creepy kid in MALEVOLENCE and BEREAVEMENT, so he experiences what the internet calls "the feels" for the first time when he's the subject of an experimental surgery that implants another man's memories into his brain.
I couldn't help but think of FACE/OFF. Not that it has any of John Woo's heightened filmatism or outlandish action – the tone, grounded world and love of intelligence agency war rooms are closer to a BOURNE movie – but that's the only other movie I can think of that uses a sci-fi gimmick in a non-futuristic world and then puts an emphasis on exploring its emotional consequences.
The story starts with Bill Pope, not the cinematographer of THE MATRIX, but a CIA agent on the run in London, played by an uncredited Ryan Reynolds (BLADE TRINITY). He's in the middle of a mission gone south – something about Spanish anarchists and a hacker and a buy, and people chasing him around town trying to trap him. When he ends up dead, CIA director Quaker Wells (Gary Oldman sporting another action movie name that's not messing around) is desperate to find out what Pope was working on, because he was the only one getting close to a hacker (blackhat?) who may be able to remotely control military weapons. So Wells – actually, can I call him Quaker? – Quaker turns to this guy Dr. Franks (Tommy Lee Jones, UNDER SIEGE) who has been developing this memory-implanting theory for years.
Quaker is basically using Jericho's brain as hardware. He wants to plug in Pope's memories like a flashdrive so he can read it and find out… well, where an actual flashdrive is. Jericho sees flashes of important things: a bag of money Pope was going to pay off the hacker with, some locations that might lead to it, Pope's wife (Gal Gadot, FAST FIVE) and daughter (Lara Decaro). But instead of telling Quaker what he sees he uses his instant CIA skills to escape captivity and go looking for the money he sort of remembers.
Whoops. This is why this was a dangerous idea. Now there's a multiple-murderer on the loose, loaded with fresh new talents. On the positive side, he's learning about this whole emotion thing through the weird attachment he's feeling to the dead guy's wife and kid. But he's a psycho, so what he decides to do is go to the house and tie the wife up.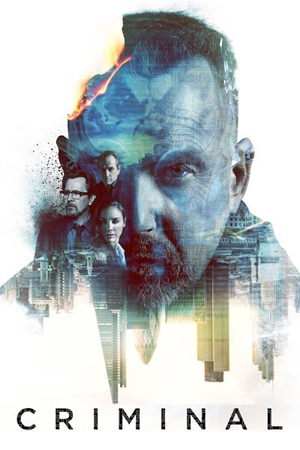 He can't hurt her, so he doesn't, but this guy is real unwieldy. That could make him a good bad guy. It makes him a better protagonist. You're not sure whether to be afraid of him or root for him to learn how to be nice. His unpredictability had me hooked.
Costner is challenging himself with a role that's not necessarily how people want to see him. The only problem with it is our own limits in accepting him playing different roles. Jericho reminds me of burnouts I've known: a belligerent, socially inept redneck who mumbles and grunts and doesn't notice or care that he's always interrupting and disrupting everywhere he goes. For example he's completely unfamiliar with the concept of waiting in line, which is demonstrated most explicitly when he walks into a coffee shop and is surprised to find that he knows the name of the barista and can order in French (which he thinks is Spanish). An uptight dude is (completely justifiably) annoyed that Jericho barged in front of him, and ends up getting punched over it. The victim's prissiness hints that this is a comedic scene, but I think it rides a good line between entertaining chaos and disconcerting recklessness.
The poor widow, Jill Pope, figures out that something weird is going on here, and then we get a scene I definitely think is inspired by one of the best scenes in FACE/OFF, the one where Nic Cage has to get Joan Allen to understand that he's her husband wearing the face of the man who killed their kid. It's a wrenchingly emotional situation coming out of a preposterous premise. Here it's a matter of Jericho sort of begrudgingly explaining to her that he has these memories belonging to her husband. She looks at him with deep love, her eyes full of tears, happy to be able to have this little leftover scrap of her husband's spirit, something he's clearly very uncomfortable with. If you can buy it – and I could – it's beautifully bittersweet.
The only other comparable scene I can think of is near the end of SEVEN POUNDS, when (spoiler) Rosario Dawson is looking deep into the eyes of her dead love in somebody else's head. For me the combination of outlandishness and fierce sincerity completely works, though I figure most people consider all these scenes laughably ridiculous. Their loss in my opinion.
In CRIMINAL's case the scene makes the whole movie worth it for Gal Gadot, who is otherwise kinda stuck in the put-upon-loving-wife-that-has-to-cry-all-the-time role. She's good all the way through, but that one scene shows her skills far beyond what I previously realized.
Jones also runs away with his small role. We're used to that blustering TLJ, but this is the quiet one. He was pushed into doing this questionable experiment, and he wants to do the right thing by his patient, and keeps trying to. I don't think I've ever seen his eyes do so many sad, sympathetic looks in one movie. Definitely not in a supporting role.
The thing that put the movie on my radar is the one aspect that you should not have any hopes for: Scott Adkins. He plays a CIA agent who is there throughout, but I think he only has one scene where he says anything, and he doesn't do a single kick or punch. The closest he does to action is the ol' agent-scurrying-through-crowded-airport-looking-for-suspect, which Oldman is also doing at the same time, so it certainly didn't require a master of martial arts who's mainly known for smashing two different faces in one flying kick. Because he can actually do that kind of stuff obviously he has a credible physical presence for playing an agent standing around looking intensely at computer screens and listening to instructions. But because they're not dealing with amateurs here and we're familiar with his work they are potentially setting us up for a disappointment. We see Scott Adkins, we expect at least a little Scott Adkins shit.
But I'm sure it was a good acting exercise for him to work with all those guys, and they don't show him on the cover as if he's gonna get alot to do. Anyway, you've been warned. It's not a Scott Adkins movie, it's a movie that Scott Adkins happens to be in the background of. But it's a good Kevin Costner movie.
p.s. If you've ever wondered how prevalent super hero movies have become, just take a look at this cast. You have actors who have played Pa Kent, Commissioner Gordon, Two Face, Wonder Woman, Deadpool, Weapon XI and Faora-Ul, plus some guy that was in ANT-MAN.
p.p.s. There must've been a very different cast planned for this at one point since they thank Zach Braff, Gerard Butler, Scott Eastwood and Mel Gibson at the end of the credits.
This entry was posted on Thursday, July 28th, 2016 at 10:55 am and is filed under
Action
,
Reviews
,
Science Fiction and Space Shit
. You can follow any responses to this entry through the
RSS 2.0
feed. You can skip to the end and leave a response. Pinging is currently not allowed.