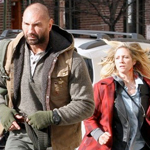 BUSHWICK is an oh-shit-what-if movie. It uses the intimate perspective of one handheld camera – mostly following one character in ROPE-style long takes edited to look like one shot – to show what it would feel like to suddenly find your neighborhood under attack. It doesn't have the limitations of found footage, but it reminds me of CLOVERFIELD in the way it plunges us into the chaos, not really knowing what's going on, running through hoping not to get killed, seeing and hearing mayhem going on down the street, or on the next block down. People running, screaming, cars screeching by peppering buildings with gun shots, snipers on the roofs, explosions in the distance.
There's no science fiction here. This is a guerrilla attack. Ski-masked gunmen, other people shooting back, the factions unclear at first. The reason for the attack has been widely discussed – it was the first thing I read about the movie, and part of why I was excited about it – but since it plays as a big reveal I'll save it for the back end of the review.
The movie follows Lucy (Brittany Snow, PROM NIGHT remake), a white girl coming to the titleistical New York neighborhood to visit her grandmother. But she and her boyfriend Jose (Arturo Castro, BILLY LYNN'S LONG HALFTIME WALK) emerge from the subway and find themselves in a literal war zone, and he is the first casualty. Treated as an outsider in the mostly black neighborhood, Lucy is quickly grabbed by two not-well-meaning locals and dragged into a house (some rare DEATH WISH bullshit in an otherwise pro-urban movie). But then Stupe (Dave Bautista, HOUSE OF THE RISING SUN), the guy who actually lives in the house, comes in to grab his things, sees them and kills them.
Stupe is a stoic ex-military guy already switched over to survival mode. Against his wishes Lucy latches onto him for protection. They travel together, sometimes pushing garbage dumpsters as shields, taking cover behind cars. They try to get to her grandma, try to find shelter, try to get guns to locals who want to fight back. They both get horribly wounded, and there's some of the most painful self surgery I've seen. They start to like each other. They find Lucy's sister Belinda (Angelic Zambrana, PRECIOUS, FIGHTING, EMPIRE STATE), who has been high and napping and didn't know this was going on. (I'm not sure about the part where she tries to get with Stupe. Seems like not a good time for that.)
I read an interview where Bautista said "I am not extremely proud of my performance" because he thinks he's improved since filming it, but I think it's a new level for him. It's a naturalistic, improv style, though he's still doing much of it without many words. He also cries. He's very good.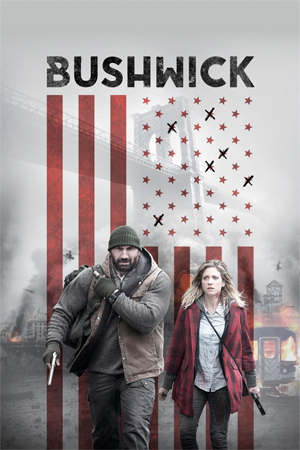 The main selling point for me is that it stars Bautista and it's co-written by Nick Damici, the star of LATE PHASES and star/co-writer of COLD IN JULY, STAKE LAND, WE ARE WHAT WE ARE and more. This one he wrote with Graham Reznick, best known as a sound designer for indie horror movies including STAKE LAND, THE INNKEEPERS and THE MIND'S EYE. This one is directed by Cary Murnion & Jonathan Milott (COOTIES), but I think it has some overlap with the tone of Damici's movies with Jim Mickle. And like STAKE LAND it has a gruff, experienced tough guy helping a young stranger survive and understand the nightmare scenario they're in and forming a bond in the process. More than that it makes me think of the first Mickle/Damici movie, MULBERRY ST, another low budget, run-and-gun movie about a band of New Yorkers trying to survive a sudden, shocking attack on their neighborhood (in that case by zombie rat-people – long story).
MULBERRY ST was about urban community. The main characters are a diverse group of long time residents about to be pushed out of their building by rich developers. They all know and help each other before the shit goes down. BUSHWICK shows a more divided population. At first it seems to promote the common (especially in the '80s) stereotype of a neighborhood where street people circle like hungry sharks waiting for some innocent to get off at the wrong subway stop so they can rob or rape them. But after that opening we see people teaming up more, even exhibiting a sense of neighborhood pride in their fight against the enemy, who I will now discuss.
SPOILER WARNING
also POLITICAL RAMBLING WARNING

So, at least halfway through the movie, Stupe captures an attacking soldier in Belinda's apartment and forces him to disclose what's going on. It turns out some people from Texas and other southern states are staging an uprising to force the government to allow Texas to secede from the union. A new civil war. They didn't actually expect to do all this killing, because they didn't expect this much resistance. They had figures about how many households here had guns, and it was not supposed to be this many! (See, maybe if you bozos allowed some gun control more of them would be in the hands of responsible people who don't let theirs pour into the black market.)
The crucial thematic detail: they thought this neighborhood would be an easy target because of "ethno-diversity." On one level I think that means the in-fighting we saw would weaken their defenses. But more than that it signals the invasion's basis in racism and the central philosophical disagreement they're fighting over here. They believe diversity is a weakness, we believe it's a strength. To me that's the kind of underlying truth that makes a far-fetched premise sing.
I watched BUSHWICK the night it came out on VOD and I didn't write a whole review back then because a storm was about to hit Texas and I didn't want to be pointing fingers at Texans. And as Stupe says when he hears a list of the states involved, there are good people in all of them. But even just waiting a month the subject has gotten even more relevant. The other day as I'm writing this the White House Chief of Staff, a four-star general previously portrayed by the media as the sane guy keeping Trump in check, gave an interview where he spewed a bunch of dumb Confederacy-coddling bullshit. You don't want to sit around all day being ashamed that our country was built on slavery – fine. But be proud that it ended! Instead we have a segment of the country – some of them (Trump, Hannity, Kelly) not even coming from Confederate states – raised to be bitter about a war that happened long before they were born. They'll distance themselves from their ancestors to wash their hands of institutional racism ("I never had slaves!"), then turn around and take it personally if we don't want to glorify that motherfuckers with statues ("It's our heritage!")
And that's just one of the things our country is divided about. The modern media landscape – both by intentional construction of the right wing and negligent accident of social media – keeps people of different political persuasions living in different realities. Choose the red pill or the blue pill. Do you want to know more? The disagreements seem to get more and more intractable. It doesn't seem quite as hyperbolic as it used to that people would want to make Texas into its own country where nobody gets mad when black people get shot and if they do they sure as shit aren't allowed to protest it during the football game. Come to think of it it would be very hard for the people who seceded from the United States to stop accusing people of disrespecting the stars and stripes. Would they know how to come up with new patriotic slogans and stuff for their country, or would they still be using "these colors don't run" and shit? Hopefully we'll never know.
I hadn't been to the south until my first trip to Tennessee a couple years ago. I've been to that state three times now, and I love it. I spent time in Knoxville (where I glimpsed Burt Reynolds from afar), I went to Dollywood two times, downtown Nashville once and I especially enjoyed downtown Memphis. One of the reasons I need to go back is that I didn't have time to tour the National Civil Rights Museum. I did see the outside, though – it's the Lorraine Motel, maintained so that you can walk up and see the balcony where Martin Luther King was assassinated. They even have vintage cars in the parking lot, so you stand there and it's like you've walked into a historic photo. Not only did I feel the enormity of what happened there, but I became hyper-aware of my surroundings. I got chills as I thought about the assassin hiding somewhere behind me, aiming his gun right there, perhaps so angry at the idea of someone else getting more rights that he was going to sacrifice a normal life to slow down that progress.
And later, within walking distance of the museum, I came across a confederate statue and felt deep shame. Nobody else in the park was white, and here I was walking past a monument to this asshole. I read that the population of Memphis is 63% black, only 29% white, and it's the only place I've experienced being in crowds with almost no white people. How can they justify honoring the "history" and "heritage" of people who waged war against the United States to preserve the tradition of enslaving Africans, whose descendants now fill the city?
My belief is that the South has enough diversity that "Souther pride" shouldn't be just for white people, and enough to be proud of that they don't have to pad their resume with shit involving horrific oppression. It could be about all the great country and blues and rock n roll, the food and the sweet tea and the writers and the hospitality (a real thing, I experienced it) and the whisky and plenty of other positive things. Why the fuck would you focus on that one time some of your ancestors lost a war for a despicable cause? You're better than that, is my argument.
I don't know where we go from here. I'm sure as shit never gonna back down on "slavery is indefensible," and there are other people who aren't gonna back down on the "well, actually" side, and now we have the biggest fucking slimeball anybody ever heard of straddled atop America poking at those divisions with a stick trying to make 'em worse. And literally every day this vaguely human-shaped ball of disgrace displays some new ignorance of what a president does, what our country stands for, what the Constitution he swore to uphold even is. He flouts every law he can, insults the people who enforce it, also insults the black people he says insult the people who enforce it, tells his cult-like followers that the sky is orange, up is left and shit is ice cream, and they respond by saying "thank you daddy," licking his boots and begging for more. This is a guy who openly asked Russia to interfere with the election, openly uses the office to enrich himself, openly obstructed justice and then confessed to it on television, all crimes worthy of impeachment at minimum, and if you don't believe that a slight nudge of any one of his golden closets will cause the door to burst open and bury you in skeletons then I don't know what to tell you. Don't ever call anybody naive or gullible again in your life.
So, as the other conspirators start singing, if it seems like the arguably-semi-plausible-by-Fox-News-standards-deniability approach to high treason isn't gonna be as fool-proof as he was told, I genuinely worry about the conflict it could cause in our country. Don't get me wrong, we have to get rid of the fucker for sure, but what kind of hornet's nest will we be kicking? Will the GOP, who have happily covered for him so far, even respect the rule of law? Seems like, at best, a coin toss. And if we luck out and it comes up heads, how will the people who see the world through the Fox News lens, who believe that all of the news they don't want to hear is fake, who stock up on guns every time a Democrat gets into office because this time for sure is gonna be the time when they actually take the guns away, respond to his cries to "DO SOMETHING!"? I don't really see it going down like in BUSHWICK, but I genuinely fear some sort of outrageous extra-Constitutional power grab to avoid prosecution, or scattered lone wolf attacks by misguided redhats if he goes down.
Whatever does happen, who wouldn't want to be on Dave Bautista's team? We know that all cities and neighborhoods and races count as "ordinary Americans," and that is our strength. Together we'll take a stand for our neighborhoods, our cities, our country, our ideals. And if we get out of this clean we will have the biggest party of our lives.
Which brings me to the ENDING SPOILERS. If you've seen this you already know that there is no party. Although the secession plans do not seem to be working out, things don't end well for our heroes either. Unfortunately this lowers the movie in my estimation. Not just because I want to be optimistic about the situation in our country, not just because it's a bummer to get to like these characters and then lose them, not just because it would be kinda cool for Bautista to return for a BUSHWICK 2 as the conflict escalates, but because it just doesn't feel like a good payoff to the story.
We went through all that just for this? Damn. I hope the real ending is more satisfying.