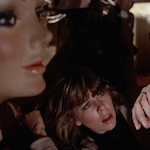 DEADLY GAMES (1982) – not to be confused with the much better DEADLY GAMES (1989) a.k.a. DIAL CODE SANTA CLAUS – is a slasher movie that I guess was very rare on video until now. I never came across it during my Slasher Searches, but now Arrow put it out on a nice blu-ray.
This is hardly one of the greats, but you know me, I'm a scholar, and I like seeing all the different variations and permutations of the formula. This one is interesting in that it takes place in a little bit more of a world of adults than most of them. And it's not one of those crude regional movies – for the most part the production values and acting are slick and professional. And Steve Railsback is in it! If Steve Railsback is in it it's a real movie.
The deadly games begin when Linda Lawrence (Alexandra Morgan, THE HAPPY HOOKER GOES HOLLYWOOD) is alone in her fancy hillside house and gets creepy phone calls from a strange man (calling from a phone booth improbably located in sight of her isolated home). She's scared, then convinces herself she's fine. She talks to a boyfriend on the phone and tells him, "No, I don't look like Janet Leigh" before getting in the shower. Always the PSYCHO shower scene references in these things. Anyway, a guy in a ski mask attacks her and she falls out the window.
The next day, police detective Roger Lane (Sam Groom, DEADLY EYES) is on the scene. He tries to shoo away a woman named Keegan (Jo Ann Harris, THE BEGUILED, Cat Ballou in a TV movie version, voice of Tina on Goober and the Ghost Chasers), because she strangely admits to being a reporter before explaining that she's there because she's the sister of the deceased. Once she explains that they sit down in the house, he seems to think it was a suicide or accident, she muses about not knowing her sister very well, the whole thing is bizarrely light and flirtatious.
She stays in the house, and while she's in town runs into a group of her old high school friends, including Sooty (Jere Rae Mansfield, DONOVAN'S KID), who's married to Officer Roger! Keegan hangs out with them and sits in the grass to watch their boyfriends and husbands be way too competitive and get way too dirty in a game of flag football in the park.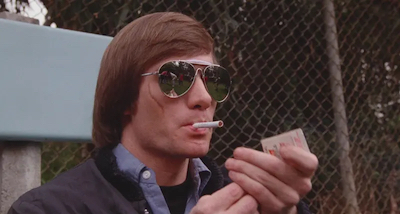 She asks about a dude on the sidelines with a scar on his face and mirror sunglasses, and why he's not playing. He's Billy Owens, played by Railsback (following THE STUNT MAN, preceding TURKEY SHOOT and TRICK OR TREATS) in full weirdo mode. The women are creeped out by him, but Roger is very protective of him because they were in 'Nam together. We see Billy alone in the big, sparsely attended theater where he works as a projectionist, acting creepy and chain smoking, which we've also seen the killer do. It seems like it should be called The Red Herring Theatre.
More of these women will be killed, of course. The title comes from a Dracula and Frankenstein themed board game that we see the killers' leather-gloved hands playing preceding each murder. It's unclear to me what the connection is and it's oddly crappier than the rest of the movie because the game is very home made looking – crude drawings and clearly colored in with pencil. It made me nervous because they have these lit matches and cigarettes around, and this is clearly the only copy of the game that exists!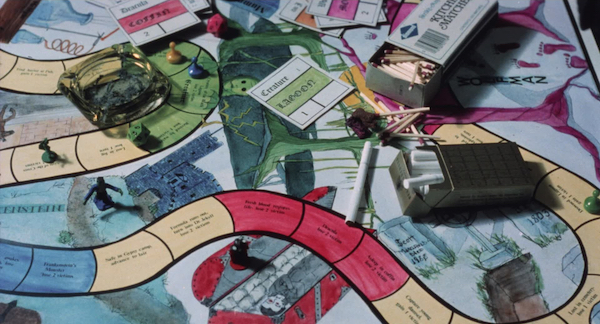 One of the interviews on the disc seems to indicate that they wanted to use Monopoly and had to make up a fake game at the last minute, but then the end credits have a copyright for it and act like it's a real game they were planning to sell. (I'm going to go out on a limb and guess that nobody wanted a copy. It looks like a school project, man. Come on.)
What makes the movie a little tiring, but also what's kind of different about it, is the very amorphous structure of the mystery story and the oddness of all the characters and their conversations. Right in the middle they have a wild pool party where we learn that Roger – who up until this point has seemed like a handsome leading man type – is having an affair with Randy (Colleen Camp, GAME OF DEATH, POLICE ACADEMY 2 & 4, D.A.R.Y.L., SPEED 2) and is furious that she's making out with somebody else. Later she's alone in the pool and the ski mask guy sadistically murders her. Hmm.
We also see Roger being abusive to his wife, and it's strange because this early in the movie it doesn't feel like a reveal or a twist, it's just kind of casual. But now we have a mystery of which one of these horribly damaged Vietnam vets who seem like the murderer are the murderer (or is it a trick?). Keegan goes on a date with Roger (jesus christ, this guy) where they go to the movie theater, which is closed and empty. Billy comes down with beer and sits with them. I like scenes in old movie theaters, though this one is cheapened by how obvious it is about never actually projecting anything, just cutting to clipes from the movie they're supposedly watching. To really underline the likelihood that one of these guys is the killer, the three of them end up playing that shitty board game together. So we know they have access to a copy.
Keegan is a very unusual Final Girl – a smart ass, always trying to be witty and make light of everything, also nervous and self-deprecating. At first I kind of liked her, but I think most would agree with my eventual verdict that she's A Little Much. But she really seems like she would be the eccentric friend of the main character who gets killed early and not the main character, so that's kind of interesting.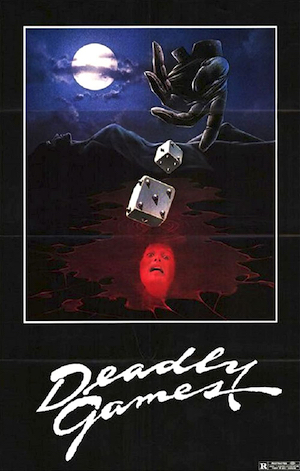 This is not the fun type of slasher movie, but the murders are fairly well executed scare sequences. The opening scene has that quality of SCREAM, that it's an empty house at night, you can see the darkness out the windows, you have that feeling that there's no one anywhere nearby to see what's going on or to call to for help. And there's a variety to the scare scenes: the house, a parking garage, a chase through some woods to a cemetery, the movie theater (where for some reason there's a storage room full of old mannequins).
If you would like to know the SPOILER ending, we learn that Roger tried to scare Linda as one of those fun jokes you do, but she accidentally fell out the window and died, and he got off on it, so he did the other murders too. Keegan shoots him and then Billy tries to kill her for revenge. He swings on a rope to get her, that was pretty funny. I didn't love this movie, but it was definitely something I hadn't quite seen before.
The cast also includes June Lockhart (Lassie, Lost in Space) as Keegan's estranged mother and NFL legend Dick Butkus (!) as one of the group of friends. It's pretty funny to see him at the pool party talking about everybody's sordid relationships. He's not bad!
According to Wikipedia, DEADLY GAMES played on Showtime and was only released in St. Louis and on a drive-in triple bill in Kansas City. Despite that obscurity, rookie writer/director Scott Mansfield was able to follow it up with some kind of sketch comedy movie called IMPS* [the asterisk is part of the title, not a promise of some wiseass thing I'm gonna say below] starring Linda Blair. Then in the '90s and early aughts he made literary documentaries and shorts about the works of Edgar Allan Poe, O. Henry and William Shakespeare. He must not have had his heart in the slasher movie game, but at least he made one of them, and it's better than some people have made.