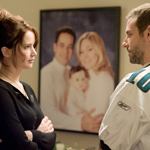 THE SILVER LININGS PLAYBOOK is a quirky dramedy-romance about people with mental problems, based on a novel I guess. That's not my usual beat, but I like this writer-director, David O. Russell (THE FIGHTER, THREE KINGS) and there's a small part for Chris Tucker, his first non-RUSH HOUR since RUSH HOUR, believe it or not. That's 14 years! I like Chris Tucker, so like these characters with their mental illnesses, you're just gonna have to deal with it.
Bradley Cooper stars. He was a natural to play Face in THE A-TEAM, but here he's Murdoch. His mother (Jacki Weaver from ANIMAL KINGDOM) takes him out of a court-ordered mental facility where he's been since an incident that caused him to lose his wife and house. He comes to live with Mom and OCD, Philadelphia Eagles-obsessed Dad (Robert DeNiro) while he uses a self-prescribed regimen of exercise, reading and positive thinking to attempt to win back his wife. Although the restraining order does prove to be an obstacle.
It's immediately clear that this man is delusional to even want to talk to this woman, so enter the other woman, Jennifer Lawrence as a sister of a friend of the ex-wife, who he meets during his stalking and learns that she's had her own mental breakdown and history of depression. In reality this could be a mess but in a movie they seem meant for each other and also I never realized how hot Lawrence was. There is an emphasis on form-fitting outfits, butt, etc. If we didn't already know he was bi-polar we'd say he was crazy for not going for her.
Russell doesn't exactly have a reputation for sanity himself, and I heard in an interview that he wrote this to give hope to his son who deals with similar issues. Russell does a great job of building to these freakout moments. The dialogue gets faster and more fractured, the background chatter and soundtrack clutter create this cacophony and it gets stressful just to watch, you can see why he would start yelling. It was funny to hear different people in the crowd sighing in exasperation at 5 or 6 points in the movie.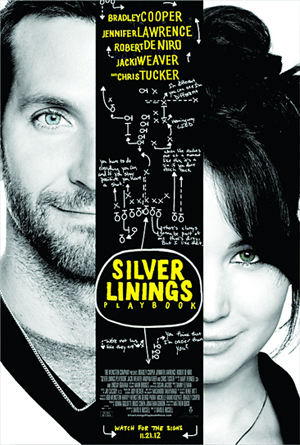 I think it's somewhat guilty of that thing movies do where mental illness is treated as kinda cute and lovable. For example it's played for uncomfortable laughs when he tries to chat up and hug people who are terrified of him. And the cartoonish motif of uptight elderly neighbors always looking out their windows to see what the commotion is seems to imply that he's some misunderstood underdog and they're silly to be afraid of him just because he beat a man almost to death less than a year ago and was released from the hospital against the advice of his doctors. Still, the intensity of these "incident" scenes goes a long way to showing how shitty and debilitating these types of conditions are, which is the overall emphasis of the story. It's more "these are people too, even though they're crazy" than "aren't crazy people wise and adorable?"
There are some odd tonal shifts. I don't see it as a comedy overall, but it suddenly turns more silly late in the game and like I HEART HUCKABEES it starts having all these scenes where every character is together at the same time – the two leads, the parents, a brother, a friend, even his psychiatrist, all in a conversation together or walking around in a group.
There's also a left turn into STEP UP territory (part 1 specifically), with her needing him to fill in as her dance partner for a contest, and it even has the thing where they're working real hard on the big impossible move that they can't quite stick. But in this version it's not set up for the climactic triumph, it's for a good cheap laugh.
I like the contrast between son and father. Dad has all these game-watching rituals and superstitions that he takes way too seriously, and you can tell it's a pain in the ass for the whole family. It seems more annoying than dangerous. We don't see him exploding into anger except when his son accidentally knocks over Mom during an episode, so that one was justified. But a couple times we hear that he's banned from Eagles Stadium for getting in too many fights. He might be more dangerous than his son, from the sounds of it.
Tucker's role is small, only showing up in a couple scenes, but he's funny and likable and it's nice to see him on screen again. Julia Stiles is also good in a small role as the sister. She's the poster child for an older sister to be jealous of and kind of hate (she already has huge framed photos of her new baby hanging all over the house) but she seems mostly well-meaning. And she has a good resemblance to Lawrence. I believe them as sisters.
Another small role I liked was Dash Mihok (Felicity) as the cop stuck with the thankless job of tailing Cooper to make sure he doesn't bother the ex. Officer Keogh seems like a good guy, not happy to have this task but trying to do the right thing. I wish Russell had left out the one little part where he's actually a sleazeball.
An in-joke you might miss: on Halloween they walk by a movie theater and the marquee says "MIDNIGHT MEAT TRAIN." It's in because Cooper was the star of that, it's a joke because the movie was a notorious flop and although I sort of liked it I don't see it as a likely candidate for a theatrical revival.
I think this is a pretty good movie, but not a great one. It seems to me like a mainstream movie that Russell tweaked to fit his sensibilities, but that's not really the case. It was a pet project he wrote and tried to get off the ground before he did THE FIGHTER, which actually was a for-hire job. I don't think he figured out how to make it work as well as his other ones, but he still came up with something worth watching.