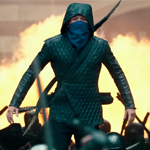 ROBIN HOOD (2018) was part 2 in my "have to be out of the apartment during certain hours but THE GIRL IN THE SPIDER'S WEB starts too late" programming series. I probly shoulda just seen CREED II again, but you know how it is. Sometimes you want to see ROBIN HOOD.
Taron Egerton (LEGEND) plays Sir Robin of Loxley, a reverse Kingsman raised as a "spoiled toff," he later fights with the commoners against the government, without his fancy clothes. The movie opens with a narrator bragging about how this is not the "bed time story" you know, and it kinda plays as a super hero origin story (in fact it was originally announced as ROBIN HOOD: ORIGINS). It's a Robin Hood trained by his mentor John (Jamie Foxx [STEALTH]), a Muslim P.O.W. who, in an act of defiance, he freed during the Crusades, even though the dude had almost killed him. Through some decent training montages (sadly lacking in Stan Bush songs) he gets even better at shooting off a whole bunch of arrows real fast, including when whirling through the air in slow motion. Which I am in favor of. Much of the action (which includes exploding carriages and what not) is shot a little shaky to remind you of that not-a-bed-time-story thing, but luckily they can't resist the occasional slow motion leap or rope swing.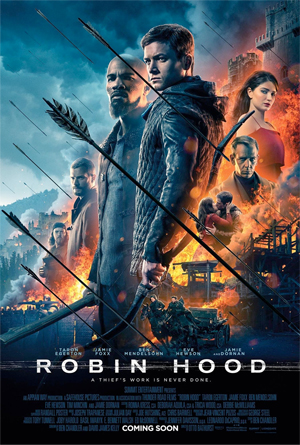 I enjoyed Guy Ritchie's goofy KING ARTHUR: LEGEND OF THE SWORD, which this seemed to resemble in the advertising. It did sometimes remind me of the scene where the long range archer laid out his bow and arrows on a blanket in the style of a contemporary sniper. Here the Crusades (depicted as a bullshit war based on a lie) are clearly designed and shot to remind you of movies about American troops in Iraq and Afghanistan. Their outfits are medieval takes on desert camo and body armor, they crouch and creep around corners of dusty structures with their bows up ready to fire, they get shellacked by machine-gun-like crossbow fire that explodes through stone walls, and it's all got that slight yellow tinting that signifies "Middle East" (here called "Arabia").
This goes for the costumes throughout the movie, designed by Julian Day (THE DISAPPEARANCE OF ALICE CREED, PRIDE AND PREJUDICE AND ZOMBIES). Marian (Eve Hewson, BRIDGE OF SPIES) wears dresses and scarves not too medieval to be worn to a coffee shop. Many commoners wear almost-hoodies, and in a climactic uprising sequence they add bandanas over their mouths, and could be mistaken for modern anarchists or anti-fascists if not for the metal helmets worn by the riot cops who are clubbing them. The Sheriff of Nottingham (Ben Mendelsohn, KNOWING) wears a powder blue leather duster.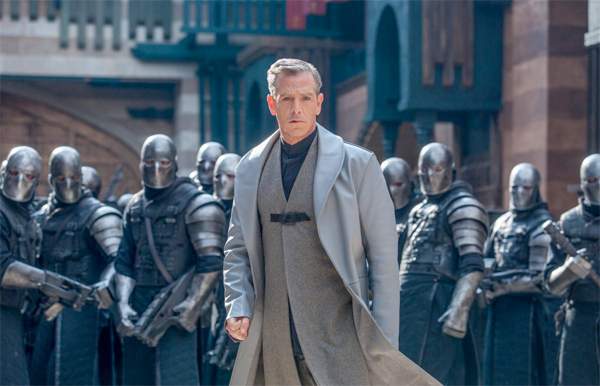 And Robin has a jacket that looks like it could almost have a North Face logo on the back.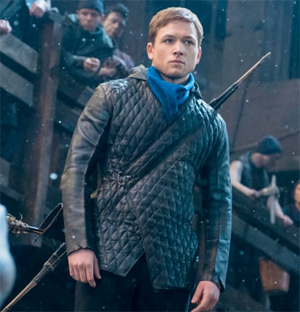 I got nothing against the story. Robin is a happy rich guy until he's drafted and sees his side committing war crimes. Sent home, he finds his estate ransacked and Marian with a new man (Jamie Dornan, MARIE ANTOINETTE) under the impression that he's dead. John convinces him that stealing from the taxes collected can defund the unjust war. The sheriff is an atheist conspiring with the Cardinal (F. Murray Abraham, LAST ACTION HERO), an asshole who brags about the church making up the concept of Hell to scare people. They're war profiteers who get pissed at Friar Tuck (Australian comedian Tim Minchin). Tuck (who was the narrator at the beginning, it turns out) has a look that suggests Russell Brand was the first choice, and when he wore a hat I swear he looked like the eclectic bassist and producer Bill Laswell.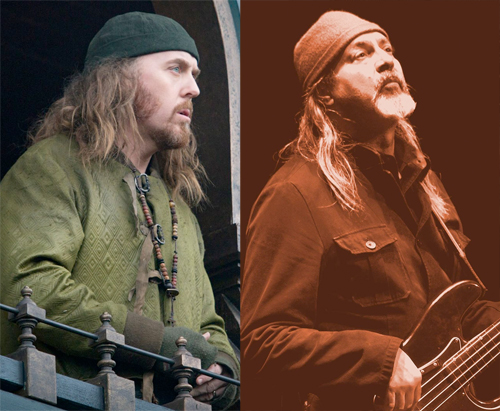 I got a kick out of that stuff, but this is no KING ARTHUR because it's seriously lacking in giant elephant monsters with pyramids on their backs, and director Otto Bathurst (Black Mirror, Peaky Blinders) doesn't seem as interested in flash, humor or absurdity as Ritchie. There's some witty banter here and there, but the movie looks and feels a little too dour to seem light-footed. The d.p. is George Steel, but I looked it up and it's not George "The Animal" Steele, it's a guy who mostly shot British TV shows including Peaky Blinders. It's not entirely desaturated, but personally I could use some more orange fire and blue clothing items to brighten things up. And how bout some red? We used to have so many colors and I guess in retrospect we took them for granted.
With all due respect to composer Joseph Trapanese (TRON: LEGACY, THE RAID, WOLF WARRIOR 2), I think the Zimmery bombast of his score is a problem too. It's nice that it's not the expected instrumentation for a Robin Hood movie, but I really think if the emphasis was on fun and adventure instead of intensity the whole tone of the movie would be improved.
It's kind of funny that Foxx is playing Little John but his makeup and connection to Robin Hood make it transparent that he's inspired by Morgan Freeman's character in ROBIN HOOD: PRINCE OF THIEVES. I wonder if the screenwriters of that got paid under the table? If not they oughta sue. Anyway I like action hero Foxx even if he's never gonna match his DJANGO UNCHAINED badassness. And I like that due to a behanding he has a metal stump cover that works as a shield. I think part of the idea is that he was a great archer but with only one hand he can't do it anymore. It doesn't stop him from helping Robin improve his skills, but he's unable to fulfill one of the duties of his Disney counterpart.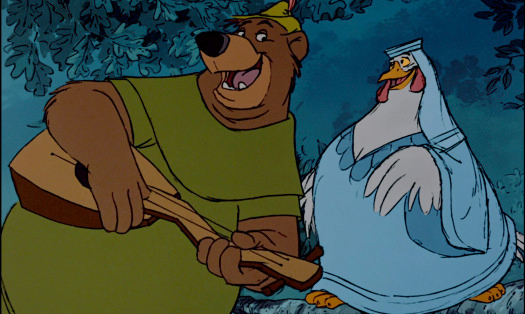 Mendelsohn is good, of course, and I'm thankful that it was somebody who's always interesting to watch. But I'm not sure how different this guy is from ROGUE ONE's Krennick – even some of the outfits could almost work for both. I hope he doesn't get stuck playing these think-they're-superior evil politician villains forever. He was so much more exciting as, to name one example, the weird slimy creep in KILLING THEM SOFTLY.
I noticed this came from Leonardo DiCaprio's production company Appian Way. He should've played the sheriff. This won the battle between three competing Robin Hood projects fighting to make it into production.
If they were trying to make it seem Ritchie-esque that was a weird choice, because LEGEND OF THE SWORD has a terrible reputation, and this seems to be an even bigger flop. And it's one of those sad movie-going experiences where I went in knowing that and then the ending very presumptuously sets up what would be the villain in the next one and you can only think "Oh, bless your heart."
I'm sure I would've watched it, though, especially if I was locked out of my apartment.