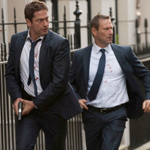 LONDON HAS FALLEN is the sequel to 2013's OLYMPUS HAS FALLEN, that one where Gerard Butler (GODS OF EGYPT) plays Secret Service agent Mike Banning, protecting President Benjamin Asher (Aaron Eckhart, I FRANKENSTEIN) when the White House is attacked. It is not to be confused with WHITE HOUSE DOWN, the one where it's Channing Tatum protecting Jamie Foxx.
Who am I fooling though? I get them confused so much I sincerely mixed up the titles when I wrote the first draft of this review in my notebook, and when I fixed it I started to type OLYMPUS DOWN. I was thinking I'd found the Tatum one to be the more passable 2013 half-assed excuse for a DIE HARD rip-off, but then I went to the tape. My review of that one is a little harsher, and ends by saying "If you see only one UNDER SIEGE IN THE WHITE HOUSE movie this year, see… ah, who gives a shit? Nobody will remember either of these movies a year from now. Of the two I think I preferred OLYMPUS HAS FALLEN. I forget why though. Something about Melissa Leo?"
In my day a movie had to excite somebody's imagination to get a sequel. Now it just hast to be the one of two similar bad movies that gets more money because it came out first.
Still, one of my buddies managed to get me excited about LONDON by claiming it was way more fun than OLYMPUS. I should've known, knowing him, that he just thought its appalling politics were funny. Sadly this theatrical release from Millennium Films is alot like one of their generic DTV thrillers, except instead of wasting, say, Tom Berenger, Michael Biehn, Michael Pare and Robert Forster in thankless authority figure roles they waste Morgan Freeman, Melissa Leo, Angela Bassett and Jackie Earle Haley. And also Robert Forster.
So, how does London end up having fallen? The prime minister dies, and a bunch of the world leaders come for the funeral. But they have, like, the worst background checks ever, because all the sudden most of the cops and royal guards turn out to be traitors who just start machine gunning the leaders and everybody else, and detonating bombs in Westminster Abbey, London Bridge and other landmarks.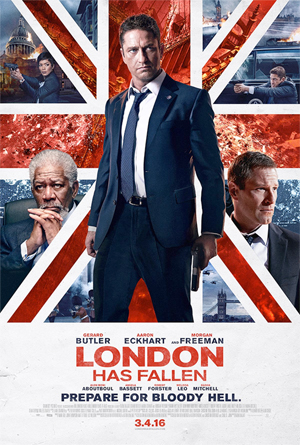 I guess the most exciting part of the movie is when Banning and Secret Service Director Lynne Jacobs (Bassett, STRANGE DAYS, GREEN LANTERN) are trying to get the President out of there. I had a pretty strong hunch those three weren't gonna be running around together for the whole movie, so you can guess what that means. There's a fairly decent car chase/shootout (the line "get to the chopper" is used) and an effective helicopter related scene and then suddenly a couple minutes where Banning lets the President stand outside completely unprotected so he can have privacy during a dramatic emotional scene.
The Melissa Leo part I liked from the first one was when she was a hostage and getting beat up and she started defiantly screaming the Pledge of Allegiance. I assumed it was an ad lib. They must've known that was the good part, though, because they have the President yell the oath of office when he thinks he's about to be killed. The most acting Leo gets to do is when she hears about the terrorist attack and she looks like she's about to cry. This is the secretary of defense!
Re-reading my review of the first one, I see that I brushed off the jingoism. Not as easy this time. A North Korean war plane attacking the White House was a laughable scenario, but a coordinated gun and bomb attack on London hits a little closer to home. I'm not of the opinion that action or disaster movies are wrong after 9-11 and other terrorist attacks in the west, but I don't like how this particular one shamelessly mines real life tragedy and asks you to have a thoughtless action movie emotional response to it. It plays to your fears of terrorist attacks and then to your fantasies that we can make it all better if we just have some guys that are awesome at shooting and then use super weapons to blow up their families from the sky. You got alot of fuckin nerve treating me like a Donald Trump voter, movie.
In the opening scene we meet the generic exotic villain Aamir Barkawi (Alon Aboutboul, RAMBO III, THE DARK KNIGHT RISES, BOYKA: UNDISPUTED IV), an arms dealer said to have masterminded a bombing, at his daughter's wedding. An American drone strike knowingly blows up the wedding, but Barkawi gets away. So the bad guy's vicious act is in response to America's vicious act that was in response to the bad guy's vicious act. This is not good vs. evil. This is a messy, immoral war that kills more innocent people than guilty ones and inspires endless rounds of "profound and absolute" vengeance.
That's what the opening tells us. But for the rest of the movie they pretend like no, actually, if you stab a guy in the eyeball and then say some macho bullshit then that's enough. When Schwarzenegger or somebody does it then that's that, but a movie like this ends with the Vice President making a moving speech that means we as a nation agree that stabbing the guy in the eyeball was what we all stand for. He basically says we are America, and we commit to always being a part of this endless cycle of horrible violence and murdering. But it's Morgan Freeman so he makes it sound comforting.
There's also a visual illustration. They track Barkawi down somewhere and the Vice President talks shit to him on Skype, says something about "you better look out your window!" and then the drone zaps him. It makes a point of showing that a bunch more random civilians are killed, continuing the tragedy and creating more people to come after us, but the cinematic language tells us HIGH FIVE EVERYBODY MAKE AMERICA GREAT AGAIN WE ARE THE CHAMPIONS. We aren't gonna give those bastards the satisfaction of seeing us learn a god damn thing.
TAKEN 2 actually deals with this exact same theme of perpetual retaliation, but I got the feeling it was against it. That's one reason why it's a much better part 2 of a not-great modern action franchise.
LONDON HAS FALLEN, at least, is mercifully short. I'm sorry this review isn't, but before I go I need to discuss one last thing. In the action climax (SPOILERS.) President Asher is tied to a chair, about to be decapitated on a live video feed, which someone has thoughtfully streamed on the screens in Times Square so we can see a crowd watch in horror. But suddenly Banning runs in and quickly shoots all the bad guys in the head or stabs them or whatever and frees the President. He gives the main guy a big speech about how what they don't understand is it's not just one of us, you can kill some of us but there will be more of us, and we represent a belief, and 1,000 years from now we're still gonna be here.
Here are the problems I have with this scene:
Pornographically reminding us of real life decapitation videos is a good way to not at all create a fun DIE HARD type vibe.
The bad guy could and should make that exact same speech word for word, and hopefully the writers know this, but the movie sure doesn't act like it wants you to notice. I think it wants you to get a red white and blue boner from it.
How the hell do you establish that people are watching live in Times Square and then not cut to a reaction shot when the President's execution is prevented by an awesome guy running in and doing a bunch of awesome America shit?
And on a more basic level, to stage an action scene in a room with protruding rebar and not have a dude get impaled on it is a straight up dereliction of duty. Forget all the political stuff, that's the more crucial thing here. The action is not nearly good enough to forgive the politics.
Responsible parties: OLYMPUS director Antoine Fuqua didn't want to do this one, so they got this guy who directed CHARLIE COUNTRYMAN, but he quit a couple weeks before shooting and they replaced him with Babak Najafi, an Iranian-born Swedish director who did SNABBA CASH II (aka EASY MONEY II: HARD TO KILL) and a couple episodes of Banshee. The cast filmed without Butler for the first four weeks because he was doing some Dean Devlin movie. The script is by Creighton Rothenberger & Katrin Benedikt (OLYMPUS HAS FALLEN, EXPENDABLES 3) and Christian Gudegast (A MAN APART) and Chad St. John (that Thomas Jane Punisher short DIRTY LAUNDRY). The fight choreographer is Trayan Milenov-Troy, one of Jean-Claude Van Damme's regular stunt doubles.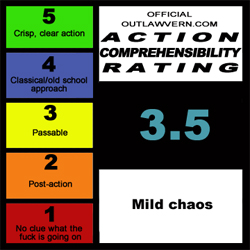 P.S. I totally forgot this, but OLYMPUS HAS FALLEN was the movie that inspired me to create the Action Comprehensibility Rating (ACR) system, a 1-5 rating of action clarity. At the time it was so common for action scenes to be indecipherable that I thought those of us who care about that sort of thing could use guidance to know which action movies were gonna be frustrating.
It's nice to realize that it's only been three years and I don't feel like the ratings are as necessary as they were then. Maybe I'm just getting used to it, maybe I'm getting lazy about figuring out the ratings, but it honestly seems to me like the standards have improved. And it's a good sign that the sequel gets a higher rating than the first one.
Thanks Obama.
So now that some of the action scenes are passable we can start working harder on the other parts, fellas.