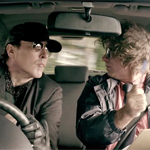 DRIVE HARD joins DEATH RACE and GETAWAY in the new action subgenre of "former car racing superstar is forced to drive for bad people." In this one the driver in question is Peter Roberts (Tom Jane, STANDER), a flaky doofus who left racing to get married and raise a daughter in Australia, but now is running out of money and having trouble paying the mortgage, let alone achieving his dream of opening a racing school. Instead he has a driver's ed school.
Then one day mysterious troublemaker Simon Keller (John Cusack from THE PAPERBOY), a grown man who seems to already know how to drive, takes a lesson from him. After an uncomfortably horrible drive and awkward coffee break in which the stranger admits to being a fan and knowing all about his career, he convinces Peter to drive him to the bank. So he can get some cash to pay for the lesson, he says. But then he comes out holding a brief case and exchanging gunfire with security guards.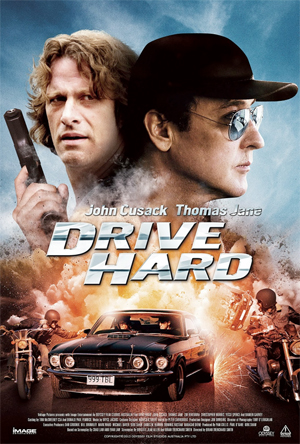 So in driving away trying not to get shot Peter gets identified as the getaway driver on TV, and has to keep going so as not to get shot by the merciless private security that the apparently unscrupulous bank has handling the matter. Keller really is holding him hostage at gunpoint, and is clearly a crazy person, but I doubt he would really kill him. He just shoots him in the ass with a rubber bullet when he has to. He's not 100% villain. The robbery is targeted at former partners committing bank fraud.
This is directed by Brian Trenchard-Smith, but don't get excited. It's not a rebirth of the Trenchard-Smith that did insane car stunts in DEAD END DRIVE-IN and DEATH CHEATERS, though probly a more-watchable-than-usual late period Trenchard-Smith. (To be fair I haven't seen most of them and his last one, ABSOLUTE DECEPTION, starred Cuba Gooding Jr., whose movies often end up being better than I expect.)
Unfortunately the car stuff is no more than competent, never exciting. That poster to the right is a little exaggerated in my opinion. What makes the movie okay though is these two actors fuckin around with their characters. Cusack's kind of a Bugs Bunny type, a weirdo trickster convincing a dumb guy of ridiculous things, for example that his wife doesn't respect him as a man and he can assert himself by seeing this heist through to the end. I think Cusack's doing a little bit of Hunter S. Thompson too with his rarely-removed sunglasses, loud pattern shirt and cigarette-holder-style vaping pen. Never taking off his bulky Under Armour gloves also adds to his freakiness. I started to wonder if he was supposed to be a burn victim or something.
Jane can do cool really well, but he's clearly having fun being the dork here. He's shaggy-haired and Converse-wearing, stupidly falling for obvious tricks, getting beat up by an old lady. They're pretty funny together. I like when Peter makes a police call and seems suspiciously calm, so Keller helps him out by holding a gun to his head and making him cry. When it works, Keller nods his head "good," like he's directing the performance.
And I like the running gag of Keller's endless supply of burner phones, which he tosses out the window after each use. When Peter uses one to call his wife he suddenly realizes with boyish delight that maybe Keller will let him throw this one. But he asks permission first.
The stuff with Peter's family back home is pretty corny. His wife is real angry at him, like it's his fault he got taken hostage. Actually that's a potentially funny premise, but it's not played for chuckles. What is is his daughter being impressed by him for the first time, and excitedly watching him as he risks his life on TV, driving recklessly while people chase him and are trying to kill him. I get it, media sensationalism, the cult of celebrity, etc. Real deep.
Writers Chad and Evan Law previously did THE HIT LIST and ONE IN THE CHAMBER, which are both more entertaining and have better action. This is really no more than a DTV or cable TV time waster. But there are worse things in the world. Disease, poverty, The Big Bang Theory, I could go on. Unlike those things this one's almost halfway to decent.