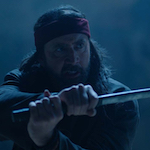 There's something going on in the world of indie action that I don't think gets enough attention. It started in 2016 with KICKBOXER: VENGEANCE, a fun remake of the Cannon classic, with stuntman Alain Moussi in the lead and JCVD himself, in eccentric character actor mode, playing the mentor. It was directed by John Stockwell, who did pretty good with IN THE BLOOD and some of his other movies, so when the screenwriter took over as director for the sequel that didn't seem like a good sign to me.
I was so wrong! KICKBOXER: RETALIATION turned out even better than the first one, with much more ambitious and assured direction, including complex choreography with great long take camera work. Of course, writer/director Dimitri Logothetis wasn't some screenwriter getting his first shot at directing – he'd had a long and unusual filmmaking history that started in '80s b-movies, producing HARDBODIES 2 and directing SLAUGHTERHOUSE ROCK, and included the 1989 boxing documentary CHAMPIONS FOREVER. Incidentally he's also a blackbelt in Kenpo karate, having been taught by Ed Parker (he says he got to train with Elvis three times).
Now Logothetis has reunited with Moussi for another action vehicle, not a remake but a sci-fi story he first tested out as a comic book. And since it has a crazy premise and a good supporting role for Nicolas Cage maybe more people will notice this time.
Okay, let's get this out of the way: it's called JIU JITSU. I was sure they would change that by the time they released it, but they stuck with it. If you're the type of person who will be bothered that the fighting in the movie is not all (or even mostly, from what I can tell) jiu jitsu, please do me and yourself a favor and pretend it's called SPACE-PUNCHER or something. Otherwise you will be frustrated.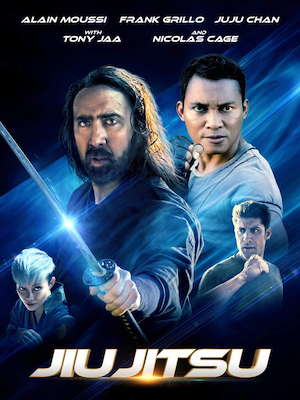 But if I understand correctly the movie purports that jiu jitsu is the greatest martial art because it was given to us, basically, by ancient astronauts. Every six years when a comet passes the earth this alien fellow named Brax (Ryan Tarran, also stunt coordinator) comes through a portal by an ancient temple in Myanmar and challenges humans to fight him. They don't have to win, but they have to fight, otherwise he will stick around and fuck shit up on earth. An ancient order of jiu jitsu fighters are always there to battle him, having long ago taught their predecessors jiu jitsu as the only thing badass enough to offer him a challenge.
Moussi plays Jake, who is introduced running through a jungle, dodging alien ninja stars until he falls off a cliff into water and is picked up by a fishing boat. After being rescued he doesn't remember who he is or what's up, raising the suspicions of the wife of the fisherman who sewed him up and the soldiers at the American base where she dumps him off. But the blanks start to be filled in after a guy named Kueng (Tony fucking Jaa!) shows up to bust him out of the base and reunite him with the rest of the crew.
One way this movie excels is a totally stacked cast of action people, and though most of them don't get as much of a showcase as Moussi and Jaa, they all get chances to shine. You've got Frank Grillo (WOLF WARRIOR 2, POINT BLANK) as Harrigan, kind of an asshole who gets mad at Jake for his memory loss (maybe he just thinks it's an excuse for cowardice). JuJu Chan (CROUCHING TIGER, HIDDEN DRAGON: SWORD OF DESTINY, SAVAGE DOG) is Carmen, love interest but legit warrior. And I was excited to see Marrese Crump (WRONG SIDE OF TOWN, THE PROTECTOR 2) get another good supporting role right after stealing WELCOME TO SUDDEN DEATH. They all carry themselves like they know they're the earth's greatest warriors whether they're getting in scuffles with the army or engaging in portal kombat. And they have distinct moves and weapons, like video game characters. Good shit.
For jiu jitsu legitimacy they have Rigan Machado (KICKBOXER 4, BRAZILIAN BRAWL, BEYOND THE RING) in there a little bit. Also among the military contingent you have Rick Yune (THE FAST AND THE FURIOUS, NINJA ASSASSIN, THE MAN WITH THE IRON FISTS) as a captain with a better idea of what's going on than the others.
And then, of course, there's Cage as a local weirdo called Wylie. Jake literally falls into his underground cave (a pretty nice pad with furniture and a piano) while running through the jungle, spars with him and then is taken under his crazy wing to prepare to fight Brax, or as Wylie calls him, "The poet warrior in the sci-fi sense. The space man."
Cage has studied jiu jitsu and does get to role around a little, but I was more excited to see him switching off with a stunt double who does flips and stuff. Pretending Nicolas Cage can do flips is a joy I didn't know I needed in my life. With his long hair, headband, beaded necklaces and (bath?)robe, carrying a sword-staff, he only has a blip or two of mega-acting, but his usual sense of wild-eyed humor makes for a lovable sensei character. My one complaint is that he offers only advice and not training montages.
Like most sci-fi on a budget like this, it's more noticably cheap than its straight-martial-arts brethren. There are definitely some chintzy visual effects, and one unfortunate stylistic choice. Important filmmaking rule: if this is not a CREEPSHOW movie and you're putting comic book transitions in it you have made a grave error, especially since you and I both know that moving a couple layers around in After Effects is no substitute for real animation.
But I should say, because this is not a given in a DTV sci-fi movie: Brax is not an alien disguised in human form. He has sort of a rubber space suit with a helmet with a blank window over the face which sometimes has a projection of sort of a lizard face. I appreciate that.
Though the FX are sometimes cheap, the movie is never lazy. Logothetis and cinematographer Gerardo Madrazo continue in RETALIATION's spirit of playfulness in staging and shooting the action. There are even some Spike Lee style camera-mounted-in-front-of-the-actor's-face shots. I like the way sometimes the camera will be following Jake or Keung and then be separated from them – they run into a house, or behind a wall, and the camera stays outside – and you can hear some commotion going on off screen and then a guy gets thrown through some boards or Keung smashes out of a gate knees-first.
The most show-offy scene switches to Jake's POV for a while – you see his feet and hands fighting people, but also Keung will be fighting someone nearby, or he'll be somewhere else and then run in and help. It's very video-gamey, but also really cool. You get to see what it would look like to be in a big brawl with Tony Jaa on your side.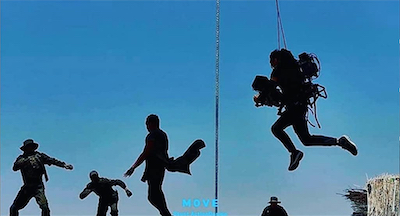 The camera is more mobile and close than I usually prefer during fights, but it's cool the way they do it, hovering around to put you in the middle of the fight, but frequently stepping back to get a better look, and holding the shots long enough to show a bunch of consecutive moves. It works well.
It's not hard to imagine getting excited about a PREDATOR-meets-MORTAL-KOMBAT-with-Nicolas-Cage-as-Raiden movie and then finding it only sporadically amusing. But I think JIU JITSU is exactly as fun as that premise sounds, and deserves. It's a joyfully absurd sci-fi-action romp with colorful characters and a wealth of cleverly executed action set pieces – a nice mix of fun comic book premise, high quality fight choreography and a surplus of filmmaking elbow grease.

JIU JITSU will be transported to digital platforms this Friday, November 20th.
This entry was posted on Wednesday, November 18th, 2020 at 10:03 am and is filed under
Action
,
Reviews
,
Science Fiction and Space Shit
. You can follow any responses to this entry through the
RSS 2.0
feed. You can skip to the end and leave a response. Pinging is currently not allowed.