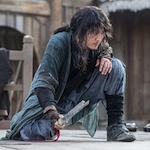 THE SWORDSMAN is a 2020 Korean film about a swordsman. Color me intrigued. (Seriously. I like swordsmen.) I wonder what's up with this swordsman that makes him THE swordsman?
Actually there's a bunch of swordsmen in THE SWORDSMAN with one that I assume is the titular swordsman but another one you could make an interesting if not totally convincing argument for. The main one is Tae-yul (Lee Min-hyuk), "the best swordsman in Joseon," who in the prologue (while being played by Lee Min-hyuk) refuses to stand down from protecting the king (Jang Hyun-sung, SHIRI) when the other top officials have decided to topple him in a rebellion. The secondary swordsman is Min Seung-ho (Jung Man-sik, THE YELLOW SEA), an older military official who, to get to the king, challenges Tae-yul to a duel in which Tae-yul's sword shatters, sending shards into his hand and eyes. At that point the king stops the fight and agrees to step down.
Unspecified years later, Tae-yul (now Jang Hyuk, VOLCANO HIGH) is a recluse living in the mountains with his teenage daughter Tae-ok (Kim Hyun-soo, THE FIVE). He periodically has problems with his vision, and a monk tells them to go get a special herb from a trader he knows named Hwa Seon (Lee Na-Kyung, BATTLE FOR INCHEON: OPERATION CHROMITE) or he's gonna go blind.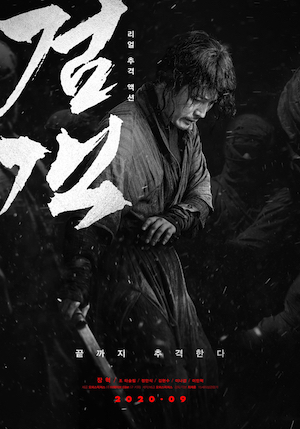 Tae-ok has been bored trapping bunnies and shit in the boonies every day, and is clearly delighted to see all the cool shit going on in the villages. But when they get to Hwa Seon's spa or whatever they learn that the monk misinformed them about their relationship and that the herbs are very expensive and only for the politically connected. So, no dice. Tae-yul seems stubbornly set on accepting his fate and doesn't fight it. (I relate to that.) Against his wishes, Tae-ok accepts a deal to become foster child to a member of the Joseon royal court, Lee Mok-yo (Choi Jin-ho, I SAW THE DEVIL), and take care of his elderly mother in exchange for the herbs. The three main ways this is fucked up:
1. she has to trade herself to get medicine for her father
2. she actually really wants to do it and is willing to give up living with her father so she can be a noble
3. it's really a ploy for Lee to have a surplus daughter available when some maniacs come by and start killing officials' daughters!
See, there's a villain in town, slave trader and bullying Qing dynasty family member Gurutai, played by Joe Taslim of THE NIGHT COMES FOR US. I was so happy to see him because although in retrospect I had heard him talk about this movie on his Art of Action episode, I completely forgot he was gonna be in it. Nobody in the movie is happy to see him though because he's a scary dude and a total fucking bastard. Taslim is so good in the role, smiling arrogantly through much of it. He doesn't get involved in the action until the end, but the combination of how scary he is and how much we know from other movies that he will deliver makes the anticipation part of the thrill.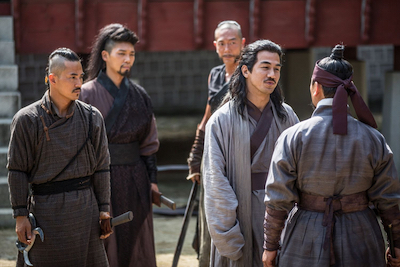 He's got a bunch of thugs who do the dirty work for him, all with varying cool hair dos. He also has an unexplained white girlfriend and/or security person (Angelina Danilova) usually hanging around, and she has also has cool hair, with Boz cut stripes on one side. In her first scene she's fondling a big fat snake. I don't know what the fuck her deal is, and I love it.
(According to Wikipedia, Danilova was a Russian Instagram model and K-Pop fan when a reposted picture of her went viral on Korean social media, leading to her being cast on a Korean reality show, and then becoming a K-Pop singer herself. So I guess this is a celebrity cameo.)
Gurutai's men are staying at Hwa Seon's place and causing a bunch of ruckus – when his daughter is threatened by them, Tae-yul gets involved and beats them up using his cane like a sword. Throughout the rest of the movie they'll keep running into him, calling him "the cane man," and not really knowing who the fuck he is. They're involved in a bunch of political machinations that have nothing to do with him – they have no idea his connection to Tae-ok, who they take hostage thinking she's Lee- Mok-yo's daughter. So when "the cane man" suddenly bursts into Gurutai's private compound there are some priceless "What the fuck are you doing here?" looks.
And what's pretty cool is that Min Seung-ho, the older swordsman who partially blinded him at the beginning, is also on the periphery of many of these events, recognizing him, and trying to figure out what's going on. They clash over their differing codes of loyalty and duty (I wish I followed that stuff better) and there also seem to be alot of feelings between these guys and Gurutai's men about who beats who in sword fights and where that puts them in the rankings.
I realized while watching this that I really haven't seen many (if any) Korean period pieces. The Korean cinema I'm familiar with is contemporary and almost always has an aspect of fucked-upness that is part sad, part thrilling, or at least visceral. This one takes place in a brutal world of stealing and selling daughters, but it feels much more in the vein of the Chinese historical martial arts movies and Japanese samurai movies I enjoy. The main difference I noticed is the different cool hats the royal officials wear. I liked those.
The story takes some time to get going, and I couldn't always follow all the political stuff that was going on, which I suspect is more my failing than the movie's, but it kept me at a distance in some parts. Still, it has a cool hero and a great villain and the action, whenever it pops off, is outstanding. The fights reminded me a bit of the RUROUNI KENSHIN movies – sword fights with lots of spinning, ducking, sliding, mixed in kicks and hits, very kinetic and exaggerated but with a bluntness to it, not magically graceful.
There's a great scene where Tae-yul takes on a whole bunch of fighters at once, with a flawless instinct for the correct direction to move and the exact place to hit at any moment, making short work of them. But then we see from his perspective that his vision is starting to get blurry, so he kind of rolls backwards over a wall to separate himself from some of them and then his tactics change to require less precision.
He's not Zatoichi, he's not blind yet, but his hearing is a big part of his survival. There are lots of little moments where he identifies people he's walking past by hearing a little jingling bell on their bracelet or something like that. There are these guys dressed like ninjas (I don't know if they're called something else in Korea) and he hears them coming when they try to ambush him in the forest.
Also I like Tae-yul's cool sword, which has a notch in the end of it. Always good to have a distinct look to your sword, especially if you're trying to be THE swordsman.
So THE SWORDSMAN is a pretty good one. It's the debut movie for writer/director Choi Jae-hoon, who has since done a horror picture called THE HYPNOSIS. Not just the hypnosis, but THE hypnosis. Let me know if that one's good.
This entry was posted on Monday, November 22nd, 2021 at 7:10 am and is filed under
Action
,
Martial Arts
,
Reviews
. You can follow any responses to this entry through the
RSS 2.0
feed. You can skip to the end and leave a response. Pinging is currently not allowed.