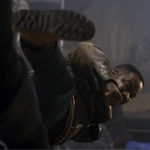 THE HARD WAY starring Michael Jai White is not a remake of THE HARD WAY starring Michael J. Fox. It's a totally different story and he's co-starring with Luke Goss and Randy Couture in a picture that as far as I can tell has gone straight to Netflix (no disc release). I gotta be honest, I had low expectations, because I first heard of it in an awkwardly worded tweet from co-writer Thomas J. Churchill (LAZARUS: APOCALYPSE), illustrated with key art that looks like the cover for a self-published Christian thriller novel. The director and co-writer is Keoni Waxman, who has churned out more Seagal movies than anyone else (THE KEEPER, A DANGEROUS MAN, MAXIMUM CONVICTION, FORCE OF EXECUTION, A GOOD MAN, ABSOLUTION, END OF A GUN, CARTELS, CONTRACT TO KILL and eight episodes of True Justice). He also did the Stone Cold Steve Austin movie HUNT TO KILL.
It's definitely more of a throwback to the sloppy DTV action of the oughts than the tightly constructed MJW vehicles I love like BLOOD & BONE, UNDISPUTED II, NEVER BACK DOWN 2 and 3 or even FALCON RISING. It's filmed in Bucharest with a bunch of leather jacket/track suit/ponytail gangsters knocking around skinny models in a strip club, and the story is made up of completely generic elements put together in too convoluted a manner to be easily followed. Luckily there are no Avid farts, but every transition to another location has a meaningless fade in and out of black and white, which kept reminding me of the piracy protection on the screeners I watched many of those Seagal vehicles on when I was reviewing them for The Ain't It Cool News. I mean, this is the kind of movie where when he watches a video file on his phone it has VHS tracking marks on it.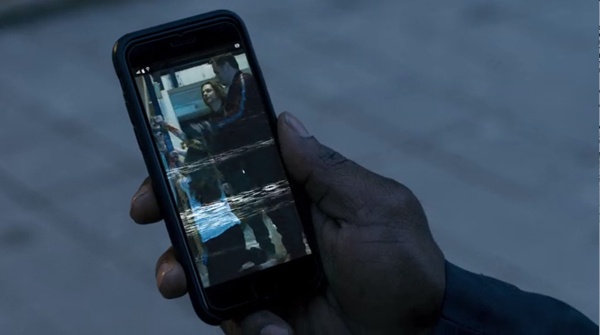 And yet I have to say I really enjoyed this movie because White brings both his badass warrior mode and his humor, creating a character I want to watch no matter what he gets up to. If this has to be one of his lesser adventures, so be it. I also enjoy those other two marquee names, or whatever you call the stars of the non-theatrical market, and they provide pretty solid support.
White plays John Payne, ex-Special Forces New York City jazz club owner. His nephew says he heard "all the crazy Black Rambo Fallujah stories, all the street fighter stories" about his uncle growing up, so he's surprised to see him sitting around playing chess. Obviously he doesn't know that's universal action movie language for "guy who's good at strategy." He's so good that it's an electronic set that allows him to compete remotely with the best players he can find from around the world, and he gets a check mate while half paying attention to some wiseguys threatening him. Payne not only Michael-Jai-Whites the shit out of them, but reveals a cool backstory about buying the club as a fuck you to the racist mafia. I think he might also be a musician, because in another scene he picks up his dead brother Cody's flying-V and flashes back to the two of them playing little guitars as children. Unfortunately he never busts out any licks.
Cody (Grant Campbell, COPS AND ROBBERS) was supposedly an even bigger badass, but he just got shot to death in a parking garage in Romania. Payne flies in for the funeral and sticks around for investigation/revenge/etc. He also has history in the area so there's a funny situation where he goes to meet someone at the strip club and his dancer ex-girlfriend Sky (Andreea Diac) thinks he's there to visit her. Leads to awkwardness.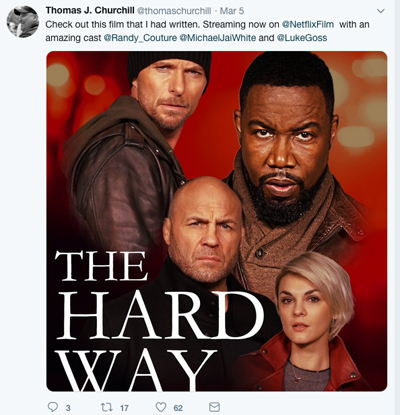 Cody's partner Mason (Goss, BLADE II, DEATH RACE 2–3) knows Mason was killed because of some video evidence he came across, and he's supposed to give Payne a cryptic message about something being left for him. The two investigate and uncover a conspiracy that's weirdly confusing for how not very complicated it turns out to be.
Trivia: White and Goss have been in a movie together before: SILVER HAWK, a weird 2004 Hong Kong super hero movie starring Michelle Yeoh.
At no point did I feel like I was watching THE HARD WAY to find out the motive for Cody's murder or the identity of the mysterious Keyser Soze/The Blank character behind it. Instead I was just waiting for the little tangential incidents like the part where Payne is discussing it all with Mason in the club and sees some thugs pushing Sky into a room. He calmly excuses himself for a moment and generously gives Sky's attackers a few outs: asking her if she's okay, telling them "You heard her, right? Get the fuck out. Let her go." They don't do as he says. Which is a poor choice.
If this movie is remembered for anything it will be for the moment when Payne throws a guy across the room but keeps a tight grip on his ear, ripping it right off. Bonus points: when the wannabe rapists finally leave he yells at the guy about leaving his ear behind. Like he didn't bus his table or something.
One advantage this has over other Keoni Waxman joints is fight choreographer Tim Man (NINJA: SHADOW OF A TEAR, BOYKA: UNDISPUTED, ACCIDENT MAN). So there's a clear interest in showcasing White's best moves. As in BLOOD & BONE he's a total destroyer, a Gino Felino. There's a great joke about this when (GREAT JOKE SPOILER) his nephew sees him beat up the mobsters right after claiming he's not the warrior people say he is.
"I thought you said you weren't much of a fighter?"
"I'm not. Fighting is the violent exchange of physical blows. It's technically not a fight if I'm the only one giving the blows."
Although the powerful punches and kicks are THE HARD WAY's primary source of entertainment, we also get some of those good character moments that make us care. Back at the House of Payne jazz club there's a bartender who's deaf and banters with Payne in sign language. During the fight he keeps a gun pointed at the mobsters but eventually realizes it's a wasted effort, puts it down and goes back to his drink.
There's a completely ludicrous plot twist that would be pretty much impossible to not see coming unless you just kinda had it on in the background. So there are some good laughs as they keep trying to put off the reveal, awkwardly blocking an actor's face and disguising his voice as if you don't know who it is. It's one of those basic math situations where the fact that they're hiding it tells you it's a character you know, which means it could only be this one character. Good shit.
At one hour and 8 minutes in it seems like it's about to take a FROM DUSK TILL DAWN or SORRY TO BOTHER YOU level sharp left turn. There's a meetup planned at some weird palace built over a hole called "The Gate to Hell." Out of the blue Payne is narrating about its history and I swear to you that he says "Since then they say animal-human hybrids are reported to have crawled out of it, and dark-winged otherworldly creatures flew in the vicinity." This colorful detail unfortunately never becomes relevant, but I appreciate the double take it got out of me – a good way to perk up any viewer who might be getting bored. George W. Bush once used the same trick in a State of the Union speech.
Though it doesn't go supernatural, it does get pretty weird. The villain is using a voice distorter and, for reasons I was not able to ascertain, repeats the phrase "walks among the dead" several times.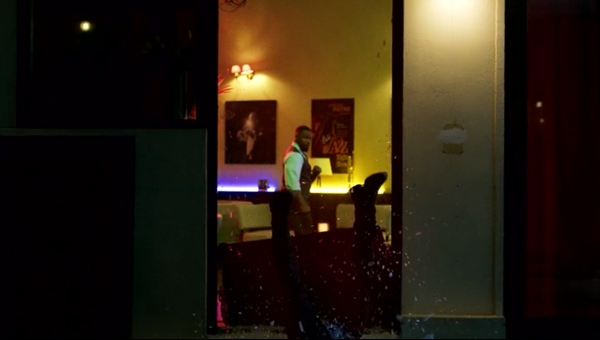 I guess I'm pretty alone in this, but I still really dig seeing Couture (THE SCORPION KING: RISE OF A WARRIOR) in movies. Maybe it's because he grew up near where I did. He has that cauliflower ear and the burly masculinity of an old firefighter, not a sculpted movie star, yet he speaks pretty eloquently. For those unfamiliar, he was a guy who did Greco-Roman wrestling in the army, became an Olympics alternate and a college coach, then started competing in UFC in the late '90s. He debuted by winning UFC13, when it was still a tournament, and went on to have several championships in different weight classes even when he was in his forties. Meanwhile, he did some bit parts in movies, including getting punched out by Seagal in TODAY YOU DIE (2005). David Mamet liked him and put him in two episodes of The Unit, where he got to do some actual acting. He has a bigger part in REDBELT, but that's doing MMA commentary. After playing Toll Road in the EXPENDABLES movies he started getting more speaking roles, thought mostly in forgettable stuff like SETUP and HIJACKED.
I can't say this is that much better of a role, but he does well with the generic exposition deliverer part and gets more to do at the end. SPOILER okay in case you haven't read between the lines he's the secret bad guy, so he gets to put on a funny outfit, talk like an evil sorcerer and have the climactic fight with White. Though he's forced into a cinematic fighting style there are traces of how we've seen him actually pummel people – lots of knees, a body slam. I like that his style is so blunt compared to White's, and the stiffness that comes from decades of beatings only enhances the contrast.
In conclusion, THE HARD WAY is not a new classic, but it is that other kind of movie that we can enjoy in between the new classics. The mild charm and occasional WTF of crappy European-co-production enhanced by the superior element of MJW. If Netflix starts releasing more movies like this as penance for killing the video chain stores that used to make movies like this a viable business model, I'm not gonna stop 'em.