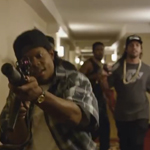 STRAIGHT OUTTA COMPTON is a movie that will smother your mother and make your sister think it loves her. Or at least it will give them more of an idea of what N.W.A was all about. Unless they already know alot about N.W.A, which come to think of it I do expect of your mother and your sister. They're pretty cool.
I've been thrilled about the idea of an N.W.A biopic for years. So far The Notorious B.I.G. is the only rapper to get one of these (the better-than-I-expected NOTORIOUS), though I remember when Steve James of HOOP DREAMS fame was supposed to be doing one on Grandmaster Flash starring Don Cheadle. A story from that era could be epic. And I would like to see an O.D.B. movie and possibly Public Enemy would work, but I don't know if there's much of an ending on that. N.W.A, to me, seems like the best choice for this treatment.
And their movie is pretty much what you'd expect. It captures some of the vitality and power of N.W.A and also has most of the weaknesses of biopics. I can't honestly claim it all works as a movie, but it celebrates N.W.A without being totally embarrassing about it, so I couldn't help but enjoy watching it.
Director F. Gary Gray (SET IT OFF) and friends absolutely succeeded in the hardest and most important part of the job – figuring out who the hell can play N.W.A – and that goes a long way. Corey Hawkins (NON STOP) is an especially impressive find as Dr. Dre. He really captures Dre's way of speaking and his quiet focus. In many ways this is his story, as the dreamer who convinces them all to come together and make music in the first place, and who is so happy just being able to create that he's slow in recognizing the ways he's being taken advantage of.
Neil Brown Jr. (NEVER BACK DOWN, FAST AND FURIOUS) as DJ Yella is the comic relief of the movie, making a memorable character out of the member of the crew we the public are least familiar with. Aldis Hodge (one of Zeus's kids in DIE HARD WITH A VENGEANCE!) plays MC Ren, who isn't really given much focus other than showing up at the studio and recording, but he's got the right presence.
The trickiest one is Jason Mitchell (DRAGON EYES) as Eazy-E. Eazy is such an enigmatic figure in rap history because he's kind of the bad guy of N.W.A, but also the martyr. He was the actual criminal whose drug money funded their record company, who had to be talked into becoming a rapper, and as they show in the movie had his rhymes written for him and recorded one line at a time. He's the one who was seen as conspiring with manager Jerry Heller (Paul Giamatti) and ripping the other members off. He was the one stuck in bitter feuds with both Cube and Dre after they left. But since he was the one who got sick he's also the galvanizing event that brought them to put that all in the past and remember that they're brothers.
Mitchell has Eazy's small stature, but not quite his high pitched voice. Still, I think he does a good job of creating a sympathetic character who we can like and understand even when he's wrong.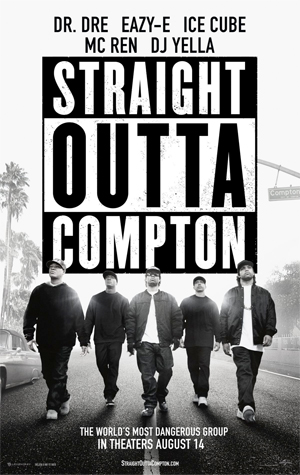 And then there's O'Shea Jackson Jr. as Ice Cube. Like Mario Van Peebles in BAADASSSSS! he's a son playing his famous father, but he also has the hurdle of this being his first time acting. His BOYZ N THE HOOD, in other words. Man, those are some shoes to fill. If I were him I'd hang a GHOSTS OF MARS poster on the set to lower the bar a little.
It's gotta be a weird position to be in. At one point he has the line "I have a baby on the way," referring to himself. He doesn't straight up imitate his father as much as another actor might, but he looks more like him than anybody could without digital effects. In the jheri curl years especially young Cube's belligerent scowl and eponymous Attitude seem to be reborn on screen. He also does his father proud when he has to rap. (I was thinking I'd seen him as hype man to Cube but I guess that was a different son, the one he calls Doughboy. Both of them appear on Cube's 2010 album I Am the West.)
The casting of Giamatti as Heller is important too. It's okay that he's a recognizable star, because this is someone we've heard of more than seen. On Dr. Dre's classic album The Chronic, Snoop refers to Jerry and Eazy as "Mr. Rourke and Tattoo." Fair or not, Heller is the poster boy for white people who take financial advantage of rappers (see industry rule #4,080). Giamatti plays him as an asshole, a chubby old guy who carries himself with swagger, flies into a few tantrums and seems fishy every time he claims "the contracts are being finalized as we speak!" But wisely the movie does give him some good qualities. It is true that they would've had a hard time getting their music heard without him. You can see why Eazy, when benefiting from him, enjoyed his company. And it's probly true that Heller talked Eazy out of committing a murder (though he later said he should've let him do it).
In the early scenes this is about the best N.W.A movie you could hope for. It opens strong with Eazy in a tense stand-off in a crackhouse. He actually gets away because of a police raid. Saved by the bell… or actually, the battering ram. I feel actual guilt for letting out a laugh of delight at a particularly brutal action moment during the raid. This is the problem of us white dudes enjoying what the movie calls "reality rap" as spectacle. I apologize. It's not an action movie, it's the death trap that Eazy wisely slips away from when he shifts to the record industry. These are the types of scenes you want to see in a biopic – the things you only imagine from hearing of Eazy's past. Or the scenes from before they become stars, like Dre laying in his bedroom on a pile of records analyzing Roy Ayers through headphones, or Cube watching a kid get a gun pointed at his head on the school bus.
The movie's at it's very best when it's showing their experiences with the police. Cube is not a criminal, he's just a kid, but he gets manhandled, yelled at, threatened and demeaned by cops, mostly white, sometimes black and bitter, in one case right in front of his house and parents. There are very similar scenes in BOYZ N THE HOOD (co-starring the real Cube, named after a song he wrote) and MENACE II SOCIETY, but here we're seeing it happen to representations of real people who we know went on to become important contributors to our society and culture, and we're watching it with 2015 hyper-awareness of how tragically these situations can end. And also with the knowledge that this is going to inspire their anthem "Fuck Tha Police."
According to the movie the fire that lit that fuse is police hassling them right in front of the studio during a break from recording, making them drop their lunch and lay face down on the sidewalk. It starts to feel a little like a slavery movie. How much indignity and dehumanization can people suffer before they explode?
Despite some corny dialogue arguing with police over the validity of rap, this is a great scene about the well-meaning side of Jerry. He's incensed by what he's seeing, both because it's racist and because it's fucking with his artists. But even a powerful white guy like him can't stop the system, all he can do is yell about all the people he knows and talking to the mayor and shit, empty threats even if he means them. He paces around, furious, but at least he's standing up. Meanwhile five men who are in the middle of recording an album that's still beloved a quarter century later lay at his feet like hunting trophies. This kind of shit is new to him, but not to them. And they're real fuckin tired of it.
Shit like that begat "Fuck Tha Police" which begat a letter from the FBI and, when they were on tour, multiple incidents with local police threatening to shut them down for performing the song (or for "obscenity"). In a way it's nice that they can graduate from being degraded in their neighborhood to being treated like Elvis's pelvic thrusts, but the movie shows a larger threat here as standing up for their right to expression could lead to police arresting them on stage which could lead to a full scale riot. From what I was able to find I think the Detroit concert scene is taking off from media tall tales more than what really happened, but it's a vivid illustration of the specific type of danger felt in that era of rap concerts.
When the tape of the Rodney King beating starts playing on TV Jerry doesn't take it as personally, telling the guys to "get back to work." We see the trial going on on TVs throughout the movie, and then the riots. Of course Cube once said "Anything you want to know about the riots was in the records before the riots." What happened to Rodney King was no surprise to the creators of "Fuck Tha Police," but having it on tape – and then the system deciding that it was done correctly – was new to many white or upper class people, just like it was to Jerry in front of the studio, or like it is now as news of injustice after injustice spreads on social media in almost-real-time.
But we don't have an N.W.A now.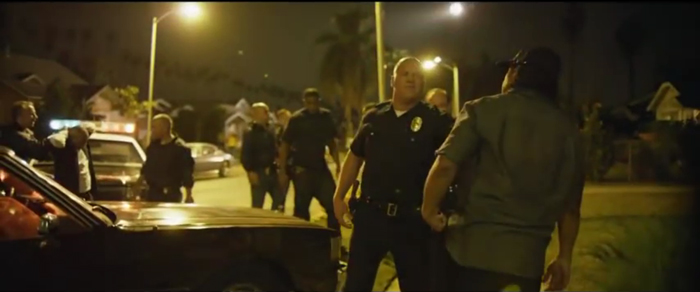 SO THERE'S SOME excellent stuff about where the Attitudes came from, but the other great story of N.W.A is the breaking and repairing of the friendship. Cube leaves because Jerry and Eazy aren't paying him what he feels he's owed. I love the part where he dryly confronts them while they have a lobster and champagne breakfast.
Cube went solo and made a classic, Amerikkka's Most Wanted. Losing Dre's music could've been disastrous… except he went to New York and worked with Public Enemy's production team, The Bomb Squad, who created an even more complex and powerful collage of funk and noise to crack and rattle furiously between his words. (Chuck D can be spotted in the studio with him, played by Rogelio Douglas Jr., Trumpeter #1, Studio Band, WHIPLASH).
Of course Cube ended up in a bitter feud with his former group, but what I didn't know (if it's true) is how much his old friends respected the music he was making. Dre is shown driving around bumping it. When Eazy angrily dismisses Cube, Yella defends him on the basis of how "hot" his album is.
One of the most enjoyable sections of the movie is the diss record war between the two factions. Eazy convinces Dre to call Cube "Benedict Arnold" on the song "Real Niggaz" (from the album efil4zaggiN [I don't think they mention the earlier line on the 100 Miles and Runnin EP]) so Cube, who had kept his mouth shut on the first one, comes back with one of the harshest diss records in rap history, "No Vaseline," as the last song on his second album, Death Certificate.
I really respect this scene because it actually made me appreciate the song more. I always thought it had some funny lines ("First you was down with the AK / And now I see you on a video with Michel'le"), but to me that song and the anti-Asian "Black Korea" tainted a great album. I always got hung up on the title and how he's saying they're all fucking each other. That's such a childish insult, and it was kind of a bummer to see the members of this group we still loved so pissed at each other and calling each other names. I always think man, can you believe they were still teenagers when they started N.W.A? and then stuff like this reminds me that yeah, of course they were.
But in the movie it's part of the story, we know the ending, we see the friendship and the misunderstanding that leads to this rift. That context finally let me really enjoy Cube scorching over the funky Brick sample, roasting them with insult after insult. And the movie intercuts the fiery recording session with the gathered members of N.W.A and management listening to the finished recording. I don't for a second buy that that's how they heard it for the first time, but it's really funny to watch their faces as they hear what he's saying about them. They're embarrassed but can't help sometimes nodding their head at the beat or admitting that it's pretty funny. Only Jerry blows his top about it, and starts talking about lawsuits.
Of course, it goes down easier because they leave off the last verse, where he says "Half-pint bitch, fucking your homeboys / You little maggot / Eazy-E turned faggot." And I've always believed that when he said "'Cause you let a Jew break up my crew" he was being more descriptive than anti-Semitic, but the way some of the people in the theater cheered on that and any reference to him being Jewish did not give me good vibes.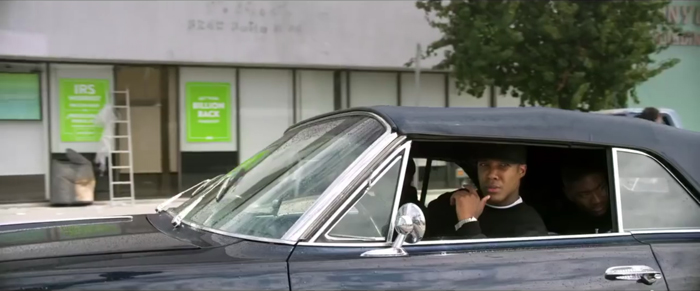 HERE'S WHERE THE movie runs into trouble. Dre also leaves, and has a solo career at least as accomplished as Cube's, and harder to streamline. In order to get to (HISTORICAL SPOILER) the group's reconciliation before Eazy's death you have to explain Dre leaving and founding Death Row Records with Suge Knight (FORCE OF EXECUTION stuntman R. Marcos Taylor), the menacing Piru Blood turned boogie man of record company executives. They fit in what they can: debuting Snoop (Keith Stanfield, SELMA) on "Deep Cover", working on The Chronic, showing off the instrumental for "California Love" to Tupac (first timer Marcc Rose, who does a great job). (Hey, wait a minute – he plays him the more famous remix, that doesn't actually make sense.) Of course they can't get into that whole story.
It starts to feel like they're adapting Dune at some point. Even after simplifying things (leaving out original N.W.A member Arabian Prince and G-Funk staple Nate Dogg) so many rappers have to be shown that you never see them meet, they're always somebody Dre already knows. Entire marriages and childhoods have to be summed up in a few lines. Major developments (Cube's acting career, Bone Thugs-n-Harmony) have to be mentioned, not shown. They respectfully include the D.O.C. and his car accident, but with so little context I'm sure it's confusing to people who don't know what I'm referring to there.
It's stupid, but I kinda wish they coulda done this as a KILL BILL style two parter with part 2 focusing on the Death Row years, to really develop what was going on there. But at least they're able to get in one excellent scene where Dre hears gunshots from inside the studio and goes out to yell at Suge and a roomful of hangers-on. It's a scene of crazed decadence as scary as the firecracker scene in BOOGIE NIGHTS, and it's based on the kind of stuff that really went on there. It's all draped in Bloods red, there's a life-sized electric chair, they're having dog fights and torturing some guy at gunpoint.
At one point as Dre lectures them he looks at a guy and says "one time," which if I'm not mistaken is a reference to the fact that Suge had off-duty police officers on the payroll. This was at the heart of the "Rampart scandal" involving corruption in an LAPD anti-gang unit. According to the theory pushed by one LAPD detective, these Death Row employees were involved in the murder of Notorious B.I.G. In 1997 one of them was killed by an undercover officer in a road rage incident, while another was convicted of robbing $722,000 from a Bank of America.
See, that could be a movie of its own. Almost has been a couple times.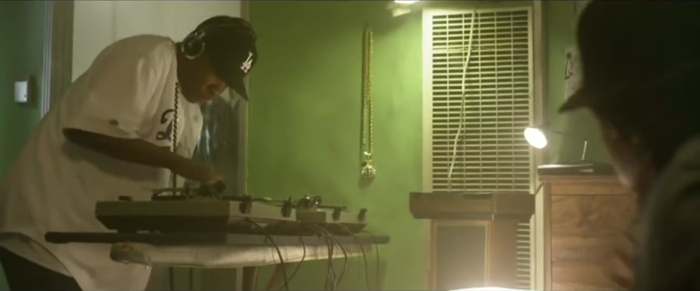 OKAY, THIS IS A major left turn here, but it's my biggest question about the movie: Why does Eazy have a framed CHILD'S PLAY 2 poster in the Ruthless Records office? I had to check to make sure he didn't have a song on there or something. I think it just means he likes that movie, right? This is from Universal but I prefer to think this is an authentic historical detail than that they would say "Hey, do you guys mind pretending Eazy liked one of our movies?"
Most disappointing omissions:
1. Dre selling records out of his trunk
2. Mel Man
3. The guy who plays the racist white guy on "Fuck Tha Police"
4. Eazy-E giving a big monologue about how important CHILD'S PLAY 2 is to him
5. The filming of xXx: STATE OF THE UNION
The most unintentionally funny line in the movie is when Cube's wife asks "How's FRIDAY coming?" We've just seen him cracking himself up typing a screenplay on an old computer and saying "You got knocked the fuck out!" But then they must've worried maybe somebody might not know what that's from so they gotta have her explain it. For now on people in my life are not allowed to ask me "How's the book coming?," they have to say the full title every time.
There's actually less of that type of shit than I expected. In that sense it's not as standard biopic as I feared. But in the break up years it starts getting bogged down in that school report mode that so many music biopics suffer from, becoming more of a list of references to every damn thing that happened than an actual story.
One example of a thing only referred to: the time Eazy-E went to a Republican fundraiser dinner with George Bush.
He got branded a sellout for that one. On "No Vaseline," Cube chants "I never have dinner with the President" three times. But I always got the impression that he just thought it would be funny. He got the fundraising letter, and it wasn't that much money to him, and he knew it would raise eyebrows. I can understand why they might not want to get into all that at that point in the story, but it's the kind of thing that's better to act out. Mentioning that it happened is not as exciting as making a movie about it. If we just wanted to hear it mentioned that it happened we'd be at home reading Wikipedia.
I suspect many people who aren't into the music will enjoy it for a while and eventually get bored. And they're kinda right. But hey, all those albums start off stronger than they end up, too. The last song on Straight Outta Compton is "Something 2 Dance 2."
For me it's hard not to love it for those cinematic moments that do happen. We get to see Dre fucking around on a keyboard until he figures out the riff for "Nothin But a 'G' Thang." And there's a scene where Jerry and Suge, the two arch-villains of hip hop history, give each other the stink eye through crowds of dancing bikini babes. It's the silent changing of the guard and it takes place at "Eazy-E's Wet 'n Wild Party."
Also I approve of the attention to detail in fashion. I like that Dre's hats seem to keep up with what he wore in the videos of each era. The first time Cube talks about going solo he's dressed like the cover of his Kill At Will EP.
And of course this is a movie about music, so it makes you want to nod your head or dance. They really capture the feel of big rap tours of that time, and I never saw N.W.A so thanks for giving me this simulation. Sometimes I believe they use the real recordings, but mostly they do it Sissy Spacek style, a wise move for making us feel the discovery of these great songs in the studio.
The non-N.W.A music is well chosen too. There's a whole lot of Parliament-Funkadelic, which is smart considering how much Dre sampled, interpolated and took inspiration from them. During the scene where Cube and Eazy meet in New York they have Wu-Tang's "C.R.E.A.M." playing in the club, to show us how hip hop has evolved in the background of this story. Early on a little of Dre's new Compton album is used as scoring, which is weird to me for historical reasons but it sounds pretty good.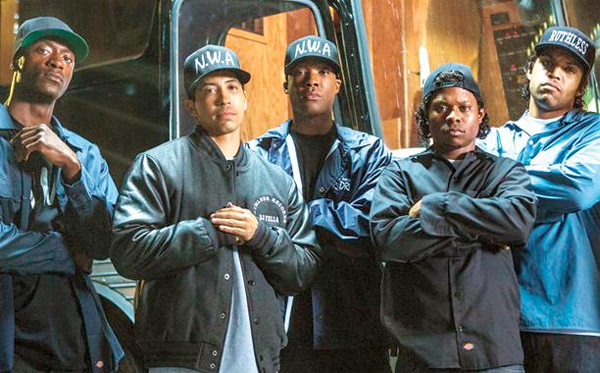 I LOVE THAT N.W.A gets to be honored in this way. They made great, important music, had a dramatic story, the survivors continue to have evolving careers. But the music biopic is a double-edged sword. It celebrates and enshrines the artist, but it also sort of vampirizes them. The music, the thing that made the artist so important, has to be re-recorded or repackaged. Some actor has to mimic the person, copy them, interpret what they might've been like in private. Famous moments have to be re-enacted in ways that don't quite fit our memories of them. Entire human lives have to be reworked into something that fits comfortably into a movie. Inevitably, truth has to be shaved off for time, drama or palatability. And then a whole generation will be introduced to this great art through the movie, and have their idea of it shaped by this lesser form. Even in a best case scenario they only get to know it as a canonized work of the past and not a thrilling, refreshing, scary new force.
And also they can kiss the artist's ass too much. Some have pointed out ugly parts of the N.W.A story that are left out: the homophobia and racism of Death Certificate, the incident where Dre punched female journalist Dee Barnes (which at least Eminem brings up on his song with Dre, "Guilty Conscience"). And in my opinion the misogyny in general is implied but toned down. But I also don't think that's a big deal because all you have to do is listen to the classic album that the movie is named after to see it. It's not being hidden from public view.
I don't know. It's fair to point out that stuff, but I don't think the movie pretends they're enlightened. "Do I look like a motherfuckin role model?" Like any biopic they already got too much to explain in this story without having to explain or answer for every one of their character flaws. I also think if they showed more of these things then somebody else would accuse them of glorifying or defending such behavior.
UPDATE: When I wrote that last part, honestly I was ignorant of the extent of abuse Dre was accused of. It's more and worse than I realized. Dee Barnes herself has now written a powerful, upsetting piece about the movie and makes some good points about other omissions as well.
UPDATE 2: And now Dre has acknowledged and apologized in the New York Times.
I don't like the common refrain that it's a whitewashed telling of the story because it's produced by Dre and Cube along with Eazy's widow. This is another issue with all music biopics: you can't offend whoever owns the rights to the music you need to play in the movie. But I mean, is autobiography not allowed anymore? If we were talking books then yeah, I'd take a good biography over a ghost-written memoir. But this is not journalism, this is movies, and I'd much rather see N.W.A's self-serving version than some Hollywood asshole's outside view.
I bet if they weren't involved it would start with Dre discovering Eminem and then flash back to all the events leading up to this and how that gives him the idea to make beats by Dre headphones.
Also there'd be a whole section about Tairrie B:
Thank you for reading this far. Here is my final question. Are N.W.A now too old, too commercialized, too Hollywood-mythologized, too repackaged to be The World's Most Dangerous Group? We must acknowledge that Cube is now a lovable star of comedies and family movies, Dre is a billionaire Apple dude trying to build a performing arts center in Compton, and yes, the group has a fuckin biopic from Universal Pictures. They deserve it, but does it take away their edge?
Maybe there's no danger left in those guys, maybe they are Aerosmith now. Sorry Dre. But their youthful cinematic counterparts? They've caused extra police presence, added security guards and bag checks at theaters around the country, just like a rap concert or "hood movie" in the '90s. They still represent a threat to somebody.
Shit. Maybe nothing's changed.