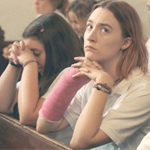 Of all the stories we tell over and over, "coming of age" might be the most universal. I don't care who you are, as long as you live to be a certain age, at some point you're gonna come of some of that age. And when you see some fictional (or, let's be honest, usually semi-autobiographical) character's age coming of you can compare and contrast to your experiences. You see echoes of your own life, revive emotions that were so potent at the time, now faded, learn about other people who had it different. So I have not specifically experienced being a girl in a private school in Sacramento in the oughts, and I definitely have no personal understanding of how it feels to be someone who could identify a song as Dave Mathews and have an emotional response to it that involves embarrassment, nostalgia and personal meaning*, but I can also see those things on screen and have them feel familiar and real and relatable.
(*I did see him in public one time and I could tell he was famous by the women who started gathering around him but I had to ask somebody else who he was)
Saoirse "like inertia" Ronan (HANNA) plays our protagonist, whose mom calls her Christine but she insists on being called Lady Bird – no reason given or needed. She's nearing graduation and dreams of leaving her hated suburban homeland by getting into an East Coast college. But she doesn't have great grades and money is tight in her family and her mom gets mad at the very idea of it (and at dad for always getting to be the good guy by being more supportive/indulgent).
Mom is played by Laurie Metcalf (SCREAM 2), who I love so much from watching her as Jackie on Roseanne, so it's cool seeing her get a good movie role like this (and an Oscar nomination). They have a relationship that seems very legit to me – mostly at odds, but through real love. The opening sums it up well – a shared passion (listening to an audiobook together) quickly shifting to bickering that needlessly escalates into catastrophic fight.
Lady Bird proves that kids can be individualistic while wearing uniforms. She has a goofy sense of humor and mischief that both exhausts and amuses the nuns. Like Max Fischer in RUSHMORE she's both a troublemaker and clearly very smart, both prickly and lovable. She is frequently out of line, not only with her mom but with her best friend Julie (Beanie Feldstein, NEIGHBORS 2), but it's the kind of thing where if she doesn't realize she's wrong and regret it soon she will when she gets a little older.
(She also must have incredibly good thrift store luck judging by the western shirt she wears to the prom or school dance or whatever.)
She goes through interest in a couple different boys. Lucas Hedges from MANCHESTER BY THE SEA does another one of his "oh shit, he's in this movie too?" appearances. Timothee Chalamet from CALL ME BY YOUR NAME is one of the funniest parts of the movie as a douchily performative self-styled intellectual rebel dude. Got a big laugh out of me when they showed him at a party reading The People's History of the United States. It's a dead on portrayal of the type because you can instantly hate him and also understand why young Lady Bird would fall for his shtick.
It's been cool to watch Greta Gerwig go from standout in so-called "mumblecore" movies (I guess I only saw the horror ones, BAGHEAD and THE HOUSE OF THE DEVIL), to "oh shit, she's in a movie with Ben Stiller!" (GREENBERG) to "she actually co-wrote these Noah Baumbach movies she starred in" (FRANCES HA, MISTRESS AMERICA) and I still didn't see it coming that all the sudden she's a deservingly Oscar-nominated director. Her mix of quirky character details, dry humor and melancholy seems very much in the tradition of Baumbach's frequent collaborator Wes Anderson, but the visual style takes nothing from it (which is vital, because few things are as painful as coming off as an imitator of a true original). I think there's a really good rhythm to the thing. It can take its time and linger on character moments but also use abrupt edits in a funny or energetic way (for example the way they introduce her broken arm, or the lightning speed jump through a guy encounter in the epilogue).
We can also assume that she's great with the actors, considering the universally great performances. It's not like Ronan is ever bad, but you can hear Gerwig's speech patterns in this character.
I tend to like Baumbach's movies, but there's a bit of a cold dickishness to the ones he made before Gerwig's contributions. I thought she made him nicer, and LADY BIRD supports that theory with its non-judgmental humanity. Nobody's perfect but nobody's a bad guy either – not the rich popular kids, not the nuns, some of whom are very understanding of Lady Bird and even get her sense of humor. There are little moments to show sides of the characters that Lady Bird is oblivious to, like the Father/musical director from school (Stephen Henderson, FENCES) having his own struggles outside of school. (He also has a top level funny-devastating moment when he's having the kids try to make themselves cry in acting class and is a little too ready for it.)
(Warning: personal shit, next two paragraphs)
But to me it's mostly about her hate-love relationship with her mom and her town. She thinks she hates them and will find that she loves them. My mom is in hospice right now, and you can't really communicate with her anymore. She doesn't seem to be there. But things still come up that I want to ask her about, and then I remember that it's too late. It'll occur to me that I don't know something or other about one of my parents or my childhood and then realize that there's no one left to tell me. So I'm only just beginning the process of memory and introspection I went through when I lost my dad a few years ago. But of course I can't watch LADY BIRD without comparing her family life to mine. Her mom doesn't resemble mine on the surface, but they do have alot in common when I think about it. The first thing I recognized was how much their relationship is like the one between my mom and my sister. Something about that age put them at each other's throats, and then it just faded away as time went on. And I definitely know that dynamic of the mom yelling at the dad because the dad doesn't want to be the one to yell at the kids.
And then there's the little moment where Lady Bird's brother's girlfriend Shelly (Marielle Scott), who lives with them, matter-of-factly stands up for Mom. She's this kinda punk girl whose own family treats her like shit, and Lady Bird's Mom took her in like she was her own child. That's what my mom was like. Straight laced, goodie two shoes, skipped the hippies and the rock 'n roll, never smoked a joint in her life, married her college boyfriend, went to church, went to school functions, freaked out when my sister got her nose pierced. But when it came to the big stuff – teen pregnancy, coming out – she was as understanding as you could dream. When my sister's best friend wasn't getting along with her dad she let her move in for a few years. Moms have layers. I hope Lady Bird's – and her dad – get to live to be real old and happy together.
Everybody I know loved LADY BIRD, but I noticed a tinge of scorn for it online when it was winning a few awards, because in a year when more black artists are starting to get their due they see this as a very white people movie. And if it were to win best picture (which I don't expect) I bet we'd be hearing a whole lot of that Monday morning. But I say fuck that because this is not more of the same, this is not the usual voice or subject matter of the movies canonized for awards-worthy excellence. I believe there is a strong cultural bias against movies about or for girls. TITANIC won best picture but is still a punchline for having the gall to be a romantic melodrama from a female perspective. Female-oriented stuff like TWILIGHT or FIFTY SHADES receives widespread derision of a quicker and more vicious nature than more male-oriented junk like, say, the TRANSFORMERS series, which was given leniency for years. And people might be mad at white women right now because of the ones that voted for Trump or whatever Lena Dunham said recently, but that doesn't change the fact that they are a large part of our population who have not been given enough of a chance to tell their personal stories in this medium. I bet you could name a whole lot of men who have made movies somewhat inspired by their youth, but not nearly as many women. And Gerwig has made one that I saw once a couple months ago and it still brings up a warm feeling in me writing about it now. I hope she has a bunch more in her.
* * *
Programming note: I'm also writing up a little Oscar preview post for later today
This entry was posted on Thursday, March 1st, 2018 at 1:25 pm and is filed under
Comedy/Laffs
,
Drama
,
Reviews
. You can follow any responses to this entry through the
RSS 2.0
feed. You can skip to the end and leave a response. Pinging is currently not allowed.