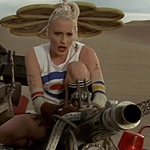 TANK GIRL is a messy, silly, winkingly obnoxious version of the '90s expensive b-movie, one of those weird ones that doesn't exactly work but is kind of charming just because they had the gall to try. John Waters producer/FREDDY'S DEAD: THE FINAL NIGHTMARE director Rachel Talalay somehow convinced MGM to pump money into this adaptation of a cult British comic book about a smartass punk girl driving a tank through post-apocalyptic Australia. (Other MGM releases in 1995: FLUKE, SPECIES, GET SHORTY, also distributed THE PEBBLE AND THE PENGUIN, HACKERS, SHOWGIRLS, LEAVING LAS VEGAS, GOLDENEYE, CUTTHROAT ISLAND.) The movie's story of facing off against a typical bad guy, even fighting him to the death on a raised catwalk for the climax, is too half-assed and conventional to work, but the frenetic style and goofy tangents are a successful extension of the main character's personality.
Lori Petty (BATES MOTEL, POINT BREAK) pours every drop of hyperactive tomboy playfulness in her voice and persona into the character of Rebecca, who is never specifically called Tank Girl but does steal her would-be namesake when she escapes imprisonment by the wasteland's fascist oppressors, Water & Power. This militarized corporation hordes the last of the water and cruelly attacks anyone who finds their own source. In my opinion they are not a good company to work for; when they fire employees they kill them with machines that harvest their body's water content.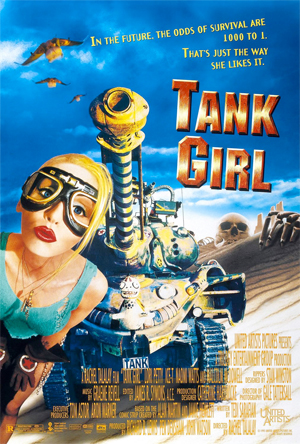 W&P raid the house where Tank Girl and her friends live, kill her water buffalo and her boyfriend (Brian Wimmer, A NIGHTMARE ON ELM STREET 2: FREDDY'S REVENGE), giving her a classic revenge motive. But to be honest she doesn't seem to think about that again, the real trouble is that they abduct her young friend Sam (Stacy Linn Ramsower, the young version of Sharon Stone's character in THE QUICK AND THE DEAD) and sell her to an upscale brothel. Tank Girl finds and infiltrates the place and busts Sam out but immediately loses her again – her mistake, in my opinion, is stopping to give the Madame (Ann Magnuson, TEQUILA SUNRISE) a bad hair cuit and lead everyone in a Busby Berkeley style musical number of Cole Porter's "Let's Do It." If not for that minor misstep they would've gotten away.
Malcolm McDowell (SILENT NIGHT) plays evil W&P CEO or whatever Kesslee, who at first is just a regular asshole but he gets blown up and James Hong (NINJA III: THE DOMINATION) sells him robotic body parts including an arm with spinning sawblades all over it. I'm sure it could've been worse with a different actor, but he's not a very exciting villain, a major weakness of the film. Maybe one problem is that McDowell's standard mode is gleeful perversity. We need an uptight bad guy who's going to be personally offended by Tank Girl's crassness and rejection of traditional female behavior.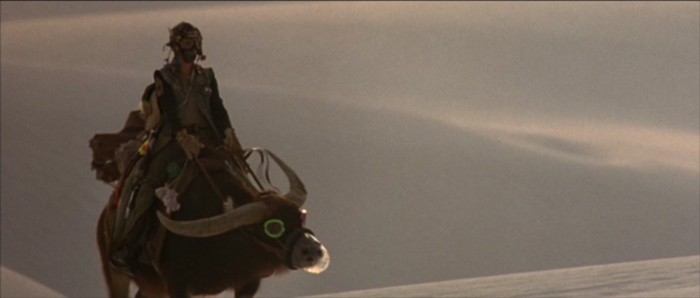 Tank Girl's attitude is expressed as much through the look of the movie as anything else. Original comic book artist Jamie Hewlett has many illustrations shown through the movie, and according to Talalay on the DVD/Blu-Ray commentary track he contributed hundreds of designs. Production designer Catherine Hardwicke (THRASHIN', TAPEHEADS, FREAKED) and costume designer Arianne Phillips (THE CROW, HEDWIG AND THE ANGRY INCH, various Madonna tours) pay tribute to Hewlett's immaculate smartass style where everything and everyone is covered with cool logos, tattoos, scars, scabs, straps, cartoon animal heads and other trinkets and doodads. It's a crazed-hoarder style that reminds me of the earlier Pee-wee's Playhouse and the later HOUSE OF 1,000 CORPSES.
Her hair and clothes change drastically from scene to scene with no explanation, and she wears odd accessories like a candy necklace, an army helmet covered in green fuzz and striped '80s gym socks as elbow pads. Petty says the taped fingers are her contribution, a tribute to Michael Jackson. The cluttered interior of her tank is decorated with a beer tap, fuzzy dice, troll dolls, eyeballs, leopard-print seat cover and an Etch-a-Sketch with the Mona Lisa drawn on it.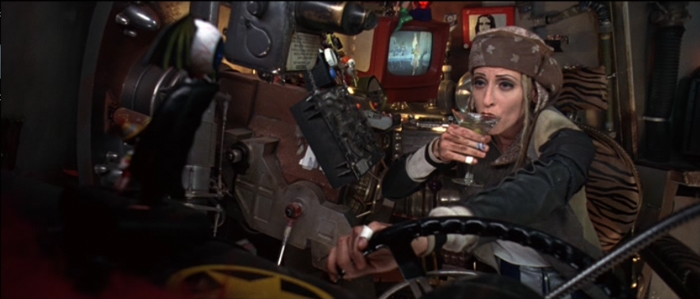 When she runs out of bombs she reluctantly loads the cannon with cans of beer. The tank can drive itself while she goes on top to fire guns or arrows or a sling shot or to barbecue herself a hot dog. When she's not inside it sometimes it follows behind her like a faithful pet.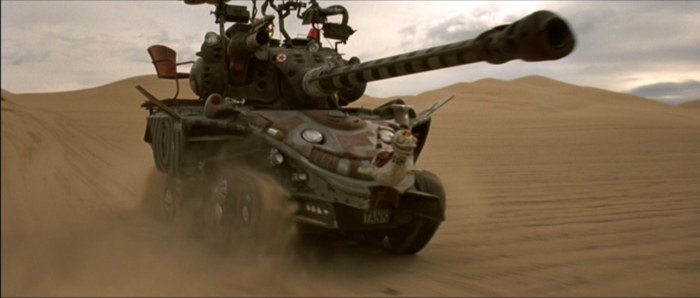 As Petty explains on the commentary, Tank Girl "don't give a FUUUUUuuuuck," and the movie is an extension of that. She's less a portrait of a human being than a Bugs Bunny like trickster designed to be thrown into danger to taunt bad guys with her wiseass remarks.
I like that we don't really get to know where she comes from or what her deal is. She explains a little bit about her comet-stricken world in the opening narration, but has she just been fucking around in the 11 years of drought? Was she already a punk before then? I think she just tries to live a fun life with her friends despite the hardships. But now things have changed. Now she has new friends, and one of them is a tank. It kind of has the approach like it assumes everyone will just play along that they know what a tank girl and a jet girl is and what's going on here so just relax and everything will be cool.
She doesn't seem to have much fear. She's not put off by killing or finding dead bodies. She torments her foes by refusing to take any situation seriously, for example when she's a prisoner being transported and she snaps a guard's neck with her legs, then pretends like she doesn't know why the other guards are mad about that.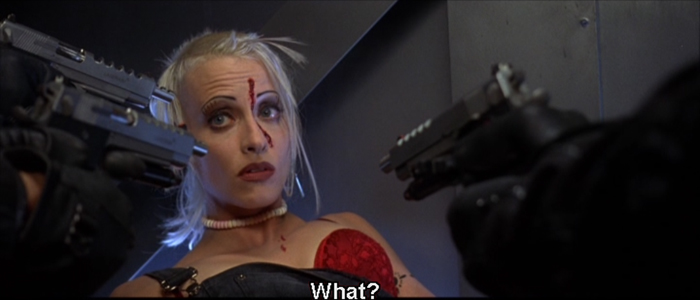 Forced to work in a mine, she doesn't seem upset, other than when she confides to a guard that she's worried about missing Baywatch. It looks like they finally broke her when they have her wearing shorts and a straight jacket, sitting on a frosty metal grate in a freezer. But when Kesslee walks in she says, "It's really hard for me to play with myself in this thing."
Despite her tough exterior, there is evidence that she harbors a nostalgia for fantasies of a golden past. There's the Cole Porter song, but also she treasures her photo of Doris Day and commissions Sam to make a wooden carving of her. While she's in the tank having a missile fight with a giant semi-truck her TV is showing IT'S A PLEASURE, a 1945 musical comedy starring Olympic ice skater Sonja Henie. Compare this to the scene in FAHRENHEIT 9/11 (excerpted from the documentary SOUNDTRACK TO WAR) about tank crews in Baghdad listening to Drowning Pool's "Let the Bodies Hit the Floor."
Ann Cusack (NIGHTCRAWLER, SULLY) makes an appearance as Sub Girl, a crazy lady who tells Tank Girl where to find Sam. Courtney Love, who had once been a house guest of Talalay before she was famous, wanted the role, but couldn't because of her husband's suicide. Instead she's credited as "Executive Music Coordinator Courtney Love-Cobain" for a soundtrack of '90s alternative rock type groups including Hole, Bjork, Bush, Richard Hell & the Voidoids, Portishead, Sky Cries Mary, L7, Belly and Iggy Pop (who also has a cameo as a pedophile named Rat Face). The opening credits theme is Devo's "Girl U Want," which they re-recorded with singer Jula Bell because Talalay thought the theme needed to be sung by a woman. The songs give the movie an upbeat energy, and then there's one montage where it slows down while she takes a very cathartic shower – fully clothed, and with sand instead of water. (Water is expensive.)
Ice-T contributed a song called "Big Gun," a legit song, avoiding the pitfalls of the one he did about DICK TRACY. He seems to be describing Tank Girl, but stays carefully non-specific enough that it won't sound laughable out of context. See, he could've been rapping about kangaroo people, because he plays one in the movie. The Rippers are mysterious underground killers who everybody's afraid of and no one has seen, but Tank Girl decides to befriend them and ends up with one as her boyfriend at the end. (The studio made them cut the scene implying they fucked.)
I'm down with the ridiculousness of Ice-T (JOHNNY MNEMONIC) as a rogue marsupial-DNA-enhanced super soldier, but unfortunately even the genius Stan Winston didn't figure out how to pull the idea off at that time or under those circumstances. The makeup looks ugly, the characters are mostly acting-like-they're-funny-but-not-funny, their movements are like some community theater production of Cats, and there are a surprising number of clearly visible wires as they do their unconvincing super-hops. Their unfortunate crappiness drags the movie down so far that they're the best argument for a TANK GIRL reboot in the age of mocap NINJA TURTLES.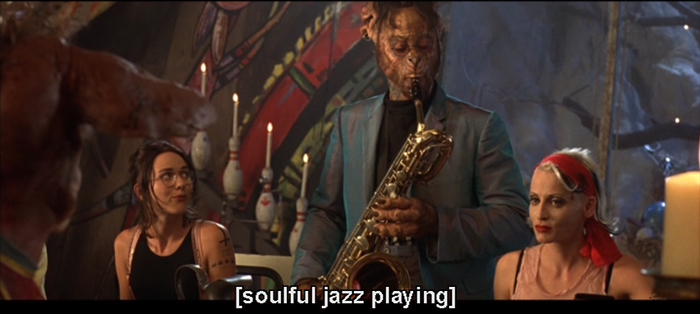 Ice-T is clearly the best of the kangaroos, though, because he has dreadlocks and just acts like Ice-T as a kangaroo. On the DVD/Blu-Ray commentary track, Talalay says that he refused to take part in the scene where the other kangaroos do a choreographed River Dance type thing together, which is why he spends the scene standing aside looking disgusted at them.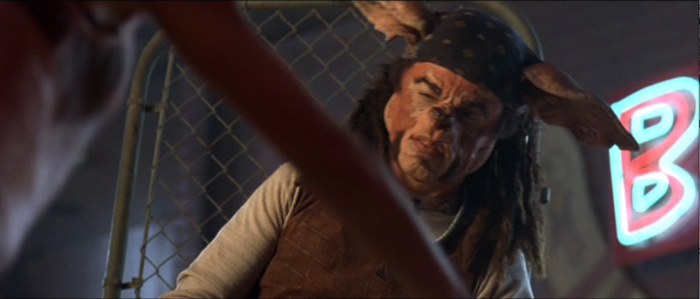 Good move, Ice.
The other big name (but not at that time) is Academy Award nominee Naomi Watts as Tank Girl's new Water-&-Power-defector friend/mechanic Jet Girl. Young Watts wears limited makeup and nerd glasses to look allegedly mousy, and she gets to use her real accent. It's not her first role, but it's early enough that she followed it up with the TV movie BERMUDA TRIANGLE and the DTV sequel CHILDREN OF THE CORN: THE GATHERING.
Also Dawn Robinson from En Vogue plays a hologram (?) dancer instructing Tank Girl how to get dressed at the brothel.
I remember when I saw this in the theater there was a power surge that caused the sound system to turn off and switch to the classical music CD that played between showings. It happened right in the middle of Kesslee's speech about his evil plan, and it seemed enough like the style of the movie that at first I thought it was an intentional joke. Talalay is constantly cutting in cartoon drawings of the characters and locations, and a couple times goes into full-on animation sequences (done by Colossal Pictures, the same studio that did that for NATURAL BORN KILLERS). On one hand, these techniques give the movie a sort of collage style that is very appropriate, and add an extra level of cartooniness to the exaggerated world of the live action footage. On the other hand, the animated parts are jarring because they look very different and are more just show-offy music video type visuals than pieces of storytelling. And sometimes the Hewlett-drawn establishing shots make it seem cheap, like they couldn't afford to build her actual house, even though they then cut to a huge, elaborate set.
In a 2008 interview with Mark Kermode in The Guardian, Hewlett said that "key bits of the movie just got missed – they simply forgot to film things. So we had to draw loads of establishing shots of buildings. And then they had two endings, that were both shit, and I seem to remember that there was an animated ending. Was that in the finished film …?'"
It was, and on the commentary track Talalay laments that the studio wouldn't let her use her other ending. For her part, she says of the first animation sequence, "This came out of the fact that we could not do big action. We just could not afford to do big action."
TANK GIRL lost money and got terrible reviews, but still has as much or more appeal than some of its fellow weird-'90s-comic-book-movies (BARB WIRE, THE MASK, MYSTERY MEN, JUDGE DREDD, SPAWN, STEEL).
Writer Tedi Sarafian later got a story credit on TERMINATOR 3: RISE OF THE MACHINES. He's the brother of Deran Sarafian, who directed DEATH WARRANT and TERMINAL VELOCITY.
Eight years after TANK GIRL, production designer Catherine Hardwicke started directing and did THIRTEEN, LORDS OF DOGTOWN and THE NATIVITY STORY. But ever since 2008 she's only been known as the director of TWILIGHT. Choreographer Adam Shankman has also moved up to directing (THE PACIFIER, HAIRSPRAY, ROCK OF AGES). Second unit director Peter Ramsey got into computer animation and is the director of RISE OF THE GUARDIANS and the upcoming animated SPIDER-MAN movie.
Most importantly, two of the Spice Girls met while waiting in line to audition for TANK GIRL.
Co-creator Hewlett, as you can tell from those quotes, was not happy with the movie. But he and others were able to resurrect the character in comics many time since. These days he's arguably better known for the excellent album art and videos he does for his cartoon band Gorillaz.
There aren't really other movies quite like TANK GIRL, but watching it this time it made me think of the much more expensive and mainstream comic book movie SUICIDE SQUAD. Both have big problems as stories and are visibly chopped up and studio-compromised, but still have a certain charm because of their tongue-in-cheek-in-your-face style and likable weirdo characters fully inhabited by the cast. There's also a certain similarity between Tank Girl and Harley Quinn, but I think Tank Girl has a better idea what she's doing, and we can take heart that she's dating a nice Ripper and not a homicidal maniac who brainwashes her to jump into acid.
Anyway, it's a reminder that even though we'd prefer a great movie, there's room in the world for lovable messes.
This entry was posted on Thursday, February 16th, 2017 at 4:32 pm and is filed under
Comedy/Laffs
,
Comic strips/Super heroes
,
Reviews
. You can follow any responses to this entry through the
RSS 2.0
feed. You can skip to the end and leave a response. Pinging is currently not allowed.