In my review of BLACK DYNAMITE I talked about how happy I was for its star, Michael Jai White, and I mentioned that one of the obstacles he overcame was that his first big starring role after TYSON was "one of the worst comic book movies ever." (Weirdly he's also in DARK KNIGHT, one of the best comic book movies ever.)
"One of the worst comic book movies ever" is a serious accusation, though. This is a lenient genre that allowed the creation of BATMAN FOREVER, BATMAN AND ROBIN, FANTASTIC FOUR, DAREDEVIL, GHOST RIDER, etc. I mean there's some good ones and there are just some shockingly horrible ones, that's the type of deal we got here, the Two Face coin could land on either side.
Since I threw it out there I figured it was only fair that I go back and force myself to watch SPAWN again to make sure it really was the unmitigated crap I remembered it as. Turns out I remembered right, there was no mitigation at all.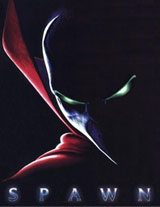 White plays Al Simmons, special ops assassin and all-around badass. In the opening he executes a high tech hit on some terrorists, but he's upset that civilians were killed. His boss at the CIA is Martin Sheen (this is a prequel to THE WEST WING). What he doesn't know is that Sheen is in league with Clown, which is John Leguizamo buried under full body and face makeup. Everybody always refers to him as a clown but the only time he's at all a clown is during one scene at a birthday party. The rest of the time he's just a grotesque, waddling, four foot tall fat man in a leather jacket and face paint like The Ultimate Warrior from WWF. He also thinks he's the fuckin genie from Aladdin so he turns himself into a cheerleader, a balloon, etc. and makes terrible puns. (He doesn't do an Arsenio impression at least.) Sometimes he can turn into a big monster and bite people. The rest of the time he eats maggots and farts glowing green clouds. (There's alot of glowing green stuff in this movie, much more than I was ready for.)
Anyway, this so-called Clown is the agent of the Devil, a furry CGI creature with an underbite whose mouth doesn't move when he talks and whose animation looks, without exaggeration, worse than modern video games. He knows Michael Jai White is awesome (maybe he can look into the future to see UNDISPUTED II) so he tricks Martin Sheen into burning Al alive so he'll drop into a video game Hell where he'll be told he can see his wife Wanda again if he leads the Army of Hell in a war against Heaven. Al says yes without even stopping to consider his other career options.
So then it's kind of like DARKMAN, he's a horribly disfigured homeless man who spies on his family (his wife is now married to his best friend, D.B. Sweeney). Meanwhile an old knight whose hand occasionally morphs into a sword teaches him about his powers and tries to sway him to the Heaven agenda. He learns he can shoot chains, fly and sprout a CGI cape that looks like 75 feet of fried chicken skin. His body turns into a rubber monster suit and his head can wrap itself in a demonic Spider-man mask with glowing eyes (green of course).
For a while he goes around with giant machine guns shooting everything, which looks kind of hilarious, like Godzilla or the wolfman using a gun. I kept wondering why he was using all these guns when he has magic hell powers, until the knight guy told him he has to conserve his powers because he only has a limited amount. "Oh, that's why he still has the guns," I thought and at exactly that point Spawn threw the guns away, and the limited power thing never came up again. Good to know though, thanks for mentioning that.
Obviously it goes without saying that an innocent but streetwise homeless kid with a backwards cap (Miko Hughes, little Gage from PET SEMETARY) becomes his friend.
Martin Sheen's bad guy character talks a big game but the truth is he's a full-time sucker. There's no other way to explain him agreeing to have surgery to attach a detonator to his heart so if it stops beating it will unleash deadly chemical weapons somewhere. He believes it means nobody will kill him, but the reality is Clown just wants Al to kill him and set off the weapons to start World War III. To ensure that the audience picks up on this convoluted plan Clown explains it out loud – and not even to somebody else like a James Bond villain. He's just talking to himself, or maybe the camera crew.
In retrospect we should've known THE SPIRIT could happen, because SPAWN already happened. It's like the memo saying that THE SPIRIT is determined to attack inside movie theaters. This is a perfect example of an insulated world where people keep telling each other "yeah, the comic book is really popular, I guess the movie will be too" without stopping to look at what the fuck this moronic garbage is that they're filming. It's obvious that some asshole liked to draw capes, chains, muscles and Spider-man masks and based his "story" and "characters" around those fetishes. The Clown is a stupid character with no meaning. Why does he wear a leather jacket? Probaly because the guy who drew him thought leather jackets were cool, no other reason. Same as Chester Cheetah wearing Chuck Taylors. They have about the same level of thought put into these two great characters, Clown and Chester. I like Chester better though because he farts less.
A decent writer could probaly take this basic setup, dump the extra baggage, and come up with something interesting. This whole super hero Faust thing – a demon trying to fight the devil using the powers he got from Hell – has a nice mythical feel to it. But this movie is slapped together with seemingly no thought whatsoever. The second or third draft was probaly a napkin that said "CIA – explosion – birthday party – farting – green? – monster at end" with some phone numbers and doodles of naked ladies scrawled around the edges. It's like the second TRANSFORMERS movie: every single aspect is one-dimensional. They tell us he's a good soldier, then tell us he has a conscience, then tell us he loves his wife, then tell us he'll do anything for her. They just have the dots and none of the lines. Nothing is developed at all. Everything has the bare minimum explained in the crudest possible way. And the style is in–your-face cheesy. It opens with narration over a corny barrage of Hell imagery exactly like a DVD menu.
The rookie director is special effects man Mark A.Z. Dippe, who went on to direct FRANKENFISH and GARFIELD GETS REAL. You'd never guess it now but some of the effects were done by George Lucas's company Industrial Light and Magic, and according to the making of featurette on the DVD (hosted by White) it was supposed to be a big, mindblowing special effects showcase. I guess some of the morphing effects on Spawn are okay, and the big monster is funny in the same way he would've been if he was a big rubber rod puppet, but I doubt any of them still include this one on their resumes.
Poor Michael Jai White does what he can. He gets to say alot of corny lines in his deep voice. He calls somebody a "dirtbag." He talks to a dog named Spaz. When he gets shot and heals up he says "Damn!" I think the internet was right, he should get to play Blade if they're ever doing one and Wesley Snipes doesn't want to do it and signs a permission slip for him. I guess this was pretty good practice for playing a good super hero some day, or maybe more of a fraternity style hazing for it. They could chain him up naked somewhere and paint humiliating phrases on him, or he could play Spawn.
SPAWN is pretty funny in a so-bad-it's-kind-of-interesting-I-guess kind of way, and as a 1997 time capsule. It really makes you think about how different things were even though it doesn't seem that long ago. But then you remember that everybody thought this movie was terrible back then too, so it's not really fair for it to be representative of the era – it's just representative of some comic book drawer who got lucky and got a bunch of Hollywood money for his stupid idea even though he doesn't even know what a clown is. Come on dude, you need to get out more.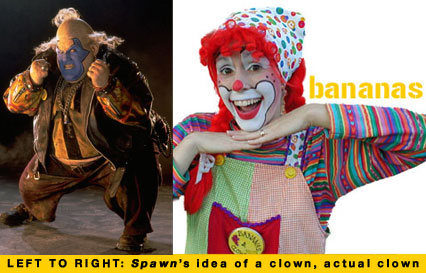 This entry was posted on Wednesday, July 15th, 2009 at 12:27 am and is filed under
Comic strips/Super heroes
,
Reviews
. You can follow any responses to this entry through the
RSS 2.0
feed. You can skip to the end and leave a response. Pinging is currently not allowed.