Editor's Note:We first encountered Vern on the Usenet movie newsgroups, and from there onto his web "sight," Then fuck you jack: the Life and Art of vern where we've spent countless hours reading his insightful film reviews and laughing our asses off. And, God forbid, learning something about the films of cinema.
Recently, Vern has collected some of the best of his reviews into his first book, "5 On the Outside: Vern's Writings on the films of Cinema." He's a frequent contributor to the Ain't It Cool News web site, and between these various outlets, he's been picking up lots of new fans. Guillermo Del Toro, writer/director of The Devil's Backbone and Hellboy, says, "Written in head-spinning Vern-acular prose, these reviews will have you rolling on the floor with laughter and, with lightning-bolt speed, provoke demolishing insights into the films they address. Equal parts HELL'S ANGELS and Pauline Kael, Vern is a National Treasure!!!" We couldn't agree more.
After having temporarily lost his liberty in the correctional system, Vern tells us "I got out in august '99 and since then have been 100% clean and sober as well as i do NOT get involved in crime and negativity. My love now is Writing, watching movies and getting blown out of my fucking mind high on life." He's been catching up on all the films he missed while incarcerated, but somehow James Bond had kept off his radar. We at HMSS decided to correct that oversight, and asked Vern to take a look at a couple of our favorite 007 pictures.
Here's Vern's report…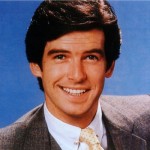 It wasn't my idea to be here. I don't belong here. I don't know what I'm talking about. I'm gonna get eaten alive. But Tom Zielinski and Paul Baack thought it would be funny to get me – a Bond-ignorant action movie fan who once called 007 "a fucking baby" — to review Thunderball and GoldenEye. So here goes nothing.
First, the backstory. My disparaging comments about Mr. Bond came in the form of a review for Die Hard 2. In the review I called Bruce Willis's character John McClane "the working man's James Bond" and compared and contrasted him to 007. My argument was that Bond was a spoiled rich boy among action heroes. Bond gets an Astin Martin that shoots missiles, McClane has to borrow his mother-in-law's beater, and it gets impounded. That kind of thing. Tom and Paul had written me a lot of nice emails, and I felt bad that I had been so harsh to their favorite fictional character. So when I was putting together a collection of my reviews, I thought it would be a nice addition to the book if they would write a rebuttal to the review. They graciously did me that favor, which brings us to today, when I owe them one.
I don't know if it's payback for my big mouth, or if they're trying to convert me, but I welcome the incentive to learn a little more about Mr. Bond. I have to admit I am most familiar with the Pierce Brosnan Bond movies, and I wouldn't say I was a fan. Watching Thunderball though, I was about 4 minutes in when I realized it was already better than all the Pierce Brosnans combined. In the opening scene, Bond is at a funeral for some SPECTRE bastard he was gonna kill. Now I don't want to be judgmental, but in my opinion it is pretty god damn rude to show up at the funeral of some motherfucker you were planning to kill. I mean come on people, you just don't do that. Call me old fashioned, call me a square, but that's one rule I try to follow. The only exception is if once the person was dead you realized it was wrong to want to kill them, and maybe you were going to go make amends with this person when you found out they were dead. That is not the case for Bond. So I'm not inclined to let him off the hook. But luckily this point of etiquette becomes moot when he discovers that the funeral is a fraud and that the not-really-dead villain is in drag, disguised as a grieving widow.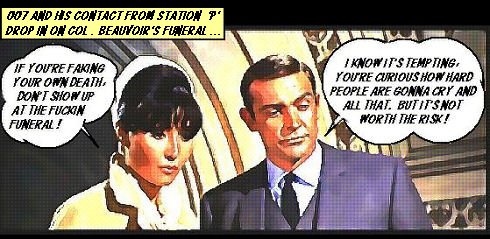 (I guess that brings up another important funeral related rule: if you're faking your own death, don't show up at the fuckin funeral. I know it's tempting, you're curious how hard people are gonna cry and all that. But it's not worth the risk. Your fake death isn't even in the obituaries yet and you're already about to blow it.)
Anyway that's when we get an excellent fistfight between Bond and a man in a funeral dress and veil. Let me take a moment to honor this lost tradition of cinematic fighting, where two opponents square off in an enclosed space, punching each other, throwing each other into furniture and breaking things over each other's heads. You don't see this type of fighting in movies much anymore – now days everything's guns, kung fu, and guns. Bond ends up tossing the guy in the fireplace and throwing flowers on him. Not as fancy as the fake funeral, but it will have to do.
Next thing you know Bond runs outside and magically produces a helmet and jetpack (big pockets, I guess) which he uses to fly about two blocks away to his getaway car. This is what I'm talking about, John McClane would've just ran the two blocks. It's not that hard, Bond. He's one of these guys who instead of walking four blocks to the store to pick up some ice cream, he drives. In fact, I bet the Segway was invented for Bond, so he wouldn't have to walk from one end of the room to the other. His has a built in rocket launcher, but he never uses it.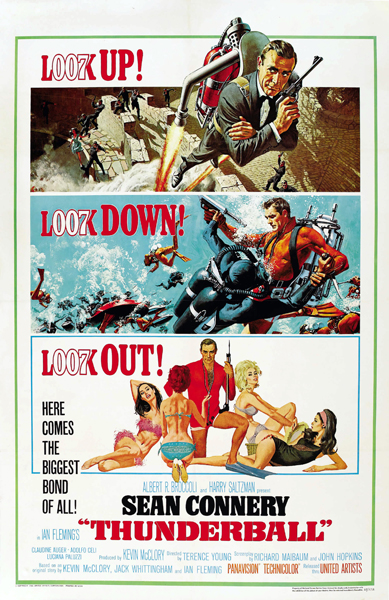 The traditional theme song over silhouetted sexiness is sung by Tom Jones, who does a real good job acting like we should know what the hell "Thunderball" means. One thing about the James Bond movies, no matter how good or bad they are, they always got sexy opening credits. And these movies are all about sexiness. I'm sure you guys have noticed this before, but man James Bond is a sleazeball. I don't know what his mama taught him but for such a smooth dude he sure doesn't know how to treat the ladies. Case in point, his co-worker Moneypenny. Now, if you're working in an office or secret agency type situation, it is best not to call the women "honey" or "sweetie" or "sugar" or "toots" or "honeypie" or etc. That is condescending and degrading, especially in a place like this where a woman who has worked as hard as Moneypenny to get where she is deserves to be treated as a professional. When Bond tells her "Next time I see you, I'll put you across my knee," I feel that that is unprofessional. He doesn't just pull this on his co-workers though. What's with the scene where he forces a kiss on that poor nurse? Fortunately, the Bond movies take place in a universe where every woman secretly wants to screw James Bond, and they just pretend they don't like his advances. But the rest of us guys don't have that luxury.
So yeah, the nurse wants him, but does that justify him walking out after sex and quipping, "See you later… irrigator"? I think I know what that means and if so, not that classy. There are times when Bond movies seem like porn movies with the good parts cut out. I mean don't get me wrong. They would be really topnotch porn movies. I'm just saying, there's a lot of scenes leading up to Bond getting laid.
And plus, what about this scene where Bond gets attacked in the spa? I swear, he's attached to some kind of Fucking Machine. Like the British version of Barbarella's Orgasmatron. He almost humps himself to death. An appropriate end for such a horndog I guess. But he escapes.
Then next thing you know he's in a boat with another gorgeous lady, Paula. I'm thinking, how many hoes does this motherfucker have in his stable, anyway? He really gets around. One thing I noticed when I went to rent these movies, there is a cartoon they got called James Bond, Jr. which is apparently about James Bond's son. You know, the one son that he had. Well let me tell you, I don't buy that. James Bond Jr. proves that the equipment works, the pipes are not tied, the seed is potent. So I happen to believe there are a whole fuckin lot of James Bond juniors running around out there, disrespecting women in a number of exotic locales. The way this guy pokes around in 2 or 3 gals per movie, there's no telling how many dashing half-British crumb crushers there could be out there. I'm betting he rivals Screamin' Jay Hawkins in the illegitimate children Olympics.
I mean I gotta tell ya, if I was Blofeld or somebody, I wouldn't worry too much about 007. Because I'd figure eventually he's gonna slip up. That fucker is a fiend for the honeypot and he's pretty god damn lucky to have gotten as far as he has without somebody slitting his throat while he's got his guard down, getting a sensual massage or a blowjob on the beach or something. I mean that dude will fuck anything with two legs and a hole. (In fact, I haven't seen all the movies, I wouldn't be surprised if he goes for a gal with one leg and a hole, plus some kind of artificial leg made out of gold with built in weapons.) It just so happens that he runs in circles where everybody like that is a gorgeous knockout bombshell type. But I think if he had to spend a night in a town with no Bond girls, he'd still find somebody or something to stick his dick in. In my opinion. Pardon my French.
… one guy is commanded to "search the shark pool." Man, fuck that. I would quit.
Anyway, as you can tell I am a gentleman, so I'll stay out of Bond's personal life for now. As far as the secret agenting goes, Thunderball has a lot to offer. For me the highlight (other than the funeral scene) is the huge underwater battle. Obviously they spend a lot of screentime on it because something like that had never been done in a movie before. But it holds up well by modern cinematical standards. For me, a cleverly planned scene like this is much more exciting than all the big loud jet/tank/car chase type action in the newer Bond pictures.
One thing I think is funny in this movie is the sharks. These guys actually have a shark pool! At one point when they're trying to find Bond, one guy is commanded to "search the shark pool." Man, fuck that. I would quit.
You know, these guys got a pool of sharks that they train to kill people. Then when they're fighting over a weapon underwater, they get attacked by sharks. And bystander sharks get harpooned in the melee. It's the endless circle of violence. Man-on-man, shark-on-man, man-on-shark. Why can't men and sharks just leave each other alone? It's ridiculous.
I liked during the big underwater fight, they got a shot of a crab walking by in the middle of all the mayhem. It makes you wonder what that crab is thinking. I bet he agrees with me on the pointlessness of the man-shark war. Just leave him be, he's got nothing to do with this craziness, he's just minding his own business, trying to get home to his rock.
I'm glad Tom and Paul had me watch Thunderball. On one hand, I thought it was a little long and slow, like all the Bond movies I've seen. Which makes me wonder if maybe I'm just not the 007 type. On the other hand, I still liked this movie. I like the more preposterous touches: the rocket-launching motorcycle, the SPECTRE agency with its "Execution Branch," the evil doppelganger, the guy you know is evil 'cause he has an eyepatch. (Good guys got harder eyeballs than bad guys, they're harder to injure, that's why they never got an eyepatch or a glass eye.) As much as I enjoy gritty and realistic movies, I also like a good shark pool. And you guys would know better than me, but I think Bond works better with shark pools than when they try to fit him into a modern political context.
I know that because of GoldenEye, the second one Paul and Tom wanted me to watch. If I didn't know this was the first Brosnan 007 movie, it would be obvious from watching it because they're trying so hard to explain everything. They are not confident like Bond. They seem overly worried about what people like me will think, so they have characters questioning if James Bond is obsolete after the Cold War, and calling him "a misogynist dinosaur" and that kind of thing. As if to say to the audience, "We know, we know, we're trying to figure out what to do. Please bear with us."
Like Thunderball, GoldenEye starts out pretty god damn spectacular. There's a little prologue where Pierce Brosnan as 007 and Sean Bean as 006 (whose number means he has seniority, I assume, so we should probably side with him in the dispute later in the movie) sneak in to blow up some kind of evil Soviet missile base.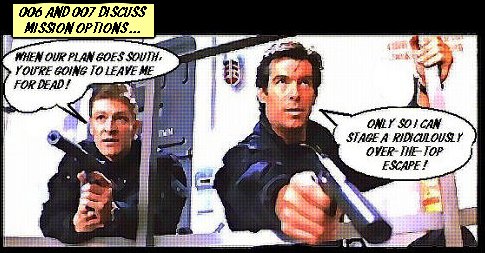 I mean I guess the infiltration is standard '90s action movie, but the part I like is when the whole plan goes south so 007 has to leave 006 for dead and stage a ridiculously over the top escape. Bond tries to hijack a small plane as it's taking off, but the pilot puts up a fight. They wrestle and both end up falling out of the plane, where the pilot is run over by a pursuing motorcycle. Bond steals the motorcycle and follows the plane as it drives right off a cliff. He jumps off the motorcycle, glides through the air like a flying squirrel and somehow maneuvers himself into the cockpit, where he is able to take control of the plane and avoid what I guess would've been an impressive ending to a very short James Bond update.
That escape scene is the highlight of the movie, but it makes for a confident lead in to a beautiful credits sequence where silhouetted sexy ladies dance around on communist statues and occasionally bash them with a hammer or sickle. It's obviously an updated Bond credits sequence for the digital age but it also reminds me of Ohio Players album covers or Miles Davis's Bitches Brew. The credits are pretty much about everything the movie is about: hot chicks and the fall of communism.
I don't know if anybody's ever noticed this before, but a lot of James Bond movies seem to be about dicks and balls and pussies and etc. They got all these double entendres and characters with suggestive names and whatnot. This one is no exception. The best character is Famke Janssen as the Georgian terrorist Xenia Onnatop. Her name both describes a sexual position and the movie's lame attempt at modernizing the sexual politics. I like that name though. It doesn't seem very subtle, but consider that they could've called her Shawana Fuckyoutodeath. Actually that would've been even better but I like Xenia Onnatop still.
Xenia's whole thing is she fucks guys to death. What she does is get it on with a dude and then crush him between her thighs. (I am happy to report that there are no Thighmaster jokes in the movie.) She also likes to roar like a tiger during sex and makes orgasmic sounds while shooting at people or taking hostages. It's a pretty demeaning role, playing an almost literal ballbuster who is punished cruelly for wanting women to be Onnatop. But it's still fun to see the beautiful Janssen playing this type of role, since in so many of her other movies (the X-Mens, City of Industry, Lord of Illusions) she doesn't get a chance to have fun, she's too busy moping, brooding or crying. Xenia is a woman who enjoys what she does, and that's to be admired because a lot of people don't. Too bad about the Boris and Natasha accent, though.
The character I liked the least was fellow X-Man Alan Cumming as a Russian hacker. If you haven't seen the movie you got a 50/50 chance of guessing what his name is. If he's Russian he's either gotta be Boris or Ivan, and in this case he's Boris. But in case you still can't catch that he's Russian, there's a part where he calls one of his co-workers (one of the 3 women Bond makes out with in the movie) "Borscht-for-brains." I haven't been able to confirm this but I suspect this role was originally written for Yakov Smirnoff. But then they thought it would be funny to cast Alan Cumming as a horny woman chaser so they went for it.
The scene where Q shows some new gadgets to Bond is pretty good. They got so much silly business going on in the background that it feels like an Airplane! or Naked Gun scene. And casting Joe Don Baker as Bond's American CIA buddy Jack Wade was an inspired touch. Who better to play a CIA agent than Sherriff Buford Pusser (first movie only) himself?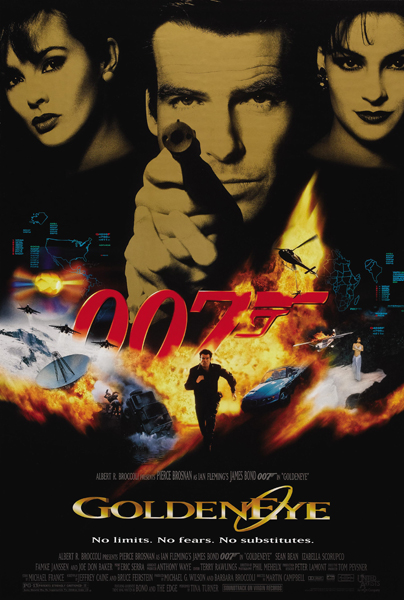 And I should say that Brosnan, to my ignorant eyes, is a good choice for Bond. He's not macho like Connery, he's more legitimately suave. At the time I probaly thought he was a cheesy TV star, but in retrospect he's almost too good for these movies. To me he seems like a guy from another era, like Fred MacMurray mixed with a little bit of Cary Grant. I still got a problem with those bad puns though. Maybe Connery can get away with them but when Brosnan does it he has this cocky smile. 'Cause he's James fucking Bond, he can torture everybody with his lame sense of humor and you can't do nothing about it. Get it? Lip service? I'm not even sure if that counts as a pun, just because there's kissing and then he says "lip service." Nobody comes up with puns that painful on accident, he is definitely trying to fuck with us. He's like an uncle or grandpa or a crazy homeless guy that tells you jokes because he knows they're bad, and he wants to make you squirm.
Brosnan's Bond is just as much of a gigolo as Connery's, and he faces the human counterpart to the deadly Fucking Machine when he fights Xenia in a sauna. She tries to give him the Dry Hump of Doom… or is penetration implied? Like an abstract painting, it is up to the viewer to interpret. Are they fucking, or just fighting? It's good to see a movie that gives you something to contemplate afterwards.
I think the attempt at a postmodern Bond sort of backfires though. They mention Freud so much that you can't help but start interpreting the sexual imagery of the movie. The whole thing is about James Bond being afraid of vaginas. It's true, his biggest challenge is a beautiful woman trying to fuck him to death. And normally I'd be against this type of analysis, but after they mention Freud a couple times you can't help but notice the scene where a flaming train slides into a tunnel… and explodes! Beware the deadly vagina. James Bond's greatest love and fiercest enemy.
Also, they seem so worried about the end of the Cold War making James Bond obsolete, but then instead of trying to find new enemies they use Russians again. The Cold War is over, long live the Cold War. It almost makes it seem like an '80s movie.
As the movie ends, James Bond is left with only one of his sex partners (I woulda chose Xenia, but he felt differently) and they go off into the sunset saying they will "finish debriefing each other at Guantanamo." This of course takes on a more sinister meaning ten years later. I couldn't help but think of some poor sap in Afghanistan, his neighbor fingers him as Taliban for the reward money, he ends up spending three years in camp x-ray without charges, getting electrodes shoved up his butt, etc. And little does he know that foul smell on his cot is ten year old James Bond ass sweat. I guess it's better than if he did know.
GoldenEye is more exciting than the Pierce Brosnans that followed it, and it has the best ridiculously named female character (sorry, Dr. Christmas Jones, but you do not cut the mustard). But like with so many things in this world, the old ones are better. I think the writers gotta quit trying to figure out where James Bond fits into the world, and start trying to figure out new ways for him to jump into planes or off motorcycles or into shark pools.
Copyright ©2007 by VERN H.
Originally published at Her Majesty's Secret Servant: http://www.hmss.com/films/Vern/
This entry was posted on Tuesday, May 1st, 2007 at 10:47 pm and is filed under
Action
,
Other Sites
,
Reviews
. You can follow any responses to this entry through the
RSS 2.0
feed. You can skip to the end and leave a response. Pinging is currently not allowed.