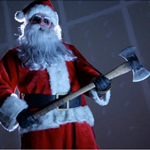 SILENT NIGHT is the latest killer Santa movie, directed by Steven C. Miller (AUTOMATON TRANSFUSION, THE AGGRESSION SCALE) and written by Jayson Rothwell (Van Damme's SECOND IN COMMAND). I hear it's supposed to be a remake of SILENT NIGHT, DEADLY NIGHT, although I didn't notice it in the credits. There are only two things I spotted that identify it as such:
1. they redo the unforgettable impaled-on-hunting-trophy death of Linnea Quigley's character from the original
2. the end credits have a punk version of "Silent Night" where they changed the "holy night" lyric to "deadly night"

There's also a part where the heroine's dad encourages her by saying "This isn't the first time a Bradimore had to bring down a bad Santa," and I thought maybe that was a reference to a name from the original (which would really make this a sequel) but no, it's not a name from the original and is explained later on.
Without the antlers if I had to guess what it was supposed to be a remake of I would've gone with CHRISTMAS EVIL, and that was also released as SILENT NIGHT, EVIL NIGHT so even the title works for that. I mean, it's a killer Santa, but it has nothing to do with SILENT NIGHT, DEADLY NIGHT.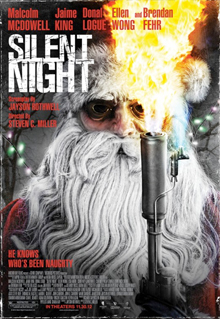 Our story opens with a face-unseen maniac who has a girl tied up and a guy in the basement that he's about to electrocute using Christmas lights. He grooms himself and then attaches a beard to a plastic mask to create a Santa disguise. (This seems to be the creation of the costume, although later in the movie we're told he's been traveling from town to town doing this. Maybe that really is supposed to be an urban legend and not the usual urban-legend-that-is-told-to-represent-the-reality-of-what's-going-on-in-this-horror-movie approach.)
Santa's jolly murder spree takes place in a small town that has a tradition of a Santa Claus Parade where this year there are expected to be more than 500 people dressed as Santa. So it's a good place for him to get away with it for a bit, and it doesn't hurt that there are a couple of other not-as-crazy-but-still-crazy Santas to confuse the police.
While I was watching this movie there was a commotion outside my apartment and I looked out the window to see a mob of maybe 30 pub-crawling Santas waiting to cross the street. I assume this was a coincidence though and not a special feature of the blu-ray. Let me know if it does the same for you, because if so that's technology they should probly be making a bigger deal out of.
It's funny that Malcolm McDowell was in the HALLOWEEN remake and this one too. Here he's the sheriff, who's a total asshole, which in my opinion is not as fun as a guy that you can root for. He also doesn't bother to act American, and even says "bloody" at one point. He forces our heroine, Deputy Aubrey Bradimore (Jaime King) to come to work on her day off even though she's mourning her first Christmas since her husband died.
This is one of the slasher movies where the main characters are adults, which is kinda cool. Aubrey does live with her parents, but that's presumably because of the tragedy, and I like that her parents are nice old folks. Her dad is super-sweet and even has a legitimate Santa beard.
So they try to catch the Santa, solve the mystery, etc. The sheriff is dickish and wrong about everything, nobody believes Aubrey but she's right, that sort of thing. The Santa leaves presents for his future victims. They're those presents you only see in movies and TV where after you untie you just have to lift a lid off instead of the whole box being wrapped, and yet for the most part we don't see anybody open them. Then he hacks people up with an ax and some kind of scythe. I like when he uses his home made blowtorch. Maybe it's kind of counterintuitive for the man from the North Pole to be using fire, but on the other hand he's gotta keep warm somehow.
By the way, all you masked slashers, I think it's time for a moratorium on the Curious Head Tilt. Michael, Leatherface and Jason get grandfathered in because they were the pioneers and they used it to creepy effect, but the rest of you gotta stop now.
Oh, by the way, Lisa Marie is in this. Remember, Tim Burton's muse before he left her for Helena Bonham Carter? She was Vampira in ED WOOD, the Martian Spy Girl in MARS ATTACKS!. Here she has a small part as a bitchy mom, I almost didn't recognize her.
The tone is odd because at times it borders on the Rob Zombie too-bleak-to-be-fun-like-a-Jason-movie, but then the concept of Christmas-themed murder is inherently absurd and the gore in a few parts is pretty over-the-top. There is some dark humor, like in the opening murder when the tied-up-victim thinks he's dealing with the angry husband of a woman he slept with and cycles through every possible plea of innocence without waiting for any of them to land. But when Santa stalks and horribly kills an innocent topless model (running through a cold cemetery wearing only frilly panties) it's not fun, just upsetting. But I guess that's pretty true to the tone of the original.
Comparing SILENT NIGHT to SILENT NIGHT, DEADLY NIGHT as representatives of their time periods brings me to surprising conclusions. The original 1984 film was almost I SPIT ON YOUR GRAVE infamous. I mean, check this out:
And of course nobody is offended by this new one, because 28 years later we've moved on with our lives. Both movies involve an evil Santa on a rampage of "punishing" people doing "naughty" things, but which one do you think has a more complex and thoughtful take on it? Yep, that would be the disreputable sleazefest that was chased off of screens and publicly shamed by Gene Siskel. I know the producers were looking for shock value and needed suckers like poor Gene in order to promote their movie, but despite filmatism about as precise as a haphazardly swung ax they made a slasher movie that had something interesting to say about morality and about the "sex = death" slasher trope of the time.
SILENT NIGHT, DEADLY NIGHT is one of the few slasher movies that follows the killer through his whole life and explains where he's coming from. It's a pretty absurd origin, but it's a thorough one: as a young kid he witnessed his parents murdered by a criminal wearing a Santa costume. He grew up in an orphanage, where a cruel Mother Superior beat Catholic morality and sexual repression into him. Then as a stunted adult his boss forces him into playing Santa, and he gets drunk, and this leads to his judgmental rampage.
In the FRIDAY THE 13THs and alot of slashers there's a not-always-intentional message of "if you're bad and you smoke pot and have sex the boogie man will get you." But for Billy the killer Santa this judgment is based on an outdated and not fully understood moral code forced onto him by tragedy and abusive authority figures. Some of his victims are jerks, to make him more sympathetic, but it's clearly an indictment of this type of black and white, naughty and nice, sex is bad world view. The movie doesn't want you to agree with Mother Superior's anti-sex stance.
With SILENT NIGHT you don't get as much of the killer's background, and there's no religion involved, no moral confusion by a messed up person, and for most of the movie you don't even know who he is at all. He murders an adulterer and a drug dealer and then the most gruesome death is saved for… a topless model for a softcore porn websight? She's played by Cortney Palm, who must be a total badass because she's hanging out a window almost naked and running around barefoot and shit. It's pretty harrowing, easily the most successfully horrific part of the movie, but it also left me thinking jesus, that's kinda mean.
I don't think it really means to judge nude models, and I'm definitely not pulling a Gene Siskel "shame on you." But I think without the context of the original story it loses alot of dimension and makes you actually wonder if the movie really wants to kill this girl just for showing her boobies. I think it's a matter of just going through the horror tropes without stopping to think about what they say when put together in this particular order, but then that's where the whole sex = death thing came from in the first place, isn't it? It wasn't intentional.
I would say that among horror remakes SILENT NIGHT ranks somewhere in the middle. Sort of empty compared to the original but not blasphemous, somewhat entertaining but probly not rewatchable. I'm okay with it. And this proves, killer Santa, that there is some grey area out there, not everything is just naughty or nice. I hope somebody gets you some nuance for Christmas.