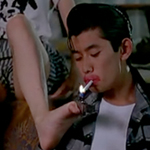 In NASHVILLE, Robert Altman used the city to represent America in some way. In MYSTERY TRAIN Jim Jarmusch kinda does the same thing with Memphis, but the joke is that it's three stories about Memphis through the eyes of foreigners. For all they know the whole country hangs Elvis portraits in their hotel rooms.
The first and favorite story is of two Japanese tourists, Jun (Masatoshi Nagase, THE HIDDEN BLADE) and Mitsuko (Yuki Kudo, RUSH HOUR 3) who arrive in Memphis on a train. I know, I thought this was gonna be a remake of MURDER ON THE ORIENT EXPRESS, or possibly a story about a talking train that solves mysteries, but most of it doesn't have to do with the train at all. You just see the train going by every once in a while. What the "mystery" part of the title means is, well… an unanswered question.
I like this story because I like these two. Mitsuko is obsessed with Elvis, Jun never misses an opportunity to say that Carl Perkins is better. Fuckin show off. He has a carefully maintained rockabilly rebel persona with slicked back hair, a white undershirt tucked in under a big belt buckle, etc. He's very stoic, almost never smiles or says something openly nice, but it rarely dampens her enthusiasm. In one great scene she tests his cool by making goofy faces, then putting on alot of lipstick and sloppily smearing it all over his mouth via kiss. He manages to stay completely deadpan with his clown makeup on, smoking a cigarette that she lights for him with her feet. But he gives a tiny smile when she walks away.
That's mostly what this movie is about, goofy little character moments done very dry and quiet, in long takes. So it's a Jim Jarmusch movie.
Jun and Mitsuko are brave enough to show up in Memphis and wing it, pick a hotel when they get there. Mitsuko is so girlishly charming I would forgive her for any social faux pas, even (and this is rare for me) tip-related misunderstandings. But the bellboy played by Cinque Lee (Spike Lee's brother, who referenced this role in the OLDBOY remake) is unreadable; I can't tell if he thinks it's cute when she gives him an exotic fruit instead of cash.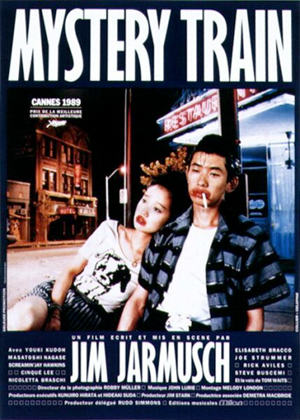 They drag around their suitcase, touring Sun Studios (onscreen) and Graceland (off screen), meanwhile passing boarded up historical landmarks like the Grande Ol Opry (or at least the sign says that – I thought it was only in Nashville?) and Stax Records, completely unaware (but Jarmusch's careful framing makes sure we notice).
The second story is about an Italian woman (Nicoletta Braschi, LIFE IS BEAUTIFUL) stranded in Memphis for the night due to plane troubles. She ends up generously sharing her hotel room with an otherwise out of luck local blabbermouth (Elizabeth Bracco, The Sopranos) who tells her far too much about the breakup that got her there. The third story is about that lady's ex Johnny, played by Joe Strummer. He's British of course but has his pompadour and tough guy attitude, he pictures himself some kind of rockabilly outlaw that the natives (like his ex's brother, Steve Buscemi) are not comfortable with.
There's a theme of Elvis's ghost. Tall tales are told (by creepy Tom Noonan) about his literal ghost, and then at one point he seems to show up and give a message to somebody. A little bit like in TRUE ROMANCE.
That reminds me. Re-watching this movie for the first time in many years I realized for the first time what an influence it must've been on PULP FICTION. The tone and content are real different of course, but the format is so similar. Multiple stories, separated by intertitles, that turn out to not be shown in chronological order, and slightly overlap in clever but insignificant ways. A similar pacing. Conversation and character driven, not plot oriented. Man, what about the whole scene with Bruce Willis in the hotel? You got the hotel, the heavily accented foreign lady. It checks out.
And if you think about it, Jarmusch was one of the main guys getting it done in the independent film world back when Tarantino got his start. Of course he would've looked at what he was doing for inspiration. I'm surprised I never saw the "Tarantino is a plagiarist" nuts jump on this one.
Strummer and Buscemi hang out with a guy named Will Robinson (Rick Aviles), whose name means that like in a Tarantino movie they have a conversation about an old TV show,  Lost In Space. It's funny, right after I watched this I was watching the CANNONBALL RUN movies to review for david moore's upcoming action book, and I'll be damned, there was Will Robinson as "Mad Dog," doing a goofy Nixon impression and making other crude jokes:

Johnny hangs out at the same bar as his black co-workers, and is the only one in the movie who brings up the racial divide in the city's musical heritage. He wants to know why a hotel in a black neighborhood, run by black people, still has a portrait of Elvis on the wall. While these characters all talk about Elvis and Carl Perkins (with two Presley songs on the soundtrack), there are also nods to Tennessee's great legacy of blues, jazz and soul that pre-dated those guys. Rufus Thomas has a cameo in the train station and a song on the soundtrack, Otis Redding is on the soundtrack, non-Memphis R&B freak Screamin' Jay Hawkins keeps showing up in a red suit as the clerk at the hotel they all end up staying at.
In the movie we hear Elvis sing the song "Mystery Train," but also the original version by Little Junior's Blue Flames (aka Junior Parker). In a way there's also the figurative ghost of Elvis hanging over the proceedings, the continuing worship of him as an icon, and the question of whether his legend overshadows the many great black musicians of Memphis who worked before and alongside him without ever being elevated to the same platform.
* * *
Years ago I saw Public Enemy perform at the Experience Music Project here in Seattle. In the early days that place spent alot of money to bring in pretty incredible acts for their small performance place called The Sky Church. Since it's a rock music museum, Chuck D got to talking in between songs about his famous "Fight the Power" line "Elvis was a hero to most / But he never meant shit to me / Straight out racist, the sucker was simple and plain / Motherfuck him and John Wayne." He explained what made him say that in 1989, but also somewhat apologized. I don't know if he knew that alot of people call Elvis a racist because of a most likely fabricated story, but he admitted that he'd since learned more about Elvis giving credit to his blues inspirations and supporting the civil rights movement and what not.
Still, in the minds of many Elvis is a symbol of white people co-opting black culture, copying their sound, their slang, their dancing, their style, making more money off it and getting too much credit for it. Taking it over. I think the truth, as Chuck D acknowledged, isn't so cut and dry. On one hand it's true that Elvis was given opportunities that his black peers weren't in airplay, TV appearances and movie roles. Certainly he was popular with many people who would never listen to black music, sometimes out of racism.
But on the other hand I think his music came out of a genuine love of those influences, and a childhood singing in church, and he did his own thing with it. He wasn't just the white boy copy or watered down pop version. He wasn't Pat Boone. And he was really fuckin good at it! He was unique. Nobody else did what he was doing because nobody else could.
And once he was a superstar he became a weirdo. I like weirdos.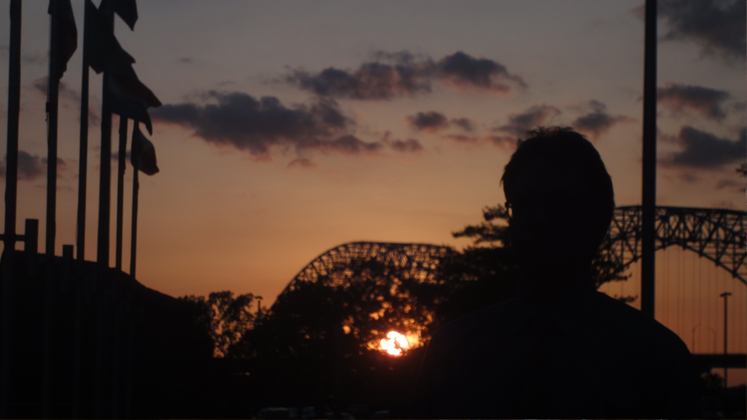 Memphis is an incredible city. It's also a city that's okay with having spots named "Confederate Park" and "Jefferson Davis Park"… and only about 10 blocks from the hotel where Martin Luther King was assassinated. It's a weird contradiction in a neighborhood built on black culture.
Everybody I talked to – and these are mostly older white people – said "you gotta check out Beale Street." I knew (from watching an episode of The Blues – sorry guys, I might be a nerd) that it was historically the black part of town, a strip of bars and restaurants where many a legendary soul, jazz and blues artist made his bones. Then after the assassination the white people went in and fucked it up and although it still has many signs of that heritage it has become a tourist destination that people like me go to while some of the old timers lament the changes.
From what people said it sounded like this would be kind of like what we'd seen in downtown Nashville the night before, except maybe with music more up my alley. But when we made our way over it was something different. It was a mass of people in the streets, like a huge outdoor concert. There was a police barricade and a long line of people waiting to get in. At first I thought it was so crowded that you had to wait for there to be room. Then I realized they were checking IDs and wanding people. Once you get in you can walk around and drink openly like in Vegas. The bars were almost universally too crowded to get into, but there were also bars in the street selling pre-mixed Long Island Iced Tea, Cosmopolitans and a blue drink called a "Walk Me Down" that I shoulda tried because apparently it's regional. I think this was the thing people were carrying around in comically tall plastic cups.
I experienced something that most white people don't ever experience in this country: I was completely outnumbered. To say the crowd was 99% black would be a conservative estimate. I'm talking, you walk around for 10 minutes before you see another white person. I don't want to sound like some asshole anthropologist, but I'm gonna be honest, I thought this was amazing. Not being from Tennessee, not being black, not being that young or that cool, this was like a world I'd never seen before. Gold teeth. A shirt that said "BITCH DON'T KILL MY VIBE" in giant letters. I knew the reference, but not the one that said "BORN TO BE FLY." If that's not a song or something that's a great shirt. A wedding party came through, the groom in all white with a tuxedo and cane and long straight hair like DJ Quik. I don't think they knew it would be this crowded, though. The poor bride looked miserable.
On this night there wasn't as much live music as the night before in Nashville, but I could hear bands playing covers of "Purple Rain" and Pharrell's "Happy" and I can't remember what else. Jerry Lee Lewis' Cafe & Honky Tonk had a karaoke night going that I watched through the window. A heavily sideburned host was doing interminably long skits in between which made me wonder if they actually didn't have alot of people signed up to sing. I considered trying out one of my powerful numbers, but didn't have the balls.
A friendly homeless guy on the sidewalk struck up a conversation with me. He said it wasn't normally this crowded, it must've been the holiday. Didn't seem like Mother's Day partying to me though.
Before leaving town I had an afternoon for Memphis in the daylight. So what do you do when you're a tourist in Memphis, you don't have enough time to see everything, and you're interested in it all but most moved by the black music? I'm sorry guys, I still went to Graceland. We even got advice from a friendly local named Sweet Potata who worked at a diner on Beale Street. When I said we were tourists he said "No, you're visitors." Told us where to eat and an amazing band to see, seemed surprised when he asked if we knew the movie HUSTLE AND FLOW and we said "Of course." He gave great suggestions that we wasted, because we were drawn in by the power of the tourist shit.
Sun Studios would be cool, but as a friend warned me, "It's just one room," so it was #3 on my list. That left me torn between the Stax Museum and Graceland. The Stax recording studio was built inside a former movie theater, one reason for their distinct sound. After they went out of business it fell into disrepair, as seen in MYSTERY TRAIN. Later on the church that owned it had it torn down.
Then after it was too late somebody was like "What the fuck you guys? That was Stax!" so they rebuilt it as a museum.
Honestly, the music of Stax Records is more meaningful to me than Elvis. Isaac Hayes, Booker T. and the MGs, the Staples Singers, the Bar-Kays, Otis Redding, WATTSTAX. But on the other hand, you got a guy that wore crazy jumpsuits and did karate and had a jungle themed room that he recorded in. I had to choose Graceland. Maybe I'm more white than I thought. I loved that shit!
It's kind of an ordeal getting in there. Tickets are expensive, and you wait in a huge line where they take your photo and eventually put you on a bus that just goes across the street, through the iconic gates and up the driveway. You have a listening device with numbered recordings and as you go through you're supposed to listen to the narration about the different rooms and things you're looking at. You're not allowed to go up the stairs into the living quarters, but you get to see the kitchen (with microwave), the rec room (multiple TVs showing DR. STRANGELOVE), his dad's office (with handwritten anti-loafing sign). You walk around the property and marvel at the fact that a 27 year old owned all this shit. Then there's an added building with displays of gold records, movie posters, costumes and shit like that.
One complaint: no mention at all of TCB karate.
There was some momentary fear of the unknown when I noticed that alot of people were pronouncing it kind of like "Gracelunde" or something, not with the "land" rhyming with "hand" as I had known it my entire life. But there was a recording of Lisa Marie and she said it my way so everything's cool, you guys. Status quo restored.
There's alot of great '70s rich weirdo decor in the place, but my favorite is the Jungle Room: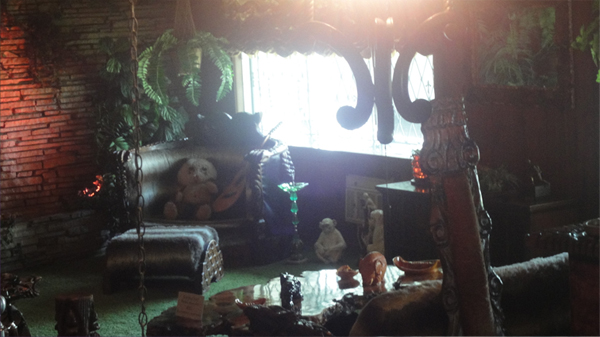 Not only is this an awesome room, but it's where he recorded alot of his last two studio albums, From Elvis Presley Boulevard, Memphis Tennessee and Moody Blue. I might be wrong but I think that inspired the great scene in John Carpenter's ELVIS movie where he records "Suspicious Mind" at home. In reality that was recorded years earlier in a studio.
I was kind of into these wallets in a display of Elvis memorabilia. Also look at the anime Elvis on the right. Adorable.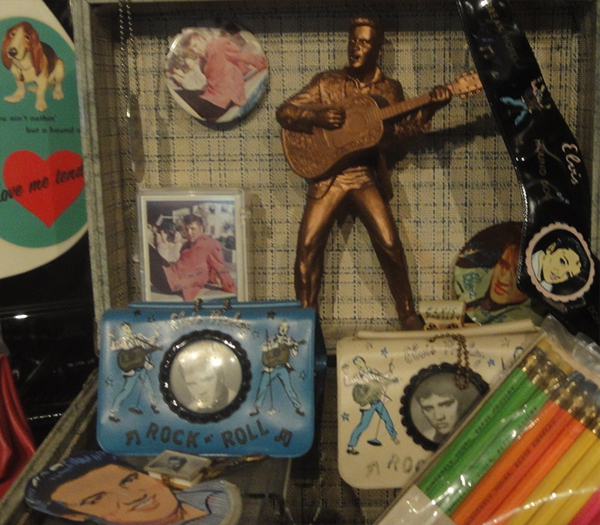 I don't know, do you guys think I could pull off this tiger thing? Probly not. I think Elvis kinda owns that look. If not, though, I'd be all over it.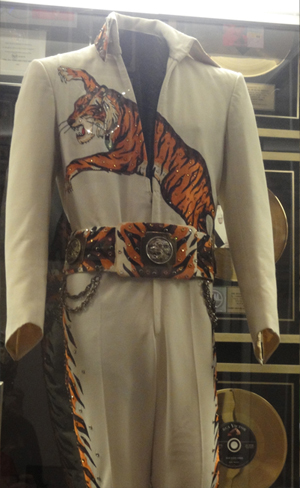 Note the chains hanging on the hips. Proto-wallet-chains.
Here's a better look at the belt. That thing is huge, almost like a wrestling belt. Maybe I could just do the buckle?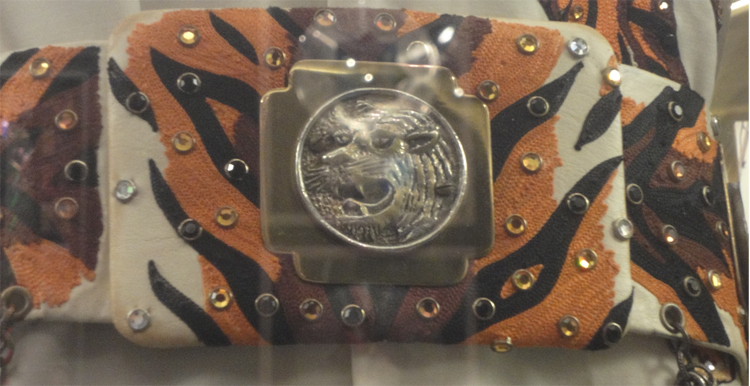 I also liked this Aztec Sun God one.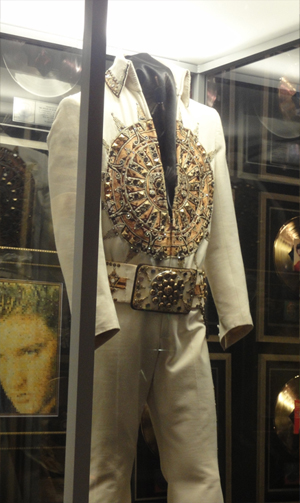 And check out the owl belt. Reminded me of that guy in WATCHMEN.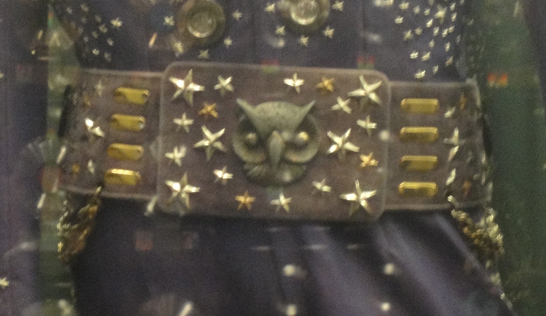 I didn't get a picture of it, but one of the displays had fashion design sketches and paintings of iconic Elvis outfits. You don't think about that. Some designer had to think up that look and come up with an artist's rendition of what it would look like. "What do you think of this, Mr. Presley? This part is rhinestones."
I honestly didn't know the tour was gonna end in the family cemetery. You come out and it's quiet and serene and there's this huge statue of Jesus in front of a cross surrounded by angels, and then around the corner there's a fountain and the graves of Elvis and his parents. It just felt weird. Everyone was quiet and respectful, but we still have these audio devices around our necks. I'm glad there wasn't a recording you were supposed to listen at this part, but it was still weird.
What I'm getting at is that I was impressed that the TCB lightning bolt was on his grave, and I instinctively took a picture of it, and then I felt like a fucking asshole. Sorry Elvis. That was tacky.
At Graceland you don't exit through the gift shop. You get dropped off at a whole shopping center of gift shops with different themes. Kind of inconvenient, really. You go through a bunch of them and you buy a shot glass and then you go into another one and realize you made the wrong choice. What the fuck is this. Elvis would never have stood for this.
Anyway, I dug this sign for the one that specialized in King of Rock 'n Roll themed home furnishings.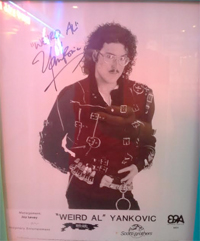 On a side note, it's weird what little things remind you you're in a different part of the country. I stopped at an unconvincingly '50s themed fast food place in the Graceland complex. It was decorated with autographed photos of people who had visited Graceland including Beauty and the Beast era Ron Perlman. When I ordered a Dr. Pepper I was surprised to get it in a large styrofoam cup. I can't even remember when that shit got banned in Seattle. We still had it for food containers until a few years ago, but cups were gone so long ago in my mind I only associate them with drinking coffee while camping in the '80s.
Dollywood was big on recycling containers, but they weren't easy to find in other parts of Tennessee I visited, and from what I heard not all the homes have it as part of their garbage service. It's just something we've been doing for so many year son the West Coast that you forget there are places that don't do it. Trust me guys, it is easy, and everybody benefits. Some day I hope you get to know what it feels like to have a plastic bottle and only being able find a regular garbage can and feel guilty about putting it in there. Politicians who are reading this, you need to get that shit done. It is 2014 in my opinion.
There was a film crew doing something at Graceland when I was there, but not surprisingly they didn't let Jarmusch film there (if he even tried). So they talk about taking the tour the whole time but you never actually see them there. I think a little bit was shot on Beale Street, but mostly they filmed in run-down areas in other parts of town. When I watched the movie after getting home one place I recognized was the airport that the woman gets stranded at. I got stuck there for several hours in a weird pile-up of cancelled flights with very few employees to rebook or explain what was going on. I was seriously afraid someone was gonna start fighting the airline employees, I was trying to calm people down. Good times.
The other place was a little park with a statue of Elvis where Jun and Mitsuko sit and smoke. Like Johnny in the movie I felt a little weird seeing a shrine to The King in not only the black neighborhood, but the historic hotbed of black music. But you know what, there's a bigger park not far away with a statue of Rufus Thomas, and B.B. King has his own restaurant, which seems more popular than Jerry Lee Lewis's across the street.
I like all of 'em. And next time I'll check out the Stax Museum.
This entry was posted on Monday, October 6th, 2014 at 11:30 am and is filed under
Comedy/Laffs
,
Reviews
. You can follow any responses to this entry through the
RSS 2.0
feed. You can skip to the end and leave a response. Pinging is currently not allowed.