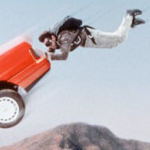 TERMINAL VELOCITY is a pretty funny action mystery full of smartass dialogue and clever action gimmicks. I think it's an attempt to make up a pulp adventurer type character without the usual treasure hunting or old timey setting. But with the brown leather jacket, the slick hair and the bi-plane.
Charlie Sheen plays Ditch Brody, the womanizing wildman shit-stirrer of the Arizona parachutist community. He's locally notorious for a string of outrageous skydiving mishaps (or skyhaps), most recently parachuting into a young girl's birthday party wearing the fake muscles and ass from his standard (probly disappointing) bachelorette party routine. Then one day a beautiful woman (Nastassja Kinski) comes in wanting a lesson from him. She acts like a giggly first-timer but is clearly up to something. He's too horny to pick up on it, and even touches her ass on the way into the plane. Not professional.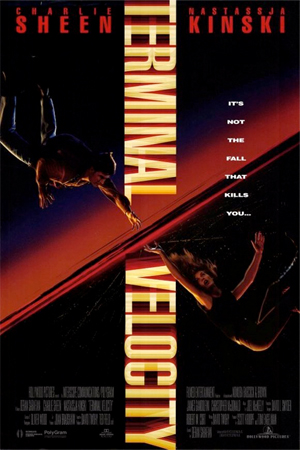 Well, the jump doesn't go as expected, and all the sudden Ditch is mixed up in some intrigue involving an accidental death investigation, some thugs who murdered the woman's roommate, a mysterious jet, the KGB, and who knows what else. Another bad day at work.
It's a pretty good version of this type of adventure-romance where they kinda bicker and don't trust each other but eventually learn more about each other and the situation and prove themselves to each other through heroic, character-revealing choices and actions. The woman is generally way ahead and willing to use Ditch's stupidity against him, not always being honest with him even pretty late in the movie, and he rages about it in a funny way. So it doesn't have that outmoded damsel in distress type of story.
Also, once she's revealed to be more than who she said she was she's able to slap him on the ass as payback for earlier. I like how it leaves his casual sexism hanging long enough that it seems like you're supposed to be okay with it.
This is about as good of a use as there is for the Charlie Sheen persona. He's an arrogant asshole, not nearly as cool as he thinks he is, and constantly being shown up, but there's something kinda likable about his delusional insistence on his own greatness.
Melvin Van Peebles is in the movie as a wise pilot named "Noble," but he's not in it that much. Since it was the '90s there's a guy (comedian Suli McCullough) who obsessively videotapes everything (his job is to record jumps for paying clients) and I mention him because his name is Robocam. I only noticed this on IMDb, but there's a helicopter newscaster played by Lori Lynn Dickerson, whose only major acting job was as the love interest in BLOODSPORT 2.
I kinda like the bad guys. Christopher McDonald (BREAKIN') with bleach blond hair and looking bulky under a baggy leather jacket is one of the two lead thugs who break into the apartment and dunk her roommates head in an aquarium. After the murder they're in their car about to pull out and he turns to the other guy and says, "You were good up there." It's dumb little moments like this that endeared the movie to me.
Another one is when the deputy D.A. (SPOILER – played by the late James Gandolfini, that's a spoiler because obviously he's actually the bad guy) is waiting with Ditch for an important rendezvous and he nervously offers him a Certs. I don't know why that's funny, if it was gum or a generic mint it would be nothing, but the fact that he specified Certs made me laugh.
The stunt coordinator is Buddy Joe Hooker, and of course you get to enjoy lots of real parachute and plane type stunts. The most elaborate one involves flying a plane upside down and walking across the wing.
It's funny, people used to make fun of obvious switches to stuntmen, but these days it's more like a badge of honor. Hey, somebody really did this part. Admittedly though some of the cooler action stuff in this is the obviously fake stuff, like when he drives a car out of a plane (long story), then has to fight off McDonald and open the trunk in mid-air. There's a nice amount of action fake outs – oh good, their chutes did open. Oh no, they're headed right for that explosion. Oh good, they steered clear. Oh no, they steered off a cliff and the chute is burned by the explosion. Oh good, they have another chute. Oh no, they're headed for a bunch of windmills…
I credit that roller coaster sense of fun to writer David Twohy, creator of Riddick. In a way maybe it's a precursor to the fun twistiness of A PERFECT GETAWAY. Maybe one of these days I'm gonna have to watch all the Twohy movies I haven't seen. Did you know he wrote WARLOCK and CRITTERS 2?
The director though is Deran Sarafian, son of recently deceased Richard Sarafian (VANISHING POINT) and director of DEATH WARRANT. After this he became a prolific TV director starting with Buffy the Vampire Slayer and continuing as recently as Hell on Wheels. He was also an actor in the Charles Bronson movie 10 TO MIDNIGHT and in ZOMBI 3.
One funny part that doesn't deliver 100% is the backstory that Ditch was a gymnast that was gonna be in the Olympics the year the Americans boycotted. It's worth it for the jokes about Ditch's quest for Russian gold, but would it have killed them to have him do a handspring or something? We've already established that we're okay with stunt doubles. Come on, you got gymnastics in the arsenal. Bust 'em out.
I guess this got terrible reviews and was considered a flop, but it seems hard to hate to me. It has a distinctive tone and sense of fun. It has that warm feeling of an underappreciated '90s also-ran. Here's an idea of the times we were living in: it debuted at #2 at the box office behind TIMECOP. Other actiony movies still playing in theaters at that time were less b-movieish though: CLEAR AND PRESENT DANGER, TRUE LIES, THE NEXT KARATE KID and SPEED.