JOHN CARTER is your typical Civil-War-veteran-transported-via-magic-cave-to-Mars-to-fall-in-love-with-a-princess-and-fight-a-war tale. I mean, how many movies can we have on this topic?
Oh wait, I was thinking of can-you-fuck-your-friend-all-the-time-and-not-fall-in-love romantic comedies. That's the more common one. The civil war veteran on Mars deal is not that big of a genre this year, and this new (partly) live action take from Disney might be the last one. It's not shaping up to be the smash hit required to make back its big budget, and the box office trainspotters are already giggling and high-fiving each other as they dig it a shallow grave in an unused lot behind Space Mountain. That's too bad, 'cause it's a hell of alot of fun.

Taylor Kitsch (the magic playing cards guy from WOLVERINE) plays the titular cavalryman, a character created by Edgar Rice "I also created Tarzan by the way" Burroughs. John Carter was a Confederate soldier, which I always think is a weird literary convention. This guy fought to defend slavery! Can German writers get away with ex-Nazi heroes? I doubt it. (And isn't it weird that this is not the first Confederate-veteran-turned-pulp-hero-adaptation-directed-in-live-action-by-guy-who-only-did-computer-animation-before of recent years? The first one was JONAH HEX.)
But I think John Carter learned his lesson. He refuses to fight now, and tries to stop a confrontation between Union soldiers and Apaches before he accidentally gets warped to Mars and gets mixed up in Martian conflicts.
Actually, not to be too politically correct, but calling them "Martians" is like calling Apaches "Indians." They don't call it Mars, they call it Barsoom. I feel we should respect that.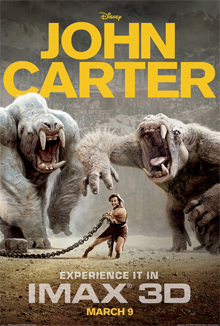 On Barsoom John Carter learns that the gravity allows him to jump really high, and he's taken as a pet by Tars Tarkas (Willem Dafoe, TO LIVE AND DIE IN L.A.), a 9-foot tall, 4-armed, green-skinned warrior amused by the human's jumping. John Carter's like the Barsoom equivalent of a water-skiing squirrel or that dog whose barks sound like "I love you." Tars and his boys are on a trek to get the freshly hatched baby Tharks from the egg chamber out in the desert. They bring them back and everybody fights over them. The ones that weren't hatched they shot so they wouldn't get eaten by space apes. These are cartoon characters, they look more like Jar Jars than Avatars, but the matter-of-fact depiction of their brutal life cycle makes them immediately credible.
Despite his pro-slavery past, John Carter seems to be pretty racially tolerant. In fact he seems to be more down with the freaky Tharks than the more human looking Martians whose war he gets mixed up in when he sees a lady named Deja Thoris (Lynn Collins) falling out of a spaceship and decides to catch her.
At first John and Deja don't get along real good. You know how it is – men are from Barsoom, women are from Amtor. But later there is love and a formal dress that I, as a man, enjoyed the design of. Deja is a great warrior and groundbreaking scientist and Collins has a formidable presence so it seems very natural for her, not like a pretty girl playing dressup like they sometimes do in these types of movies.
Ever since I finally watched the first season of Rome I've noticed that Cieran Hinds, who played Caesar in that, is in pretty much every movie from MUNICH to the last Todd Solondz movie to GHOST RIDER 2. In this one it's great because not only is Deja's dad, the ruler of her people, played by Caesar, but his right hand man is Marc Antony (James Purefoy). There's some intrigue between those guys, a tattooed guy (Dominic West, cable television, PUNISHER WAR ZONE) who's gonna force Deja to be his bride, and a mysterious bald shapeshifter guy (Mark Strong, also in everything) who was there in the cave when John Carter got zapped here.
Those humanoids are the least interesting part of the movie. I guess you could compare them to the political machinations that people say are so boring in the STAR WARS prequels, but their jibber jabber doesn't take up as much screen time. I know it's forbidden in most cultures to say that there's anything good about the STAR WARS prequels, but in my opinion JOHN CARTER has alot of the feel of what's good about those without the parts people hate. For example there is the CGI warrior aliens, but no "funny" one. There is romance, but no corny dialogue. There's an arena battle inspired by the same things that inspired the arena battle in STAR WARS 2, but the monsters are not as cartoony.
Some people have claimed Kitsch is wooden, but I'm sure they'd all agree he's natural compared to the two Anakins. I don't think Kitsch 100% pulls off the smartass young Kurt Russell type of feel he's going for, but he's likable, and by the end I cared about his relationships with the Tharks and the princess and what not. I laughed when Tars was buddy-buddy enough with him to whap him on the back of the head when he fucked up, and to give him an earthling salute when he succeeded. I was proud of the respect he gained from the Barsoomians – in fact, becoming the first American-Barsoomian to hold office. And by the way, you don't see no Barsoomians asking to see his birth certificate. They don't give a shit. He (SPOILER) chopped off that one guy's head. Earned it fair and square.
non-sequitur side notes:
1. I wonder if it would work to re-score this with the rock 'n roll from GHOSTS OF MARS?
2. I kinda wish JOHN CARTER was in theaters at the same time as J. EDGAR and some goofball got confused and went to the wrong one.
The director is Andrew Stanton, live action rookie but director of FINDING NEMO and WALL-E. It would be a shame if he stopped doing cartoons, but his skills seem to translate pretty naturally. The animated characters have alot of personality and don't seem like special effects. The standout is John's "nice monster dog" Woola, a big ugly thing that becomes adorable because of his dog-like panting and loyalty. If Disney are sad that the movie isn't making a billion dollars I wonder why they haven't thought of putting that thing in the ads? I'm pretty sure everybody will love him.
There's alot of humor in the movie that comes from the storytelling, like a series of jumpcuts between different escape attempts, or a montage of Carter trying to learn how to walk properly on Barsoom. That one reminded me of the montage of Wall-E working in the trash and playing with different objects he finds.
Unlike "live action" movies like AVATAR that take place largely in digital environments, Stanton chose to film most of this on real locations out where you shoot westerns and shit, so it has a sunny, dusty look. Well, at least I think it's real locations. I guess I'm not sure how they did all the scenes that are like a caravan riding camels through the desert except they're big six-legged alien rhino things. (Maybe they had camels wearing those ping pong ball suits.)
At this time I would like to note that I liked SPOILER the part where John Carter cut his way through a giant ape, even though I had seen the exact same technique used on a giant scorpion earlier in the day when I watched the remake of CLASH OF THE TITANS and even though when I saw that I thought it was like a part in BEOWULF. I guess I just always approve of a dude climbing out of a wound on a giant beast, covered in its innards.
I like this movie because it's a shamelessly old fashioned adventure. I like the world it takes place in and the way its ways are revealed to us (especially all the stuff with the Tharks). Sure, it uses all kinds of tropes that have since been used in many other movies, but they're all good tropes, and done well, and with other context to give them a little different personality. I like that it has the balls to say it takes place on Mars even though in my opinion there have been some changes in scientific consensus about what Mars is like since the books were written. I bet if they made it take place in the modern day with an Afghanistan veteran and a bunch of modern jokes and references (or worse, a humorless, "gritty" tone) and in another galaxy instead of on Mars it would've made alot more money and been alot worse. And it would get a part 2 but suddenly The Rock would be in the lead.
Working on this review I kept coming across articles about "why did JOHN CARTER flop?" All this talk about people didn't know who this "John Carter" in the title referred to, they didn't know what the book was it was based on. Well, I'm guessing that John Carter is the fucking guy who the movie is about. Admittedly I am kind of a movie buff so I'm good at figuring stuff like that out, that if the title of the movie is a guy's name then it's probly the name of a guy that's in the movie. As for if you didn't know it was based on a book — well, I figure that's okay, because you didn't have to know that it was based on a book that you didn't know it was based on, you would just know it was a movie. And if it is important for you to know that John Carter is the guy's name and that it's based on a book then what you could do is either a) see one of the ads on TV or b) happen to read one sentence in any magazine, newspaper or internet article about the movie.
I'm not saying there's anything wrong with not knowing what the movie is or not being interested. I'm just creeped out by the way these articles depict most of the world as people who get scared and confused by things they don't understand but also refuse to take five seconds to find out the basic information that would solve that problem.
The live action part of Disney seems to be making a genuine effort to get back to their old tradition, but they lose a bunch of money every time one of 'em doesn't star Johnny Depp. They're making commercial movies but not sure bets, they're "properties" and "franchises" but they're old fashioned ones that they think would be fun to revive instead of familiar ones they know they can shove up your kid's ass and make a bunch of dolls and pajamas bleed out his nose. As ridiculous as TRON LEGACY is I think it was a uniquely Disney type of entertainment unlike what the other studios are doing. And I wish they would try to do more in this vein. But it looks like the public has spoken and Disney'll have to go back to doing WILD HOGS 2.
But that's okay. JOHN CARTER is no WALL-E. Maybe Stanton wasn't meant for live action. I just hope all the business page bullshit doesn't scare away the people who would like the movie. I suspect in the long run it will be pretty well remembered.
And if they want to do a part 2 on the cheap I recommend taking a look at a little movie called BEASTMASTER 2: THROUGH THE PORTAL OF TIME. You just gotta strand John Carter in modern day Los Angeles, keep all the Martian architecture and spacecrafts out of the budget. You could even have Willem Dafoe wear green makeup and puppet arms if you need to. If a Pixar director isn't available I'm sure they could get some dude who did, like, OPEN SEASON 2 or one of the SHREKs.
* * *
dimensionality note: social circumstances led me to see this in the fake 3D version. The 3D had more depth and less problems than other post-conversions I've seen, and was more noticeable than in the Pixar movies (which tend to look cool at first and then I forget they're even in 3D).But it's definitely not as good as actual 3D and it had kind of a foggy look to it, at least in the theater where I saw it. I would recommend regular-D.