David 8's basketball practice in PROMETHEUS got me thinking about Ripley 8's b-ball skills in ALIEN RESURRECTION, so much so that I decided to make it the topic of my Badass Cinema 101 column for CLiNT Magazine. Ask for it by name at your favorite newsstand or magazinier.
Well, I had to re-watch the basketball scene for research, but I decided instead of just watching the scene I wanted to sit and watch the whole movie again. I've always liked this one and thought it got a bad rap. It lacks the seriousness and groundbreakingness of ALIEN and ALIENS, but in its own way it's a highly entertaining sci-fi popcorn movie with great characters, great set-pieces, original ideas, cool monsters and lots of weird shit that only this particular director would've done. That last one I'm afraid is probly one of the reasons it's so hated. Alot of people don't like seeing things they didn't already plan to see.

I always liked that each of the non-Predator ALIEN series were done by a different visionary director who put their own spin on it. David Fincher unfortunately was not happy with his experience, but obviously we can see in retrospect that he was a worthy director, not just somebody that was hot at the time. This is the one by Frenchman Jean-Pierre Jeunet, who had done DELICATESSEN and CITY OF LOST CHILDREN and would later do AMELIE. For better or worse he's the one that went furthest away from Ridley Scott's filmatistic style.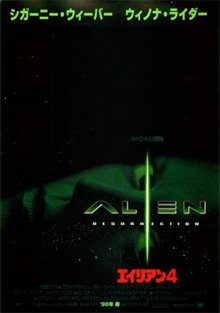 Yeah, it's a Hollywood sequel, yeah it's made in English which the director barely spoke at the time, but Jeunet still ended up all over the thing: in the bubbling, oozing, morphing pile of gelatinous clone parts of the opening credits. In the subtle age-progression from young Ripley clone to current model. In the light-beams-reflected-on-worn-metal-in-darkness cinematography of Dharius Khondji. In the casting of Ron Perlman and Dominique Pinon in major roles. In the hyperactive camera spins and zooms and especially the one that goes into the guy's mouth and down his throat to the screaming baby Alien inside him.
And then there's the Joss Whedon factor. The cult TV hero turned director of highest grossing non-James Cameron movie of all time – at the time just known as a script doctor on SPEED – was the sole writer. In retrospect it's clearly his work, but he disowns it. In an interview with something called bullz-eye.com  he explained:
"Uh…you know, it wasn't a question of doing everything differently, although they changed the ending, it was mostly a matter of doing everything wrong. They said the lines…mostly…but they said them all wrong. And they cast it wrong. And they designed it wrong. And they scored it wrong. They did everything wrong that they could possibly do. There's actually a fascinating lesson in filmmaking, because everything that they did reflects back to the script or looks like something from the script, and people assume that, if I hated it, then they'd changed the script…but it wasn't so much that they'd changed the script; it's that they just executed it in such a ghastly fashion as to render it almost unwatchable. (Pauses) Good times. (Pauses again) Well, I really must go…"
Obviously it's his right not to like what they did with his script, but I feel like if the movie had been popular he would've been okay with it just like Walter Hill, David Giler and Dan O'Bannon were. You don't see those guys being babies about the director having a different vision for their script STAR BEAST.
I like alot of Whedon's stuff and I'm sure there were things he intended that he could've made work differently. But what's wrong with the design? What's wrong with the score? And the cast is impeccable from top to bottom. Perlman especially excels at delivering Whedony shit like a guy that doesn't think he's saying Whedony shit. You're telling me you had somebody better than Ron Perlman in your head? to quote Kool Keith:
In fact, if there's an obvious biggest weakness to the movie, it's the sometimes inappropriate jokey dialogue that Whedon couldn't resist. All allegations about delivery aside, I don't really think these characters hundreds of years in the future should be making references to Ironside. Even in 2012 you say that I don't think many people under 35 or 40 would know what it was. And what's this "She's a toaster oven"? They get their booze from a laser shooting a cube but they know what toaster ovens are?
Worse than that, you got Ripley saying sarcastic shit like "Was it everything you hoped for?" when people get attacked by Aliens. I know we had to move on from the Ripley who's always warning everybody how serious this is and nobody believes her, but does that mean we need glib smartass Ripley?
On the other hand I'm all for Perlman's "I am not the one with whom to fuck." And when Call drinks his moonshine and asks "Jesus Johner, what did you put in this shit? Battery acid?" and he says, "Only for color."
Yeah, maybe I take it back. Other than the unbelievable references I'm gonna go along with the dialogue. I like it. It's not like ALIEN, because this is not ALIEN. Much like this Ripley is the 8th clone of the Ripley who died in part 3, this is the umpteenth clone of ALIENS, and the DNA got mixed up a little. Ripley 8 has a little Alien in her DNA, she can feel it behind her eyes. Her baby Queen has a human womb in her, she can give birth to the angry, sad Newborn. This Jeunet movie has a Whedon script under its skin.  It wasn't meant to be, but it's (as sicko scientist Brad Dourif's head, seeming to float among slimy alien nest says) "a beautiful, beautiful butterfly."
The movie starts with Ripley, in voiceover, quoting the late Newt: "My mommy said there were no monsters, no real ones. But there are." This as surgeons carefully remove the Alien Queen fetus from Ripley's belly. The Queen is a monster, but so is Ripley, who has been grown from old blood samples and who we will later learn has a little bit of Alien in her. Also the surgeons are monsters, because it turns out they're not removing the Queen to save Ripley – they want the Queen for themselves, and only as an afterthought decide to leave "the host" alive afterwards.
Ripley's team this time is one o' them ragtag crews of pirates they got in space. They're from a small ship called The Betty, ancestors of the Serenity crew), and they're not exactly ethical. They land on this military vessel because they're selling a ship they salvaged with living people still on it. They don't realize the military scientists are gonna mate the people with facehuggers, but still. They must've known not to steal unconscious people and sell them to a lab. What did their mothers teach them about that?
The great gravel-voiced Michael Wincott (brother of Jeff) is the captain, Perlman is the resident asshole who enjoys throwing knives into the legs of wheelchair-bound Pinon, Gary Dourdan (later on CSI) is the stoic gunslinger Christie. Whedon famously wrote the character for Chow Yun Fat, which obviously would've been cool, but also would've been an obvious meta joke, the guy who's known for gunfight movies. Dourdan is perfect, and has one of my favorite moments in the movie. Forced to ditch the wheelchair and carry Pinon on his back, the little guy says "Like old times," and Christie says, "Yeah." Not pretending to be happy about it, but not complaining either. Just acknowledging yeah, we've been through this shit before, let's get through this.
I guess the controversial one would be Winona Ryder as Call, who (real old SPOILER) follows in the footsteps of Ash and Bishop as the robot character. I think she's great casting – this little elf-lookin girl who the crew thinks is in over her head "playing pirate," but actually can handle herself and knows way more about what's going on than everybody else. Also I like the reversal that the robot doesn't trust Ripley, instead of the other way around. "She's not even human!"
Another reason she works great is the scene where she sneaks into Ripley's cell, and Ripley manhandles her, somewhere between threatening her and molesting her. The obvious height difference is crucial, it makes Ripley seem so much more dangerous, and more like that tall alien from ALIEN.
(If I was Ryder and I thought Whedon was talking about me when he said "they cast it wrong" I'd ask him motherfucker, where would your career be if you didn't love how I talked in HEATHERS? Show some respect.)
There's some weird sexual shit. At one point Ripley drops into a big pile of unidentifiable Alien body parts. She nuzzles the Queen. I'm pretty sure she's getting it on with the Queen, although I'm not sure how that works. Later, when Call has one of those robot wounds with the milky white goo, Ripley fingers it. I like that stuff. That's one thing you don't get in CHRONICLES OF RIDDICK, a robot getting wound-banged.
But Jeunet is also good with the set-pieces. The stand-out is definitely the underwater scene, where the crew has to swim through a flooded kitchen. They get chased by aliens (some of them nabbed) and then find out that the place they were heading for is cocooned and surrounded by alien eggs ready to jizz facehuggers onto them. The aliens are well-executed CG, but the actors are really swimming through an underwater tank, and it's incredible. That the scene goes on for far longer than anybody could really hold their breath only makes it more intense.
Other great scenes and moments: Gun tears through dead Michael Wincott's chest to shoot alien, Ripley crawls out from beneath. The basketball scene. Ripley comes across a room full of the previous 7 failed clones. That one kinda gets to the heart of Whedon's cleverness. They wanted him to write a movie with Ripley, so he had to bring her back to life. How do you do that without cheapening this series in which everyone constantly faces death? You make the resurrection worse than the death. Before she was top-baller Ripley she was some fucked up do-over Ripleys. The one that was closest to human was found laying on a bed in agony, begging to be killed. She preferred being burnt alive by a blowtorch to living any longer. Yeah, this cloning thing is not always the best solution.
On my list of things I like in this movie I'm gonna have to include a controversial one: the Newborn. I know, nobody else likes the Newborn. But I like him. He's a huge fucked up Alien-human hybrid with the personality of a dumb baby. But he's also deadly, so much so that he slashes the Alien Queen to death right after birth. The opposite of an animal that eats its young. Then he decides that Ripley is his mommy. I'm not sure if she should trust him. But she does feel sorry for him.
This is the beauty of the ending, in my opinion. ALIENS was brilliant to multiply the Alien threat and turn it into an action movie, but after that and part 3 and this those shiny black things are not really the same anymore. Yeah, the underwater part was scary, but we've gotten used to these guys, they're not as exotic, and we've seen them blown away pretty easy with guns that are probly now considered primitive. Ripley has faced down the one Alien, she's faced down the Queen, she's been impregnated and killed herself – what does she do to top those things?
How 'bout instead of topping it we do it different. She kills the Alien like she did in the first one but this time you feel bad about it. It has human eyes and it looks sad and betrayed and it cries. Ripley feels bad about it too, 'cause she's it's mommy. But I think she made the right decision not trying to keep it. You know how Michael Jackson couldn't keep Bubbles after he got too strong and dangerous? Or that movie where Renee Russo tried to raise a gorilla like a human. It just doesn't work. And who knows what that thing will grow into? By definition a Newborn was just born.
But I sympathize with the poor fucker so I can't help but notice that Ripley comes up with the most painful way to kill it: have it sucked through a small hole about the size of a golf ball. Ouch!
I don't know, man. ALIEN and ALIENS are masterpieces. But the other two are fun. They're just different. Maybe give it another chance some time.
This entry was posted on Wednesday, August 1st, 2012 at 10:56 pm and is filed under
Reviews
,
Science Fiction and Space Shit
. You can follow any responses to this entry through the
RSS 2.0
feed. You can skip to the end and leave a response. Pinging is currently not allowed.