GREEN LANTERN stands out among comic book movies for its combination of crappiness and expensive-looking-ness. The details that flesh out the classical super hero arc are dumb and juvenile, and the effects often look ridiculous, but it never seems like it's due to a lack of resources. Just a lack of taste.
Very sophisticated, expensive animation of weird aliens who only ever stand on dark, rocky spacescapes. Motion capture used to create a corny green glow from the sinews of Ryan Reynolds's muscles. I guess it's hard to get around with this character, but some day filmatists gotta learn that green glowing energy is not really that cool looking. Call it the METEOR MAN rule.
Reynolds plays Hal Jordan, reckless hot shot test pilot who feels the need, the need for speed and has the habit, the habit of tardiness. In his introductory test drill he performs a daring trick that risks his life and the lives of people on the ground and destroys a multi-million dollar jet, but defeats supposedly unbeatable unmanned fighters. This scene demonstrates to us Hal's fearlessness, his cunning and skill, but since the demonstration is for potential buyers of the unmanned aircraft it also makes him look like a class-A moron and an egomaniacal jackass. Later I was not able to side with Hal when a bunch of dudes who got laid off because of the lost contract ambushed him outside of a bar.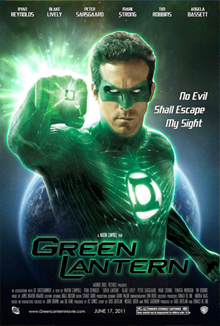 But meanwhile, space. There's this whole thing about the world of the Green Lantern Association of Space, a bunch of aliens with different animal parts (fish head, butterfly wings, squid body) who have magic rings that shoot green stuff after you charge them on a lantern. They are chosen for their lack of fear and are supposed to protect the universe from dangers such as, in the case of this movie, some kind of giant shit monster. One of the Green Lantern aliens crash lands on Earth where nobody notices it except Hal, because a magic green bubble carries him there. The alien gives Hal his ring, so he learns how to fly and give himself a green muscle suit and go to the rocky spacescape to attend large outdoor gatherings and be briefly trained by a pigman.
I watched the extended cut, which was probly a mistake. It's not too long, but I think the extended part was a childhood prologue that puts the entire story in a ridiculous context. Hal is 10 or something, he already wants to be a test pilot, is called "my future test pilot" by his future boss (Tim Robbins), is already in love with this girl Carol, already making a kid named Hector (who will grow up to be Peter Sarsgaard as an alien expert turned giant-brained supervillain) feel jealous.
I don't care if it comes straight from the comic book, you can't ask adults to accept these stories where everybody important in the world grew up together. How many of you knew the love of your life, your enemy, your boss or your place of employment as a little kid? Probly very few of you. It's like if Barack, Michelle and Mitt were all working out conflicts that began at Junior President Elementary School.
It doesn't bother me so much because it's so far-fetched and unrelatable, but because it's asking adults to believe in a world view that only makes sense to a little kid that doesn't know better. I didn't check the deleted scenes but I bet there's one where he makes a baby by giving a mommy a special hug.
This prologue also has Hal witnessing his test pilot father die in a fiery plane crash, even though it's shown again in flashback minutes later. It seems corny enough in the flashbacks, we don't need the full context of how much he wants to be like his dad and how telegraphed it is what's gonna happen.
I would argue that this is a much worse movie than THOR, but so much more ridiculous that it's probly more entertaining to some people. It similarly coasts on the charisma of its lead, though that's less novel here since Reynolds is familiar from sometimes better movies. On the occasions where he gets a funny line in ("You better watch your back, Hal." "That's impossible, Bob.") I assume he had to've ad-libbed it.
There's a scene where he has a talk with his young nephew, who idolizes him. As they're leaving the kid's bedroom Hal presses a button on a toy race track that shoots a car across the room. I thought it was an odd little touch, then later on when a helicopter is crashing he uses his magic powers to manifest a race track that brings the craft down safely. Apparently they felt it was important to establish that Hal knew about toy race tracks. That's the type of dedication they have to character.
But Hot Wheels can't solve this conflict. In the childhood prologue, when Hal first crushes Hector's balls by stealing Carol's attention, he obliviously asks if they're still going to trade Hot Wheels. But obviously trading Hot Wheels isn't enough to build a real friendship. The bitterness overpowers the Hot Wheels trading history. Of course Robbins makes matters worse by pointedly (and in both eras) praising Hal in front of Hector, saying that he prefers "doers" to "thinkers," and making fun of those weiners who read books and all that, like his son, fuck that guy. Hal politely acknowledges the importance of "thinkers" in creating airplanes for him to "do" shit with, but the movie around him strongly argues that heroes are irresponsible dudes who don't fear death, and that villains are eggheads who mutate into ugly monsters, talk like John Malkovich, and instead of getting the girl are deservingly turned into skeletons by space blobs. Spoiler.
Even in his magic ass-kicking our hero is shown to be lacking in imagination. He could use his ring to create any kind of shape, but he always uses it for swords and cars and stuff. His mentor made fun of him for it during training – "How human" – but he never improved. Because who cares. He's a doer.
Oh yeah, you gotta do each of these super characters separately first, you can't just introduce them all at once in an awesome JUSTICE LEAGUE movie by the director of fucking MAD MAX. Great idea, internet. You really nailed that one.
This entry was posted on Tuesday, April 17th, 2012 at 12:05 am and is filed under
Comic strips/Super heroes
,
Reviews
. You can follow any responses to this entry through the
RSS 2.0
feed. You can skip to the end and leave a response. Pinging is currently not allowed.