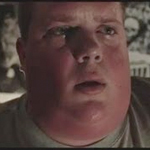 The only reason I heard of this indie teen movie is because it was filmed in Seattle. That's kind of novel to us because most Seattle-based movies are really filmed in Vancouver (BATTLE OF SEATTLE, HOLLOW MAN 2, TRUE JUSTICE) or even, in the case of CHRONICLE, Cape Town, South Africa. Kelsey Grammer wanted to film Frasier in Cape Town, but he moved it to protest the end of apartheid. That's a joke, Kelsey, I'm just busting your balls. Thanks for reading.
Anyway this is good for Seattle people to spot recognizable locations, and it's not supposed to be Everytown, USA like WORLD'S GREATEST DAD, so they mention or make visual reference to Seattle clubs (Neumo's, Comet Tavern) and institutions (Seahawks, Sounders, SIFF, Easy Street Records [R.I.P. Queen Anne location]). But the great thing is that it's also a real movie, a sweet underdog story with real emotion and surprising nuance. And it's directed by Matthew Lillard of SCREAM and SCOOBY-DOO fame. I'm impressed.

The titleogical fat kid is Troy (Jacob Wysocki), a big shy kid with low self esteem. He's a nerd but not in any exaggerated way. He just doesn't have alot of friends, is only really interested in online video games and porn, and is terrible at sports, which disappoints his ex-marine dad (Billy Campbell) and annoys his jock little brother (Dylan Arnold). And he has no mother – we find out later that she died, and obviously that's been hard on the family. So Troy decides to step in front of a Metro bus.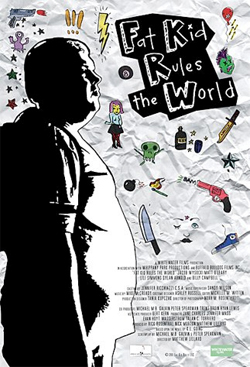 But here's the thing: a scummy junkie kid named Marcus (Matt O'Leary) pushes him out of the way, says he saved his life, tries to get money out of it. Later Troy runs into Marcus at school. Marcus has been expelled but is still popular there because of his punk band P.O.I. He attaches himself to Troy, starts using him for money and food, and decides that they're starting a band together and that Troy plays drums. Which, so far, has not ever been the case.
Marcus is an obnoxious character, a terrible friend, a human Beetlejuice. He wears ratty clothes, lies and uses people, steals pills and never stops moving except to nod off. He has kind of a Tyler Durden effect on people though. They love his band, and his pushing is good for Troy. He shows him the joy of punk rock, the thrill of innocent danger, the importance of trying things you're afraid of, how to meet girls. And luckily Troy is a good kid, grounded and smart enough to not like the drugs or the, uh, restroom prostituting that Marcus is involved in. And he tries to help him with that.
What I really dig is that the dad makes the movie. You can see how he could be the asshole who doesn't understand his son until a miraculous turnaround at the end, like the douchey principal in STEP UP 2 THE STREETS who's the villain and then turns nice after he sees them do a dance number in the rain. Instead he's a father who is strict but obviously cares about his sons and is always trying to do the best for them. He gets that he doesn't get Troy, and he tries to remedy that. He immediately spots everything that's wrong with Marcus but also notices the positive effect that having a friend has on Troy, so he lets Marcus insice. (In a great cinematic moment he tells him "You are unacceptably dirty" and makes him take a shower, gives him loaner clothes.)
When Troy tries to be in this punk band you know that dad is supposed to forbid him – instead he encourages him and won't let him quit when he wants to. As Marcus gets to be mroe of a problem he'll try to stop Troy from hanging out with him, but will also go out of his way to help Marcus straighten out. And this movie doesn't pretend like it's easy.
It's just such a good-hearted movie, and not just in the underdog triumph sense that the title implies. Although also that.
Campbell is my favorite in this but there are good performances all around. O'Leary seemed familiar, but I wasn't sure what I'd seen him in before. Turns out it was SPY KIDS 2, FRAILTY, BRICK, DEATH SENTENCE, LIVE FREE OR DIE HARD, SORORITY ROW and MOTHER'S DAY. I'll try to remember him when I see him in THE LONE RANGER. He's good. But even with him the whole movie could've gone disastrously wrong if they'd cast a bad or only-okay Fat Kid. Wysocki is great, just a nice but self-deprecating guy, funny in a low key way, emotionally repressed except for the occasional FIRST BLOOD style emotional explosion.
It's a small, simple movie that gets so many little things right that it takes you by surprise. Good job, Lillard.