The first After Dark Action Fest started Friday. Five action movies that I'm gonna have to qualify as pretty-much-DTV since they're only playing 10 cities for 1 week. Maybe if one of those cities was Seattle I would feel different. But they have the "same day video-on-demand" option, which I'd never done before, but I decided to do it. I demanded it. I oughta upgrade my cable, it probly looks better for most citizens of the 21st century, but for me it looked okay.
I already saw John Hyams' DRAGON EYES on account of the region 2 DVD release, so my next priority was EL GRINGO, the one starring Scott Adkins. Adkins plays a nameless American who wanders into the heroin-running desert town of El Fronteras, Mexico, a dangerous town he later describes as "an acquired taste." He shows up with nothing but a strong thirst and a pair of boots. Oh, and a bag with $2 million cash in it, I suppose that's worth noting.
It starts with a bang, which in this case means a conversation with a guy he has locked in the trunk of his car, followed by a non-metaphorical bang when he blows up the car. That's a great classical lead-up to the title, but would it have killed you to put in a "SCOTT ADKINS IS," After Dark? Why does nobody ever get an "is" credit anymore? In fact he doesn't even get his name on the opening. Not cool. I'm against it.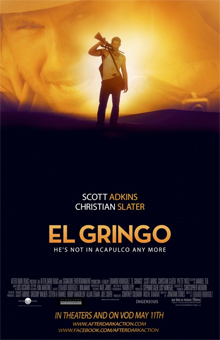 Like Adkins' best character Boyka, El Gringo is an anti-hero. He commits murder in the opening scene and is kind of a cocky asshole. Also he calls women "honey" (as in "you're holding the knife wrong, honey.") In my opinion Adkins radiates nice guy, so this isn't as natural a fit on him as it is for Kurt Russell or somebody, at least not without doing his Russian accent. But he pulls it off.
Director Eduardo Rodriguez seems to be riffing on Robert Rodriguez (no relation)'s riffs on spaghetti westerns. Predictably the music is a mediocre combination of fake-Morricone and rock, but most of the other elements work better. Lots of extreme camera angles (gimmicky POVs, hero shots) keep it visually interesting. A little cartoonish, but in a good way. There's one unique bit of filmatistic language: every time a character realizes they're about to die their face turns black and white. A couple times this also happens to inanimate objects, and the logic is sound. You'd have to see it, I guess.
El Gringo (also referred to as "perro" and "The Man," which I believe is English for El Gringo) is having the shittiest day of his life. Some NO COUNTRY FOR OLD MEN type shit just went down (revealed later in a couple flashbacks), he's having a hell of a time finding a drink of water (first due to bad luck, then straight up cruelty by Mexican bartenders), some girl keeps trying to steal his bag without even knowing what's in it, and the lady at the bus station claims there's no bus coming until maybe tomorrow. And things are gonna keep getting worse. Part of what makes the whitey relatable is his exasperated reactions to all this. Rodriguez is nice enough to give him a beat to say "Aw, shit" or shake his head in disgust to what's happening.
There are a couple different running gags, but my favorite one involves his rapport with the dog that he rescues from being abused by some dudes at a shack out in the desert. The dog loyally follows him and every time some shit goes down he gives it a disappointed look for not helping out. After one particularly embarrassing ambush he yells at the dog, "Get your head in the game!"
There's a pretty good love interest (Yvette Yates), a bartender with some serious va-va-voom, of which the camera takes note. (I think the camera is a boob-man.) I like that she's so unimpressed by him at first that she makes him pay $500 cash for a shot glass of water, and even then makes a long drawn out show of pouring it a few drops at a time. She let's him sleep in her attic (and more), but she's not a pushover.
Yates is pretty good – she doesn't seem like an off-brand Salma Hayek, even though she does sexy bullet removal surgery like Hayek did in DESPERADO.
The other major female character is Flaca (Sofia Sisniega), the girl that keeps trying to steal his bag. She has almost a Wile E. Coyote quality to her. She doesn't know what she's getting herself into, and I kind of rooted for her because I knew she could never pull it off. She chose the wrong gringo.
Trivia: Sisniega is also in GET THE GRINGO, the other action movie with "GRINGO" in the title that came out on VOD the same day that my friend thought I was talking about when I said I was gonna watch this. (It's on Direct TV or something that I don't get, so I'll have to wait.)
And there's the gang leader with the Day of the Dead skeleton makeup. Don't worry, it's better than it sounds. He's pretty interesting because he at times is willing to let the gringo go. He's not as single-minded as you'd expect from a guy with guns and face paint.
One thing most of the After Dark Action movies seem to have in common is putting a marquee name in a supporting role and then maybe playing them up too much in the promotion. But hopefully people won't be disappointed that Christian Slater's character doesn't get a huge amount of screen time. I think he's pretty good in it though, pretty funny. He's the only character that makes fun of the guy's skeleton makeup.
This is a solid and enjoyable Adkins vehicle that I would recommend to anybody who enjoys a good Adkins or Van Damme type of picture. But the public has a right to know that it's more of a showcase of him as a leading man than as a martial artist. Of course he fights, but it's more about running around getting in gun fights than his usual acrobatic kicks. Don't worry though, there's a pretty good amount of action with some good moves (my favorite: he uses a guy as a human shield, then shoots through him, then kicks him in the back pushing him into some other people) and some explosions. I like explosions. Also, I could be wrong, but I swear it's all analog blood. Lots of size-XL blood packs. Did you know they still make those? Somebody should get the word out.
The movie's biggest weakness is that it fails to learn the lessons of a previous era of DTV action. Not enough to ruin it for me, but this does have the annoying stylistic lack of discipline that came about when people first started editing digitally and were excited to find out what all the buttons did. I guess maybe they were nostalgic for the days when Avid farts were a bigger problem than shakycam. During a flashback shootout there's a sort of strobing style of editing that at first seems like a reflection of the machine guns being used in the scene. But it keeps coming back in other flashbacks. It never reaches KILL SWITCH levels of shitting-the-bed, but there's at least one scene where I wondered if they were trying to annoy me into turning it off and ordering STASH HOUSE instead.
The one big flying kick that Adkins does has a strobe edit on it, so you don't get to see it that well. Despite this, the action is all clearer than the modern standard. At least the cameras are aiming at stuff.
Did anybody watch any of the other After Dark Action titles, and if so, do they all have the stupid freeze-frames-with-character-names cliche? I'm wondering if one of the producers demands it. What is the thought process, anyway? You know, I don't like in this scene how the character walks in, and you have to be introduced to them and find out who they are through context. What I'd like to do is, I'd like to freeze frame it and write their name on the screen. Wouldn't that be amazing?
Wait, no, this is kind of boring, why don't we trace over the frame in Photoshop, so it looks more like a comic book? You know, like one of those comic books that's traced over in Photoshop. I love it!
You know what, this looks terrible, why don't we put a layer of texture over it, like an old wanted poster or something? That's probly what we need.

Hmmm, still bad, kind of seems like we shouldn't have done this, but we've put alot of work into it, so I'm keeping it. You know what? Sounds effects. Like a WHOOOOSHHHH  combined with a SHOOONKK maybe? And guitars maybe?
I don't know. Just use it, I'm leaving. Do this with all the characters.

Another thing they always do now, including in DRAGON EYES: digitally washed out colors. In some scenes it kind of looks like a faded vacation photo from the '70s, that's kinda nice, but other times they just make it look colorless. At least they're trying to make it look sunny, so it's not the dreary bluish-but-almost-black-and-white of so many of the shot-in-Bulgaria DTVs. But still. Put some color in these movies sometimes, fellas. Red, blue, green, yellow. There's different ones, you're allowed to put them next to each other sometimes. Look it up.
Also, thumbs down to the local-news-quality Acapulco graphic that's supposed to be hilarious every time it shows up. It's like they felt bad about not using computers for the blood so they had to throw in some other needless shit to keep America working.
Yeah, I had those complaints, but I enjoyed the movie quite a bit. It's a solid B-level Scott Adkins that I think some people will find on cable and maybe he'll get to go farther than Gary Daniels or somebody. I say that with all due respect to Gary, but I haven't seen any movies by him I liked as much as the UNDISPUTEDs, so I got higher hopes for Adkins.
Notes:
1. IMDb was wrong about Michael Jai White and Matt Mullins being in the movie. That was apparently a misunderstanding about a photo of them on the set of that HEAVY METAL tv show
2. Speaking of heavy metal, the band "Manowar" does the theme song on the end credits, if that means anything to anybody
3. Isaac Florentine is credited as executive producer, which may or may not confirm the rumors that he rappelled in to help with some of the action scenes