God DAMN I'm excited for FAST FIVE. It's only April and that's my most anticipated movie of the summer by far. But I gotta wait a couple more days, so in honor of Dwayne "The Rock is a registered trademark of World Wrestling Entertainment Inc." Johnson's addition to the series I decided to finally catch up with his last movie, which I never saw because when I went to see it the showing that I chose turned out to be an "open captions" deal, and I decided to bail. (Ironically there's so much mumbling in the movie I had to turn the subtitles on a couple times anyway. But at least it was my choice. It's about freedom.)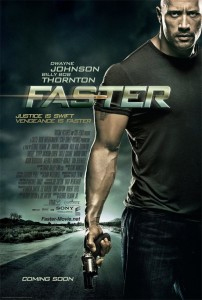 FASTER starts out with The Rock just itching for some revenge. It's the last day of a ten year bid for armed robbery and he's anxious to get started, pacing frantically in his cell. When they let him out he storms through the gate, takes a look at the desert, and just starts running. After an unspecified amount of travel he arrives at the badass Chevelle that has been prepared for him, stocked with a gun, ammo, leather jacket, hit list and driving instructions (the convenience of GoogleMaps is something that hasn't been properly addressed in a revenge movie before).
He doesn't take time to find a girl or eat a steak, he goes straight to some guy's office, storms past the receptionist, straight to his cubicle and shoots him in the forehead. Doesn't even slow down to say anything about "This is for betraying us after the robbery and killing my brother."
Directed by George Tillman, Jr. (NOTORIOUS [not the one by Hitchcock, the one by George Tillman Jr.]), the movie shows the obvious influence of POINT BLANK, THE GOOD THE BAD AND THE UGLY, and KILL BILL. But not in the sense of being a bunch of references (other than a Morricone ringtone). I like that it takes it all seriously, it's not a bunch of smart alecky shit.
The Rock's character is just called "DRIVER." We learn the backstory and some of his relationships as he goes on his killing spree and meets with people, but it's a pretty minimalistic character, low on words and quirks. The story alternates between him and two other lead characters: Billy Bob Thornton as "COP" and Oliver Jackson-Cohen as "KILLER."
It's also a very visual movie, especially in the way it establishes this Killer guy. The camera pans across his wall of photos as he does an impossibly difficult yoga workout (he later tells his girlfriend, the daughter from TAKEN, that he "beat yoga.") From the photos we learn that he was some kind of young investment hotshot, he climbs mountains, he was a kickboxer (sadly another unfulfilled promise of climactic martial arts duel – somebody's gotta teach some action movie manners to these modern filmatists).
Killer is like a less creepy Patrick Bateman. He lives in a mansion, drives a Ferrari, is impossibly toned, has a pretty girlfriend who spends her time lounging by their pool. And he's all the more hatable because he's not as evil or sadistic as you'd think. He's just an overachiever that likes a good challenge. And of course that's what he gets when somebody hires him to kill this Driver. It's gonna be difficult.
Cop is actually the most interesting character. He's introduced making a desperate drug buy in a restroom before we see his badge. I expected an over-the-top sleazy dirty cop villain. Obviously Billy Bob could go to town on a role like that. But after we see he's a junkie and a fuckup and hated by the other cops including chief-expositionist Carla Gugino (who can explain the plot to me any time, in my opinion) we see him in his fucked up home life. You know the drill: he's late picking up his son, his ex bitches at him, then while he's driving his son to the baseball game he's right in the middle of making some promise and gets a call about another shooting he has to investigate immediately…
…but he decides his son is more important, goes to the game and shows up at the crime scene two hours late! No shit! So after that, no matter what he did, I still kind of liked him. 'Cause he went to the baseball game.
That's the clever thing about the movie. It starts out with these exaggerated, larger than life archetype-type characters, but as it goes on we realize they aren't really good guys and bad guys. Actually they're all bad, but with a soft spot.
Driver is the most cartoonish. The Rock looks pumped-up to wrestler size again. Honestly I think his muscles are too big for this one. It's kind of hard to take him seriously, he's such a monster. I mean, what guy looks like that and then his specialty is driving? I got a hunch he would be better at other things. It's to the point where it could be a detriment 'cause he's gonna have a hard time fitting in the car. His arms are gonna bump against the inside of the door and mess up his steering.
And while I appreciate his fearlessness, killing in front of witnesses and staring straight into the security camera, I feel like there's gotta be some serious incompetence in the police force for him to be getting away with all this for so long. How the fuck are they not finding a giant muscleman who's making no effort to hide himself, who's wearing a sleeveless shirt to show his huge, distinctive tattoos, and is driving a badass early '70s Chevelle with a show-offy racing stripe? In my opinion this should be an easy suspect to locate.
In a flashback we learn that Driver wasn't always a killing machine, or even a getaway driver. His brother was the criminal, he only went on the job to help him out because his brother was in debt to some dangerous people. (And by the way, hat's off to this guy Matt Gerald for being able to play The Rock's big brother.) The flashback is a little goofy because Rock has to act scared to show his earlier innocence, but he looks like he could kill most of these guys just by banging their heads against his biceps. Also because in the post-robbery chase scene he's mostly driving in reverse. I didn't really understand why unless it was his audition for the FAST AND FURIOUS movie.
But there are lots of subtle things that make this movie better than I expected. Usually in a movie like this everybody would be hostile to him until he humiliated them. He'd have to show them who's boss. Think of the scene in PAYBACK where Porter's trying to get past security to talk to Stegman and this huge dude looks like he's gonna crush him, but then it cuts to the embarrassed thug walking into the other room with blood dripping down the side of his head. In FASTER he goes to a strip club to kill a guy, nobody knows he's trouble. The bouncers are nice to him, they joke around with him like he's their buddy.
Inside the club he ends up with a duel in the restroom, and his opponent tells Joe, the elderly bathroom attendant, to go outside and guard the door. And to not tell anybody what happened here. I love that type of shit.
It doesn't seem like any type of a Tarantino rip-off, but I bet it was KILL BILL that inspired some of this circle-of-vengeance-melodrama, like the one guy's son swearing revenge on Driver for getting revenge on his dad, and the multiple characters who seem to welcome their deaths as inevitable justice sort of like Budd did ("That woman deserves her revenge, and we deserve to die.") But I don't mind if that's where they got it from. It's good shit.
The one artistic choice that seems a little cheap to me is the Cop's slow-motion walk set to "Just Dropped In (To See What Condition My Condition Was In)" by Kenny Rogers and the First Edition. It's a great song but come on man, THE BIG LEBOWSKI owns that one. You can't use that anymore. Again, you gotta learn your manners.
I enjoyed this movie, and it's exciting to see The Rock in an R-rated action movie. But to be honest this is not the best role for him at this point, it seems more like an early-in-the-career character before he had proven himself as an actor. I mean he's pretty much playing a Terminator. When I first saw The Rock in THE RUNDOWN I thought holy shit, this guy is a cartoon superhuman but he's completely charming. This one just stays at cartoon superhuman, no charisma necessary. He can do that, but it's not what makes him a great action hero. It's missing one of his dimensions. There are any number of wrestlers that could've done this role pretty much the same.
Also, this is weird but it's not much of a driving movie. I'm not sure why it's called FASTER. He does drive from destination to destination, but most of the action is on foot, with guns and a little bit of the 52 style close-quarters combat.
Despite these misgivings I think FASTER is a solid modern action movie with an admirable balance of respecting-the-classics and putting-a-new-spin-on-it. Admittedly I had low expectations based on what people told me about it, but it was better than I expected.
We never did find out what happened with the kid's baseball team though.