Didn't Robert Zemeckis used to be a big deal for movie nerds? Right now he's mainly looked at as a heretic because of his obsession with doing those creepy motion computerized movies that I seem to be pretty alone in appreciating. But there was another Zemeckis before that, a live action one. Everybody loved that BACK TO THE FUTURE and a couple of his other movies. It seems like people used to put him up there just below Spielberg as one of those worshipped All-American brand name mainstream directors of the '80s.
Then in the '90s he did FORREST GUMP, which must've been his biggest hit and it won best picture and all that. It was a beloved commercial smash, but it rubbed some of us the wrong way. On the surface it's fine but if you think about the subtext it kind of seems like it's saying don't worry, don't think about anything, don't have an opinion, don't rebel, just do what your mama says and you'll achieve all of your dreams, unless you ever did drugs or hung out with the Black Panthers. And your girlfriend will die from AIDS because she was a hippie.
Because of that I know people who still rant about Zemeckis being a "propagandist." And then there are some who accuse him of being kind of an anti or reverse propagandist, deliberately pussyfooting around the politics to trick people of all stripes into thinking the movie's on their side. The example of that is in GUMP when he makes a speech at the Vietnam protest in Washington. Somebody told me that in the book he actually makes an anti-war speech, but in the movie there's microphone problems and you don't hear what he says. So you just assume you agree with him, whatever your opinion is. You figure you and that retarded guy are on the exact same page politically.
But there was a time just a couple years before GUMP when, probly by accident, a movie that Zemeckis and his partner Bob Gale wrote wasn't just nostalgic and feel-good, it was almost kinda relevant. It was directed by Walter Hill from an older Zemeckis/Gale script, it's basically a b-movie with Bills Paxton and Sadler fighting Ices Cube and T, but it happens to be a real good time capsule of what was going on culturally right at that time.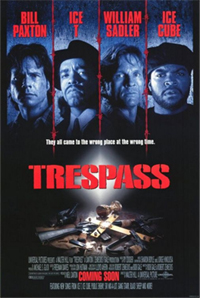 TRESPASS was released on Christmas Day, 1992. That's less than 2 years after Rodney King got beat by those cops, and less than 8 months after the riots. It was originally supposed to be called LOOTERS but for some reason that was a sensitive topic with the riots being so recent. Maybe a better reflection of where the country was at is that TRESPASS came out a week and a half after Dr. Dre's "The Chronic", and about a month after Ice Cube's "The Predator," but the best selling album of the year was a pop country album by Hannah Montana's dad, Billy Ray Cyrus. The culture was on the verge of a major shift or split, and this story takes place right in the middle.
Paxton and Sadler play firefighters from Arkansas who, while fighting a fire, find themselves in possession of what they figure out is a map to some hidden gold. So one weekend they get in a pickup truck and go find this abandoned building in East St. Louis where the treasure is supposedly stashed. To Paxton it's just a fun adventure, an exciting thing to do with his buddy, like being a kid again. But to Sadler it's a way to pay off his debts and maybe have enough left over to be rich. So Paxton brings a metal detector, Sadler brings a gun. Could turn out to be a problem.
(Man, Paxton was always chasing after treasure. There was this one, there was TITANIC, there was A SIMPLE PLAN if a suitcase full of money counts as treasure, there was TWISTER if a twister counts as treasure.)
They got some bad fuckin luck too because at the exact time their plan comes together there also happens to be some gang members on top of the building tossing a traitor through a skylight. When the gangsters see the looters and realize they witnessed the murder it turns into a tense stand-off. The looters take Ice-T's younger brother hostage and try to figure a way out of there without getting killed and, if at all possible, with the gold.
When this movie came out the hip hop influenced movie was a fairly new phenomenon. Ice-T had recently been in NEW JACK CITY and RICOCHET (after bit parts in hip hop movies like BREAKIN' and RAPPIN'). Cube had only made BOYZ N THE HOOD. The soundtrack isn't a classic or anything but it has a pretty impressive lineup including songs by Public Enemy, Gang Starr, Black Sheep and an Ice-T/Ice Cube team up.
Back then (and I think even still) people who weren't into their music liked to say they couldn't tell the difference between Ice-T and Ice Cube, but they're actually very different from each other. Even in this movie, where they're in the same gang, they're always at odds. T is King James, the leader and a smooth professional type dresser (he even wears suspenders). Cube is Savon, the scowling, complaining underling who wears one of those puffy velvet hats that were okay to wear in the '90s.
Also in the gang is Glen Plummer, who I consider a 90s staple since he was in MENACE II SOCIETY, SPEED, SHOWGIRLS (her friend and choreographer), STRANGE DAYS (the murdered rapper) and THE SUBSTITUTE (the other teacher who becomes friends with Berenger).
One element that's pretty dated: there's a character named "Video" who carries a camcorder around and videotapes everything, and it occasionally switches to the video point of view. It doesn't have much of a story point, and even then I think it was an annoying cliche to have a character with a camera just so you can make a bold statement about our voyeuristic media-obsessed society or save money on film developing or whatever. People were so fascinated with that camcorder shit, it took forever for them to get sick of it and now we start all over with digital cameras, god damn it. Anyway, the DVD has some deleted scenes where you learn that in the longer cut Cube wanted the video as evidence that he wasn't the murderer. I wish they left that in because not only would it make the Video character more useful, it would be a good irony for this post-riot story. After Rodney King people talked about camcorders as the only defense against bad cops, but of course that didn't end up working for King.
I gotta mention that I'm not sure I buy these gangsters listening to Sir Mix-a-lot in the car. But maybe. He was a little harder back then, before the Grammy winning ass song. Man, people in Seattle were really into those first two Mix-a-lot albums back then, you shoulda seen it. I got a buddy who moved here from Austin, he was shocked to find out that all the places discussed in "My Posse's On Broadway" were real locations in the Capitol Hill neighborhood, and for my part I was shocked to learn that a guy from Austin knew the song "My Posse's On Broadway." How the hell did that get past the state border?
Anyway, like the best b-movies TRESPASS has a bunch of clever gimmicks and touches. For example Tiny Lister plays "Cletus," but I thought they were calling him "Cleats," which is what he wears. All the better to stomp your face in with. Personally I wouldn't want anybody to stomp my face in with baseball cleats, but it's gonna be even worse when it's a big motherfucker like Lister. So that's a cool weapon (have cleats ever been used in a kung fu movie?) but it has another use because the looters here the sound of his steps upstairs and then start using the metal detector on the ceiling to figure out where he's standing.
One really original suspense sequence happens when Sadler wants to kill his junkie hostage and Paxton convinces him to just dope him up instead. So, while tied up, the junkie gives them instructions for preparing his heroin and then they have to try to shoot him up.
Because these guys are firemen it sets up some of their abilities: rappelling, chopping through floors and walls, escaping burning buildings, carrying people. I think all of these (and the cleats) could've been used a little more than they are, but I appreciate that they're there.
King James does alot of ranting about "the white man" selling him drugs and then coming after him for re-selling them (as if there is only one white man doing all this). It's not all that subversive, it was a pretty common type of philosophy to spit back then, but at least it makes his character a little more dimensional seeing how he tries to justify what he does.
What works best in the movie is the racial tension. The white guys aren't blatant racists, they would never say any racial slurs I don't think, and wouldn't consider themselves racist. But they have a recognizable contempt and lack of understanding of the black characters. A truly enlightened white individual could have a color blind confrontation with King James and his men, they wouldn't have to throw in a sarcastic "homey" here and there, but that's the type of guy Sadler is – the sarcastic "homey" type.
You could justify talking like that to the criminals, but there's also a homeless man (Art Evans) who stays in the building, and they decide to tie him up so he doesn't get in the way of the gold. I like the dynamic – Paxton doesn't want to tie him up, but doesn't stop Sadler from doing it. Whenever they need his help they try to act like they're his buddy and ask him some question about the layout of the building or something, and he'll usually say "FUCK YOU!" When they finally do untie him they expect an automatic let-bygones-be-bygones policy, even though they're the motherfuckers that just tied him to a chair for hours! And they're oblivious to the fact that they're asking for too much forgiveness. Not a bad depiction of race relations circa 1992. The guy is kind of an angry asshole, but jesus, I would be too if I were him.
I also like this theme of everybody claiming ownership of the building and the gold. I personally believe the homeless guy has the strongest claim to it, because it's a building that he at least has used as shelter for some time. King James and his men consider it their territory, because it's within the neighborhood where they kill people and sell drugs. The firemen consider it theirs because they're the ones who were given the map. But the guy who gave them the map stole the gold anyway. None of these people here owns the land or what's on it. All the claims are on a made up time-passage basis. Well, whoever owns this building hasn't used it in a long time, who ever owned this gold hasn't seen it in a long time.
When you think about it it kind of shows that the whole idea of ownership is kind of a crock of shit. But these guys want the gold because they're materialists. They're not following some Native American idea of the land belonging to Mother Earth.
So there you have it. Clearly a commercial movie, a small but solidly entertaining one. But also it's America circa 1992 in disc form, and I bet it plays better now than it did back then. Good job Walter.