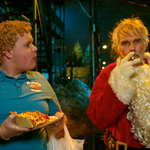 We're mostly agreed these days that BAD SANTA is a timeless Christmas classic, right? I have friends and loved ones who it's too mean for, and it got brutal critical reception at the time, done no favors by Miramax insisting on more ball punching and shit so the theatrical and "BADDER SANTA" cuts could fit some lowbrow comedy marketing strategy that must've worked for them on SCARY MOVIE or something. The superior director's cut has been available for years now, and now I watch that and mourn the loss of one dumb joke from the theatrical ending:
But in any of its incarnations, BAD SANTA makes me laugh so much and channels so much of my most negative thoughts that it's one of the few movies I can watch once a year without getting tired of it. Willie (Billy Bob Thornton, THE MAN WHO WASN'T THERE) is a funny asshole for the ages, a burnt out piece of shit full of self-loathing and even more full of loathing-others. His caustic wit and self-destructive behavior died for our sins, transforming humanity's worst tendencies into wise ass Yuletide fuck yous both deserved and undeserved, but in a forum where no one can be hurt. He uses his asshole powers for good in his dealings with treacherous Marcus (who can dish it out too) or Bernie Mac's quietly scheming "store dick."
After so many viewings I sometimes find myself teary-eyed at Willie's realization that Thurman (Brett Kelly, TRICK 'R TREAT) cut himself while carving his weird Christmas gift, and at his attempt to return the favor before being gunned down by police. The smallness of the gesture to me makes it more authentic and in turn puts this jerk in line with more severe holiday transformations like Scrooge's or The Grinch's. (read the rest of this shit…)
VERN has a new action-horror novel out called WORM ON A HOOK! He has been reviewing movies since 1999 and is the author of the film criticism books Seagalogy: A Study of the Ass-Kicking Films of Steven Seagal and Yippee Ki-Yay Moviegoer!: Writings on Bruce Willis, Badass Cinema and Other Important Topics as well as the crime novel Niketown.