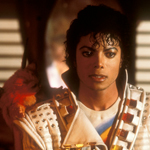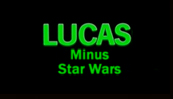 I mentioned in my LABYRINTH review that I thought Michael Jackson would've been a cool Goblin King. Sorry about that. I take it back. Mr. Bowie was uniquely suited for the character and I'm glad he got to hang out with all those puppets and implant himself in the creepy childhood memories of millions around the world.
And besides, Michael got his chance to get a little muppety, because the next Lucasfilm release was this 17 minute 3D film starring Jackson as "the infamous Captain EO," leader of "a rag-tag band" of aliens and robots and crap sent on a dangerous space mission to deliver a gift to the Supreme Leader (Angelica Huston). EO gives his crew a speech about how everybody thinks they're a bunch of fucking losers and if they don't pull this mission off they're gonna be "drummed out of the corps." Which really makes you wonder how they got into the corps in the first place. What kind of boot camp can these weirdos make it through?
They seem to be kind of the Bad News Bears of space troopers. They're bickering, cartoon-voiced goofballs who screw everything up and get yelled at by the Captain (except when they throw an egg at the hologram of Commander Bog [Dick Shawn, The Year Without a Santa Claus]), which makes him laugh).
The crew consists of a robot named Major Domo (voice of Gary DePew, producer of ANGEL 4: UNDERCOVER), another one named Minor Domo that attaches into the Major's back, a furry two-headed monster named Idey (Debbie Lee Carrington, RETURN OF THE JEDI, HOWARD THE DUCK) and Odey (Cindy Sorenson, THE DARK BACKWARD), a green elephant-man named Hooter (Tony Cox, RETURN OF THE JEDI, SPACEBALLS, BAD SANTA) and a small furry guy with butterfly wings named Fuzzball (effects by Rick Baker, makeup man for the cantina scene in STAR WARS as well as Jackson's Thriller video). All are small in stature, most are inept and cowardly. But EO leads them through a space battle, a crash-landing and a dark tunnel to the Supreme Leader, who turns out to be a grey and black Giger-esque biomechanical witch hanging from a web of cables and corrugated tubes. She is not happy to see them. (read the rest of this shit…)