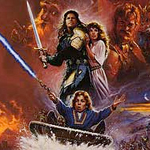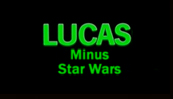 "Elora, you don't want me. Tell her. I'm short. Even for a Nelwyn."
Like John McClane'll tell ya, sometimes some shit happens and you just have to step up. For Willow Ufgood (Warwick Davis, RETURN OF THE JEDI, THE EWOK ADVENTURE) it's when his kids find one of those abandoned river babies (we all know how that goes) and then it turns out to be the Chosen One prophesied to kill the evil Queen Bavmorda (Jean Marsh), so mean knights with packs of dog-like beasts are gonna keep attacking the village until they find her. Willow admits to the town that he has the baby they're looking for, and he doesn't argue when the wise wizard The High Aldwin (Billy Barty) appoints him to lead a party on a journey to give the baby back to the Daikini, the bigger people.
I say bigger because Willow's village is all people under four feet tall. There are fighters among them, like Vohnkar (Phil Fondacaro, RETURN OF THE JEDI) or "Vohnkar Warrior" (Tony Cox, RETURN OF THE JEDI, CAPTAIN EO), but Willow isn't one of them. A small man looked down upon even among the people of his size, he's the underest of dogs. As a fledgling magician he screws up even his corny magic trick illusions, and now he finds himself going head to head with a real sorceress.
The first Daikini they find is Mad Martigan (Val Kilmer, BAD LIEUTENANT: PORT OF CALL NEW ORLEANS), a warrior imprisoned in a small cage who seems at first like a Jack Sparrowish rogue. When an army is headed their way and most of Willow's party turns tail he has little choice but to free the man and convince him to help, like an action comedy set up. (read the rest of this shit…)