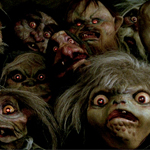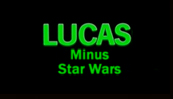 Jennifer Connelly's first movie was Sergio Leone's ONCE UPON A TIME IN AMERICA (as the young version of Elizabeth McGovern's character). Her first starring role was Dario Argento's PHENOMENA, aka CREEPERS. Then she did some normal teen movie, but the one after that was LABYRINTH, directed by Jim Henson, where she's co-starring with David Bowie and about a hundred different puppets. That's a crazy career already, years before she got an Oscar.
This one is pretty different from the Argento one. Yes, she still communicates with bugs, because there's a worm in one scene who gives her a helpful tip and invites her in to meet his wife. But there's no monkey going nuts with a straight razor, and no Goblin. Just goblins.
She plays Sarah, a teenage girl who one day during a bratty fit about having to babysit says some fantasy nonsense that actually summons goblins to take away her toddler brother Toby. Whoops. To get him back she has to make it through a labyrinth to the Goblin King (Bowie)'s castle in 13 hours. Except for the king, the goblins and the inhabitants of the maze are all puppets and special effects creations. Designed by artist Brian Froud (like Henson's previous movie, THE DARK CRYSTAL), they still have cartoonish looks and personalities, but with more realistic texture and detail than Muppets. They seem like closer relatives to Yoda than to Cookie Monster.
Sarah's imagination is influenced by some books we see in her room: The Wizard of Oz, Alice in Wonderland, Where the Wild Things Are. (Maurice Sendak gets a full screen acknowledgment in the credits, apparently because Henson heard he was offended by similarities to one of his books.) And it's that type of story: a kid is transported to a magical land that may be just her imagination, goes on a journey, has many strange encounters, picks up a group of friends along the way. So it's very episodic, but it works. The level of inventiveness on display is captivating.
THE DARK CRYSTAL had been a dead serious fantasy with all puppets, no people, and was not the hit that Henson had hoped for. That one actually seems even more like it would be a George Lucas production than this does, but it wasn't (it was Lucas's own producer Gary Kurtz). Not really connecting with audiences, Henson designed the follow-up to be more upbeat, with a funny script credited to Monty Python's Terry Jones and more lovable creatures. Even the bastard goblins are ugly in a cute kind of way. They have a GREMLINS-esque scary scene where they're moving around in her room just out of her eyesight, but they've already had humor with the slower goblins saying dumb things, so it's probly not too scary for the kids. It's not PHENOMENA.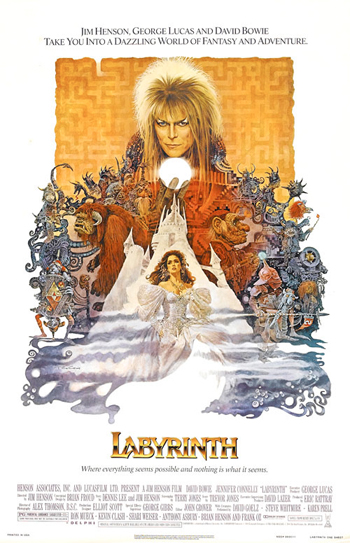 And Jareth T. Goblin-King, is played by Bowie with all his androgynous rock star sexuality oozing from a prissy, princely form with his hair teased out and a bulge in his white tights like the ultimate evolutionary form of an '80s teen girl's fantasy boyfriend. I was a little perplexed at first why he keeps passionately singing love songs to this young girl he hasn't even formally met. I thought maybe the songs weren't written for the movie. But then I remembered that this fantasy world seems to come from her book and the lines she practices while aspiring to be an actress, which include something about a Goblin King being in love with her. So maybe he has no choices, he's just in love with her, that's how it is. It really seems to reflect the sort of non-sexual sexual attraction that young girls often have for the effeminate rock stars and teen idols the culture churns out for them. It makes sense.
So Bowie is real good casting for the role, but in my opinion his songs are the weak spot in the movie. I'm not a Bowie follower, so I asked a friend who is, and he confirmed that this is not his good shit. In an interview, Henson mentioned Michael Jackson and Sting as other rock stars who came to mind as being big enough for the movie, though Bowie was their first choice. I don't know about Sting, but even before I saw that I thought about how much more I would like this movie if it had circa 1986 Michael Jackson songs. And I bet he would've turned the M.C. Escher staircase scene into a hell of a dance number. But admittedly his squeaky-voiced manchild persona would've not been as threatening as Bowie. They would've had to make him more misguided than evil.
What's great about LABYRINTH is that it's just brimming with inventiveness. All these different creatures with their goofy personalities: Hoggle is an elf type guy who's enough of an asshole to keep betraying Sarah to save his ass, but enough of a sweetheart to keep feeling bad about it. Ludo is a big dumb furry beast whose roar controls rocks because, he says, they're his friends. Sir Didymus is I guess a talking fox but I was hoping he was supposed to be an anthropomorphized dog because that would make it funnier that he rides a regular dog like it's a horse. He's by far the most Muppet-like character, but when he opens his mouth the inside looks like a real animal's mouth, not a flat piece of felt. Also he's the least threatening character in the movie but the one most convinced he's a great warrior.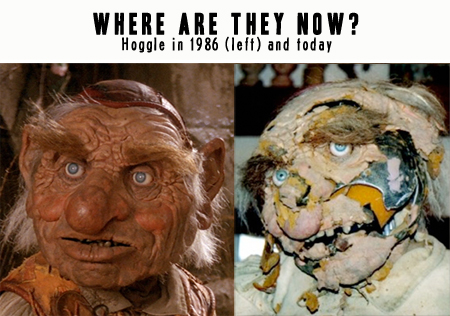 And there are all kinds of other colorful characters on the margins: fairies (which Hoggle sprays like bugs), eyeballs that grow out of the walls, talking door knockers, furry dancing gremlins called Fireys, tiny people who come out from under the tiles and move them whenever she marks arrows on them to keep track of her path. There are lots of clever visual jokes, like the overhead shot of the maze where we first see Sir Didymus, and he keeps almost running into Sarah, but they choose turns at exactly the right times to keep missing each other. Or the way the goblins attack Ludo with biting lizards tied to the end of sticks, like some Flintstones weapon. And there's a pit full of hands that sort of bodypass Sarah as she falls down it, and form themselves into face shapes to talk to her. Also there's the ultimate threat of this world, the Bog of Eternal Stench. Basically, if you accidentally step into it your foot will forever smell like farts.
Possibly my favorite encounter Sarah has is with the junk lady. Sarah is sitting on what looks like a mountain of garbage, and this face appears in the pile and chews her out. She reveals herself as a woman walking around with all this old junk stacked up on her back. A cross between a hoarder and a turtle. To comfort Sarah she reaches in and pulls out an old teddy bear that belonged to her. And then another doll. And then a chemistry set or something. She keeps getting out more things from Sarah's childhood and giving them to her, and they start to pile on top of Sarah like she's a junk lady too. It starts out just seeming like a goofy thing and suddenly becomes this poetic statement about how we can be burdened by our belongings. And Sarah is being buried under nostalgia for her earlier childhood. At first it's cool to see these things that remind her of an easier time, but then it starts to be too much.
Maybe if this had been a bigger hit it would be a lesson about not being too attached to all the old LABYRINTH dolls and crap you had when you were a kid. But that didn't have to happen. It's beloved now, but it was a box office failure, which was crushing to Henson. He did not direct another feature before he died four years later.
LABYRINTH seems like one of the more Lucasfilmy of the Lucasfilms, because it takes place in this detailed fantasy world full of imaginative details and colorful creatures made with a variety of envelope-pushing special effects technologies. It even opens with a way-ahead-of-its-time computer animated owl, the first ever living creature to be realistically computer-animated in a movie (a year after ILM's stained-glass-man in YOUNG SHERLOCK HOLMES). But Henson, of course, was already doing these sorts of things on his own. Although ILM is in the credits for some of the matte paintings, the owl was done by a company called Digital Productions, who had worked on THE LAST STARFIGHTER, and the many elaborate creatures were done by Henson's workshop. I think on a technical level the most impressive is Hoggle. A woman named Shari Weiser wears the suit, but the detailed facial expressions and mouth movements are controlled mechanically by Brian Henson (who also does the voice).
But this is not another instance of Lucas just hooking up a greenlight for a friend. The two had already unofficially consulted with each other, most famously when Henson gave Lucas some advice on how to do Yoda and recommended Frank Oz for the role. Lucas also gave Henson feedback on a rough cut of THE DARK CRYSTAL.
Henson wanted Lucas for his story sense. Despite the credit to Jones, many other writers contributed over dozens of drafts, with Lucas giving feedback on each one and even taking a pass at it himself. The final polish was actually done by Elaine May. Lucas also advised Henson during the editing phase.
Though LABYRINTH didn't have the cultural impact of Star Wars or the Muppets, it was a worthy collaboration for both of these groups of artists who loved to mix storytelling, technology and trickery to transport us to new worlds through popular entertainment. It's hard to imagine many filmmakers pulling off a movie like this today, even if they wanted to.
Hat tip to this incredibly in-depth look at LABYRINTH where I got some of the details of what Lucas contributed
PROGRAMMING NOTE: About a month later there was another Lucasfilm release, HOWARD THE DUCK. I'm skipping it this time but feel free to re-read my review from a couple years ago.
This entry was posted on Tuesday, December 29th, 2015 at 12:51 pm and is filed under
Fantasy/Swords
,
Reviews
. You can follow any responses to this entry through the
RSS 2.0
feed. You can skip to the end and leave a response. Pinging is currently not allowed.