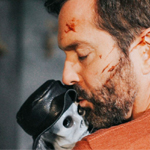 I haven't watched a PUPPET MASTER picture since the early '90s, so congratulations to this marketing that got me excited to watch the new PUPPET MASTER presented by the new Fangoria.
PUPPET MASTER: THE LITTLEST REICH is sort of a start-over made with the blessing but not direct participation of Charles Band. I don't think I can technically call it a reboot, though, because it's not supposed to end or replace the still ongoing original series. It's an alternate universe version where the titelistical ruler of evil puppets, Andre Toulon, is a totally different character. Instead of a victim of the Nazis he's a French-German Nazi sympathizer played by Udo Kier (BLADE, BARB WIRE) in nasty burn makeup. The screenwriter is S. Craig Zahler, and though it does not feel anything like BONE TOMAHAWK or BRAWL IN CELL BLOCK 99 it does continue his tradition of pushing the discomfort buttons and making me wonder "Should I be concerned about these racial themes?"
The main story takes place in the present, when artist and comic book store employee Edgar (Thomas Lennon, MEMENTO, THE DARK KNIGHT RISES) has to bite the bullet and go stay with his parents while getting back on his feet after a divorce. Desperate for money, he decides to take his dead brother's rare hand-made puppet to Dallas to try to sell at a convention for the 30th anniversary of "The Toulon Murders." But there are a bunch of other people there with their own original Toulon puppets, which all come to life (through goofy hand puppeting, not stop motion) and gorily murder Jewish, gay and black people. Puppetry and bigotry become one. (read the rest of this shit…)
VERN has a new action-horror novel out called WORM ON A HOOK! He has been reviewing movies since 1999 and is the author of the film criticism books Seagalogy: A Study of the Ass-Kicking Films of Steven Seagal and Yippee Ki-Yay Moviegoer!: Writings on Bruce Willis, Badass Cinema and Other Important Topics as well as the crime novel Niketown.