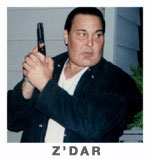 If you, like me, enjoy the occasional muddy VHS war against out-of-control Street Toughs, you may enjoy 1988's DEAD END CITY, starring a bunch of people I never heard of being overshadowed by the menacingly inflated features of Robert Z'Dar (MANIAC COP, SAMURAI COP, BEASTMASTER 2: THROUGH THE PORTAL OF TIME).
Here he plays Maximum (at least that's what the credits say his name is), who leads a gang of white biker dudes with headbands, sunglasses, gang vests, chains, fingerless gloves and spiked gauntlets into a neighborhood to shoot random people, invade homes, blow up cars, etc. Maximum is mysterious in his fashion choices – he wears a suit and tie with the end of the tie ripped off, then later he adopts a studded biker look and then a band-t-shirt-sewn-onto-long-jacket punk look. The gang is called the Ratts, and they have names like Zim and Ripp, but I can't tell any of them apart except for "Ratt Queen" (Isis Richardson, PHOENIX THE WARRIOR) because she's the only female and the only one with big hair with a streak in it like an X-Man or a Jem and the Hologram.
Jack Murphy (Greg Cummins, Bosch) owns a factory in the area – I never figured out what type of factory – and isn't too concerned about the radio reports or the government official (Don Barber, "Man in Bathroom," DEATH CHASE) who comes to tell him to evacuate. The next day he gives in and sends the staff home, but, not wanting to relocate to a shantytown, he decides to stay in the factory with his friend Brett (Durrell Nelson, AN AMERICAN CAROL, stuntman in THE TOXIC AVENGER), his secretary Nancy (Aleana Downs, WITCHCRAFT III: THE KISS OF DEATH) and her visiting blind brother Malcolm (Rob Wuesthoff, stuntman in TEEN WOLF TOO). (read the rest of this shit…)
VERN has a new action-horror novel out called WORM ON A HOOK! He has been reviewing movies since 1999 and is the author of the film criticism books Seagalogy: A Study of the Ass-Kicking Films of Steven Seagal and Yippee Ki-Yay Moviegoer!: Writings on Bruce Willis, Badass Cinema and Other Important Topics as well as the crime novel Niketown.