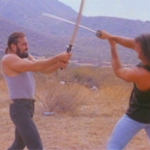 A Japanese gang called The Katana Gang is on a rampage, so the LAPD call in a specialist.
"So they call him Samurai, huh?" asks the gang leader Fujiyama when he hears about this long-haired Fabio-lookin motherfucker played by former Sylvester Stallone bodyguard Matt Hannon.
"Yes," explains right hand man Yamashita (Robert Z'Dar). "His real name is Joe Marshall. They call him 'Samurai.' He speaks fluent Japanese. He got his martial arts training from the masters in Japan. He was brought over here from the police force in San Diego to fight us."
This being 1989, the year after ABOVE THE LAW, might have something to do with that backstory. The poster, which has nothing to do with the actual content of the movie, is definitely going for a MANIAC COP vibe. I think there's some LETHAL WEAPON influence here too, or at least it's trying to follow the formula of the white cop with loyal black partner who's kind of bemused at how far the white guy goes over the line in his enforcement of the law. Samurai and his partner Frank (Mark Frazer, MICROWAVE MASSACRE) have alot of weird, sometimes racially uncomfortable banter about what their boss is gonna do to his "charcoal black ass" and stuff like that.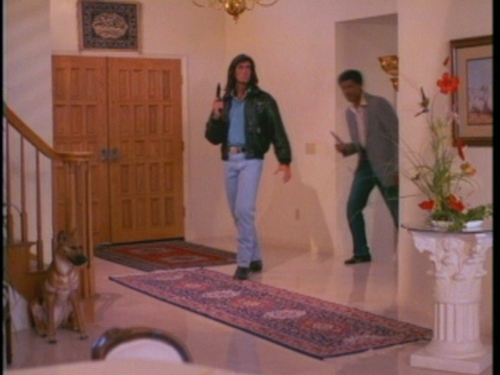 The chief is pretty funny, he's always angrier than necessary. I like when he yells to one of his employees "You, motherfucker, I'll see you in hell! Leave me alone! Get a job!"