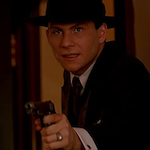 July 26, 1991
MOBSTERS. Guys who are in mobs. Young ones. Famous ones. Doing mob stuff. What more do you need? According to rookie director Michael Karbelnikoff, story provider Michael Mahern and screenwriter Nicholas Kazan (FRANCES, AT CLOSE RANGE, PATTY HEARST, REVERSAL OF FORTUNE), "What? What do you mean?"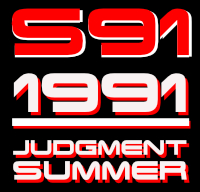 I have to tell you, I really struggled to get through this one, and considered turning it off and not reviewing it. Keep in mind that I already made it through MANNEQUIN: ON THE MOVE, SUBURBAN COMMANDO and PROBLEM CHILD 1 & 2 for this series. This is a much classier production than any of those, with all the period costumes and nice cinematography by Lajos Koltai (István Szabó's MEPHISTO, WHITE PALACE) – there are some nice looking, atmospheric scenes, like an eerie outdoor shootout in the fog. But it's empty and soul-less and boring as shit and not in an interesting way at all.
Some of this may be my personal tastes or prejudices. Earlier this year I had similar trouble with the two YOUNG GUNS movies, which I know many people love. I made it through them but didn't bother to review them here. MOBSTERS seems to be aiming for a similar idea of casting hot young stars of the era as legendary real life outlaws to spruce up a once dominant, now somewhat faded genre. It's an old fashioned gangster movie where Christian Slater (our friend from ROBIN HOOD: PRINCE OF THIEVES) stars and narrates as Charlie "Lucky" Luciano, Patrick Dempsey (not really that far from MEATBALLS III, CAN'T BUY ME LOVE and LOVERBOY) is Meyer Lansky, Richard Grieco (fresh off of 21 Jump Street and Booker, but in only his second movie, after IF LOOKS COULD KILL) is Bugsy Siegel, and Costas Mandylor (THE DOORS) is Frank Costello (not the same one from THE DEPARTED).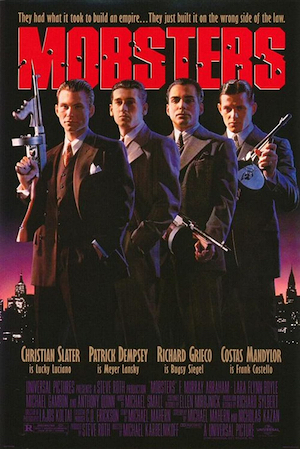 I'm not the only one to call it YOUNG TOMMYGUNS. Or YOUNG GUNS: THE PROHIBITION YEARS. But this is probly a worse movie and has some of the same problems. In my little rant about YOUNG GUNS II on Letterboxd I wrote, "It's based on this old fashioned assumption that everyone is automatically fascinated with Billy the Kid. For those of us who never remember which gunslinger is which, good luck finding a reason to give a shit." This does the exact same thing for mobsters whose names I recognize. It assumes you grew up nerding out about which one was which, and doesn't ever stop to ask if there's anything compelling about this. What insights does it give? Well, Meyer Lansky was Jewish, and less flashy than the other guys. Actually, I already knew that. Oh well.
I did not see MOBSTERS back in the day and didn't quite remember who the stars were, so when I went to rent it I was relieved that Emilio Estevez wasn't one of them. The other problem with YOUNG GUNS is that they have this ensemble cast but they put all the focus on easily the least charismatic one, Estevez, and act like you should be charmed by him abusing and endangering his way more likable co-stars like Lou Diamond Phillips.
MOBSTERS takes a different approach. They put the one with the most movie star presence – Slater – in the lead. But he's also the one who's most awkward in his role. Dempsey is actually quite good, Mandylor obviously fits the part (even if he doesn't have much to work with) and Grieco wouldn't seem weird if you didn't know him from other stuff that you think of as cheesy.
But Slater, not wanting to seem totally ridiculous in a period movie (like many thought of his ROBIN HOOD co-star), has to ditch his normal persona to try to imitate what other actors do in this type of role. It sounds like he's trying to do a little Italian accent when he narrates the early scene where he fumes and holds a knife but doesn't do anything as Don Faranzano (Michael Gambon in his followup to THE COOK, THE THIEF, HIS WIFE & HER LOVER) assaults and humiliates his immigrant mother (Bianca Rossini, MOON OVER PARADOR) and father (Andy Romano, PUMP UP THE VOLUME). Right after that he's suddenly doing a pretty good imitation of Ray Liotta's gravelly GOODFELLAS narration, offering the Brand X version of the same kind of tough guy childhood nostalgia. (The comparison comes up again when there's a POV tracking shot as everyone greets him entering a restaurant.)
He and his friends decide to be gangsters, cut to three years later when they strut around in nice coats and hats, and prepare yourself for a parade of modern mob movie cliches. You get the montages of gambling, flappers and tommyguns firing, and in between almost nothing but Lucky's walk-and-talks with other mob bosses and meetings in Italian restaurants, saunas, the zoo, places like that. There is, of course, a whole lot of intense hand gesturing and bluntly talking about ethnicity. One of the few entertaining bits in that department is when Lucky helps a don pick food at a wedding buffet table by explaining all the Jewish dishes with their closest equivalents in Italian cuisine. I believe this is the same guy they end up killing while he's scarfing down food in an empty restaurant and he dies face down in a plate of pasta. (Lucky conveniently excuses himself before the shooting and there's a quick cut to him at the urinal in the middle of it.)
Aside form Dempsey the stand out actor is Nicholas Sadler (one of the zombie bullies from SOMETIMES THEY COME BACK, no relation to the Grim Reaper from BILL & TED'S BOGUS JOURNEY) as Mad Dog Coll, a rival gangster who turns out to be a total psycho. The movie briefly comes to life when two guys attack him in his car with a piano wire and a gun. He yells "You guys are so STUPID!," bites off the gunman's nose and spits it at the strangler. One thing that does actually stand out a little is the level of violence. There's some pretty nasty stuff like a knife that goes all the way through a neck and pokes out the throat, like a FRIDAY THE 13TH movie.
By the way, Chris Penn is in this too. Plus Seymour Cassel, Anthony Quinn and F. Murray Abraham. And Titus Welliver as Al Capone. And, better than that, Robert Z'Dar. He's Faranzano's henchman. I don't think he ever talks. He has a pretty good death – a knife thrown at him while he's reading the newspaper, it pins the paper to his chest. Z'Dar's other r'leases that year were THE KILLERS EDGE, THE BIG SWEAT, BEASTMASTER 2: THROUGH THE PORTAL OF TIME, QUIET FIRE and SAMURAI COP.
The name I was most surprised and excited to see on the credits was Rodney Eastman (DEADLY WEAPON). He plays Luciano's childhood best friend, but I didn't know it was him because you barely see his face. He's just running through the streets and gets stabbed to death in public by his mob boss uncle. But the character's name is Joey – yes, the same name as Eastman's character from A NIGHTMARE ON ELM STREET 3: DREAM WARRIORS and A NIGHTMARE ON ELM STREET 4: THE DREAM MASTER. What I am saying is that even though there's not a part where a lady shows him her boobs so he follows her but then it turns out to be Freddy, this is definitely the same Joey in some sort of period mob themed nightmare. Furthermore, it was made as an episode of Freddy's Nightmares but they thought it was good enough to release as a feature film but obviously they were mistaken.
The movie really overestimates how much sympathy it has built up for Lucky. Mobsters ruined his childhood. He wanted to become a mobster for the power or whatever. He was good at it I guess. Okay he does bad stuff but hey, he's in love! He's nice to this showgirl he met (Lara Flynn Boyle right after Twin Peaks). We're supposed to be sincerely invested in their love, judging by how saccharine the score by Michael Small (THE DRIVER, JAWS: THE REVENGE) turns. Most of the time it's getting all big band jazzy. It does it during the shootouts and it's probly supposed to be ironic or something but it always feels a little off.
The cornball music is also a major factor in the laughable ending, where it seems we're supposed to feel it's a great triumph that Lucky has grown into leadership and inspired the Italians and Jews to work together at their organized crime. He says they don't need to pick a leader, they can all share, so they declare him the leader and he says "Any udder bidness?" and it freeze frames on his "Ain't I a stinker?" look. Then, to lay it on even thicker, it fades into the gangsters making a toast to friendship, which also freezes, and fades to black and white, and segues to the inevitable text about what happened to them and that they were so great and important which you already knew because the movie seemed pretty sure of it the whole time.
This whole thing just feels like empty dress up. A bunch of very professional posers going through the motions of all the stuff you're supposed to do in gangster movies, with absolutely no thought or heart or intelligence behind any of it. I did not come in with foreknowledge of why I should care who these guys made deals with or when they decided "Prohibition won't last forever" so something-something unions. As Bill & Ted say, the world is full of history. What is significant about this particular history? The movie is not forthcoming with an explanation. But man do they dress up in some long coats and fedoras and talk tough to each other! Just like real mobsters!
MOBSTERS opened at #2, unable to unseat T2 in its 4th week. I don't know if people hated it as much then as I do now, but word of mouth must not have been strong, because it plummeted to #7 the next week and didn't ultimately make back its medium-sized budget. Critics agreed with me – sort of. Rotten Tomatoes calculates the reviews at a staggering 6%. Which is 2% lower than PROBLEM CHILD 2! But I disagree with Roger Ebert's claim that "the violence and bloodshed are so far over the top, in fact, that they undermine the rest of the film, and approach parody." Come on, Roger. You gotta take what you can get.
Slater, at least, went on to bigger and better things – he slid right into STAR TREK VI and two years later he was starring in TRUE ROMANCE. Dempsey plugged away for years before Grey's Anatomy gave him a second life as a sex symbol. Most of the filmmakers weren't as lucky. Director Karbelnikoff only directed a 1992 episode of Red Shoe Diaries and a 1994 Mickey Rourke movie called F.T.W. (though in recent years he's produced a few documentaries). Story provider Mahern next wrote three episodes of New York Undercover, and got a story credit on the 2006 Tyrese movie WAIST DEEP, and that was all she wrote. Screenwriter Kazan was by far the most prolific of them – he followed this by writing and directing the James Spader thriller DREAM LOVER, and his later movies include MATILDA, FALLEN, HOMEGROWN, BICENTENNIAL MAN and ENOUGH.
Romano, who plays Lucky's dad, of course later played Admiral Bates in UNDER SIEGE 1 & 2.